1st Italian Customshow in Riva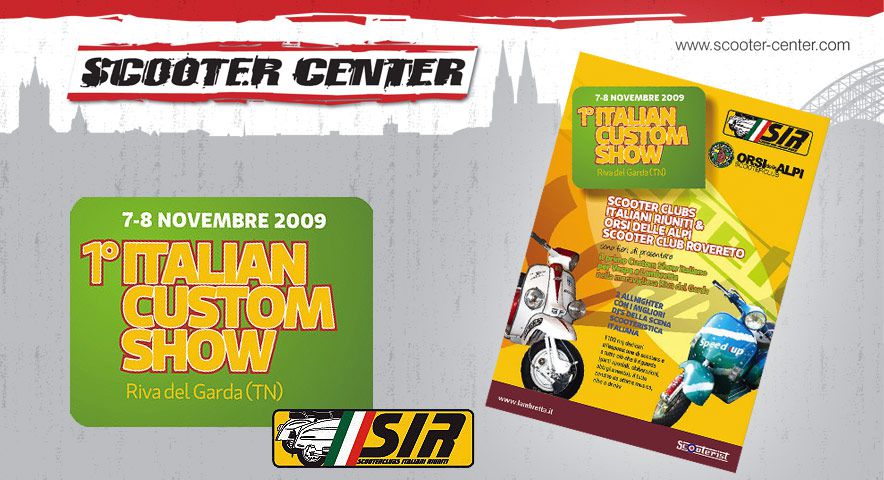 The SCOOTER CENTER was at the 1st Italian Customshow in Riva on Lake Garda.
"Gardasee" sounds great - but unfortunately we only saw the lake when we drove past on arrival and departure. But the long way and the work were worth it.
The custom show took place together with the "Motorissma" car and motorcycle fair and had its own large hall. What is new and unusual for a custom show is that the show lasted 2 days. Around 60 customizers exhibited their Lambretta and Vespa scooters. Incidentally, the proportion and quality of the Lambrettas was clearly superior here.
After setting up on Friday afternoon, we first enjoyed the Italian cuisine extensively in the evening. Back at the hotel we found out that the nighters (Friday and Saturday) would take place in the basement of our hotel. That was of course very practical and one or the other of the SCOOTER CENTER Teams make extensive use of this opportunity. Luckily we had the magic drink from our MSF sponsor RED BULL with us - the fair opened the gates at 8:00 am and Saturday / Sunday were long days.
The SCOOTER CENTER received a very warm welcome and many friendships were made. Grace! We'll definitely be back next year. Hopefully a few more scooters from Germany and Austria will find their way over the Brenner - the way is worth it!
Greetings to our colleagues who, as a revenge for the sticker on the scooter, have filled our stand with ugly little oval stickers. More in the video below. There are pictures in our gallery
https://blog.scooter-center.com/wp-content/uploads/screen.jpg
480
884
Heiko Lepke
https://blog.scooter-center.com/wp-content/uploads/2016/04/Scooter-Cejnter-SC-Logo-2016.png
Heiko Lepke
2009-11-11 12:58:55
2016-06-15 14:05:33
1st Italian Customshow in Riva