2nd Italian Custom Show Riva del Garda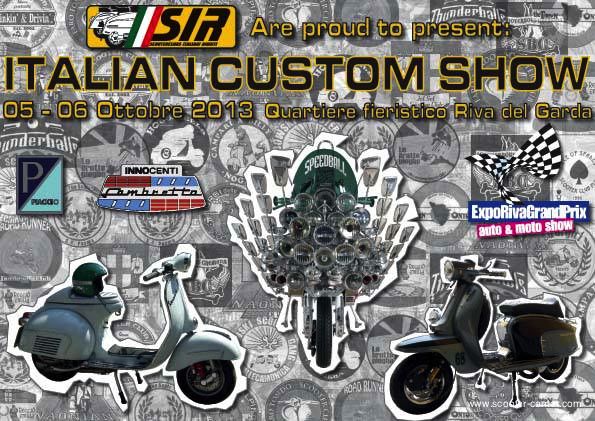 Custom Show Spectacolo!
The 1st Italian Custom Show 2009 We had so much fun in Riva del Garda that we had been looking forward to the second edition for a long time. At the weekend the time had finally come: the Custom Show in Riva took place again after 4 years.
[youtube] GUsyqJZTtFk [/ youtube].
Wednesday and Thursday we were busy with the preparations until late in the evening. We had that Scooter Center Bus full to the top with the finest bgm PRO parts for Vespa and bgm PRO for Lambretta packed.
On Friday - a little too early in the morning - it finally started. After a few hours there was an unplanned stop on the highway. Friendly police officers checked us and took a closer look at the cargo. But that was pretty quick and unproblematic - as a thank you, the Vespa and Ape driving officer received one Scooter Center Vespa catalog. Another satisfied customer ;-)
After a journey of almost 1.000 km, we were warmly welcomed in the evening by the organizer, Orsi Delle Alpi Scooter Club and the other exhibitors such as Mito Lambretta and the very personable RLC team. Dean Orton and the Rimini Lambretta Center Team presented her 5-speed gearbox for Lambretta - Cyclone 5 -, for which we are Germany importers.
In general, it was a great event with very nice and courteous Italian scooterists. We were also very happy about the "culinary care" with delicious regional specialties from the Scooter Club present and the wine & Prosecco from the RLC neighboring stand.
The interest in Scooter Center and at the bgm products was very big. We were delighted to see that in the built-in bgm PRO Lambretta shock absorbers.
Our advice:
You shouldn't miss this event in 4 years. Friday and Saturday there was nighter and on Saturday there was a big meal together. The custom show takes place as part of a motorsport fair, with large parts markets, cool vehicles and stunt drift shows. Very relaxed atmosphere, dolce vita. The location Garda See can of course be combined with a vacation and hang out for a few days. Unfortunately we didn't do that and even if we didn't see much of the lake again - that was another highlight of the season!
Thank you all
https://blog.scooter-center.com/wp-content/uploads/customshow-riva-2013-customshow-riva-scooter-center.jpg
421
595
Heiko Lepke
https://blog.scooter-center.com/wp-content/uploads/2016/04/Scooter-Cejnter-SC-Logo-2016.png
Heiko Lepke
2013-10-10 09:12:56
2014-05-22 08:16:56
2nd Italian Custom Show Riva del Garda