3rd Int. Switching scooter cup Nürburgring 2011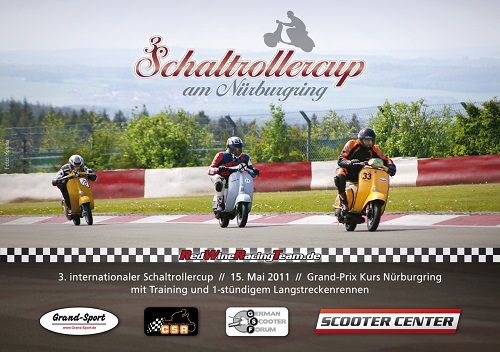 Scooter race at the Nürburgring Reinoldus Langstrecken Cup
The time has come, the 3rd Int. Switching scooter cup Nürburgring starts next Saturday, May 15th, 2011!
The SCOOTER CENTER supports the event again and is sponsor of the Vespa and Lambretta races on THE racetrack at all ...
After the successful start and a celebrated repetition last year, this year will be another real race hazards.
THE LONG DISTANCE RACE!
1 × 15 minute training and then a 1st hour race. It is driven through. Pit stops are welcome and necessary, but not mandatory.
The Start
It'll be one again Le Mans start give. This means that the scooters are "parked" slightly offset at the start and finish straight on the side or held by helpers. The racing drivers stand on the opposite side of the track. Starting shot - start running - sit up - start ……… .drive - plan a pit stop - continue - the fastest wins …….
And very important: THE FOCUS IS ON FUN More information also in the GSF
https://blog.scooter-center.com/wp-content/uploads/flyer_rollercup_1_klein-2.jpg
352
500
Heiko Lepke
https://blog.scooter-center.com/wp-content/uploads/2016/04/Scooter-Cejnter-SC-Logo-2016.png
Heiko Lepke
2011-05-09 20:38:58
2021-06-25 11:22:13
3rd Int. Switching scooter cup Nürburgring 2011