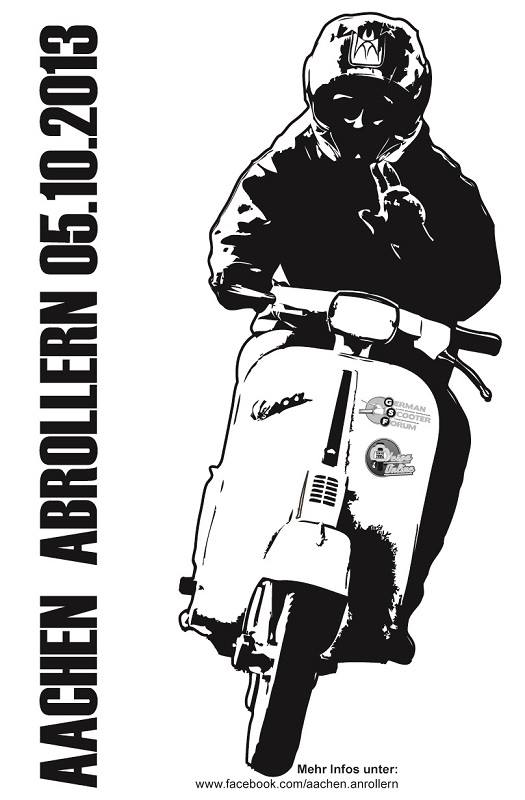 Vespa dispensers in Aachen
Roll-off in Aachen Vespa exit at the end of the season
The Vespa rides in Aachen are legendary and already one of them Classic.
[youtube] dVC0OjRQokE & f [/ youtube]
This year you have two options for unwinding in Aachen:
Saturday 5th October 2013
Info
https://www.facebook.com/aachen.anrollern
meeting point
The meeting point will again be the parking lot on Lütticher Straße shortly after the Waldschenke.
http://goo.gl/maps/XspqB
Departure for unwinding in Aachen: 13.00
Route
70 km varied and beautiful route through Belgium and Holland.
https://maps.google.de/maps/ms?msid=204792339019501325019.0004e7893960e8bb7c603&msa=0&ll=50.719504%2C5.944977&spn=0.252142%2C0.507431
stopover
There is a one-hour break after about 45km: http://www.abbaye-du-val-dieu.be/1_AL/
Then it goes on over a beautiful part of the Mergelland route and over Gemmenich to the three-country point.
Evening Event
If you feel like it in the evening, you are welcome to attend the Grenzland scooter table
http://grenzlandstammtisch.de/ The official table meets from 21.00 p.m. in the "Kuckucksnest" in Aachen
http://kuckucksnest-ac.de/
Saturday 12th October 2013
On October 12, 2013 at 12:30 pm, the unwinding will take place again in Aachen
meeting point
Parking lot at Blausteinsee at 12:30
General information on this dispenser in Aachen
Please come with a fully fueled Vespa!
If you have any problems or questions at the meeting point, I ask you to report to the service vehicle immediately.
We ask you, for organizational reasons, not to wear an orange high-visibility vest!
As always, we won't leave anyone behind! We just have to limit the repairs during the journey due to time constraints! Everything that can be repaired in five to ten minutes (trains, tires) is repaired immediately! Everything else is transported to the end point using the service vehicle! (Transport to your home possible by arrangement)
While driving
There are three people / groups marked in different colors
The driver who leads the field is marked with a magenta colored safety vest!
We ask you not to overtake it!
The drivers who take care of the photos and videos are marked with green safety vests!
These will also drive up to traffic lights or take shortcuts! Please do not follow these!
Most of them will be marked with yellow safety vests! These are the drivers who show you the way at turns and crossings! We ask you to make it easier for these people to overtake them with a little consideration!
If your scooter is defective, just pull over! Help is coming!
Should you have to leave the corso, I ask you to let yourself fall back to the end of the field and say goodbye to the driver in front of the service vehicle!
Participation in trips is at your own risk.
Get your scooter in order again before unwinding in Aachen, Vespa spare parts can be found here: www.scooter-center.com

https://blog.scooter-center.com/wp-content/uploads/aachen-abrollern-2.jpg
800
525
Heiko Lepke
https://blog.scooter-center.com/wp-content/uploads/2016/04/Scooter-Cejnter-SC-Logo-2016.png
Heiko Lepke
2013-10-02 11:23:16
2014-05-22 08:16:50
Unwinders in Aachen 2013