bgm BigBox Sport is now available again
bgm BigBox Sport just new and already sold out -
We were amazed: within a very short time it was the new Vespa racing exhaust (BGM1010SP) already sold out. With the positive feedback and the tests that were carried out by various parties, it was actually clear that we are very happy about the great success of this exhaust system - Thank you!
The BGM BigBox Sport - the wolf in sheep's clothing
Performance like a racing exhaust - optics and acoustics like a series exhaust
Update: now also for PX200 and Rally 200 available again!
Now available again!
Order BigBox Sport here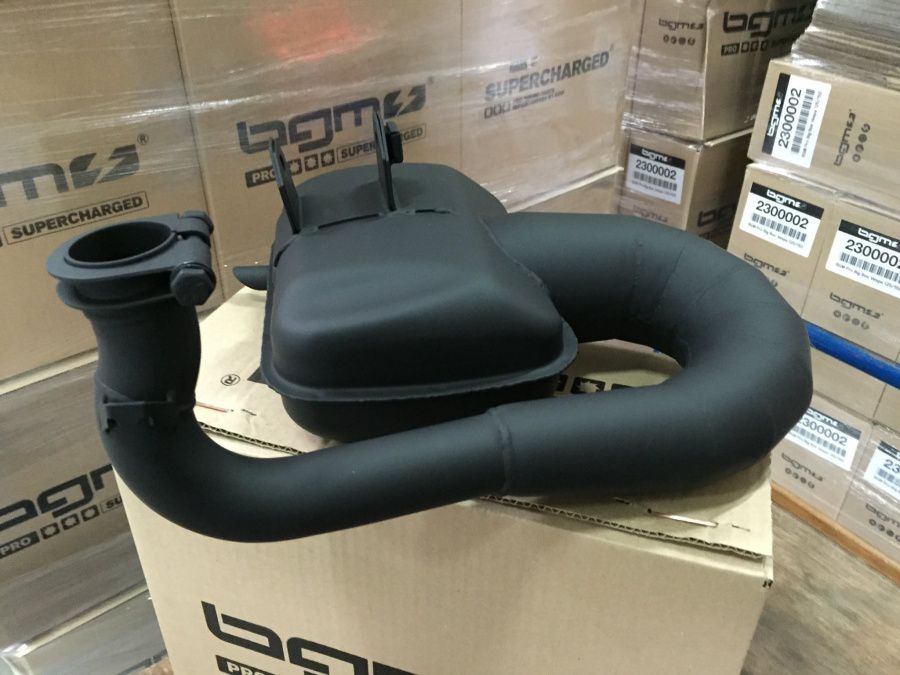 The BGM BigBox Sport is a thoroughbred racing exhaust, in the unsuspicious design of an original exhaust. It positions itself as a clear alternative to eye-catching and mostly loud and large resonance exhaust systems. The high level of motivation clearly sets it apart from other boxing systems. Designed for performance-oriented drivers who appreciate the benefits of an inconspicuous vehicle.
Performance diagram bgm BigBox Sport:
LML150 5 channel engine (membrane inlet) with cylinder Quattrini M1X (unprocessed) and 1,5mm head gasket (stroke compensation), carburetor SI24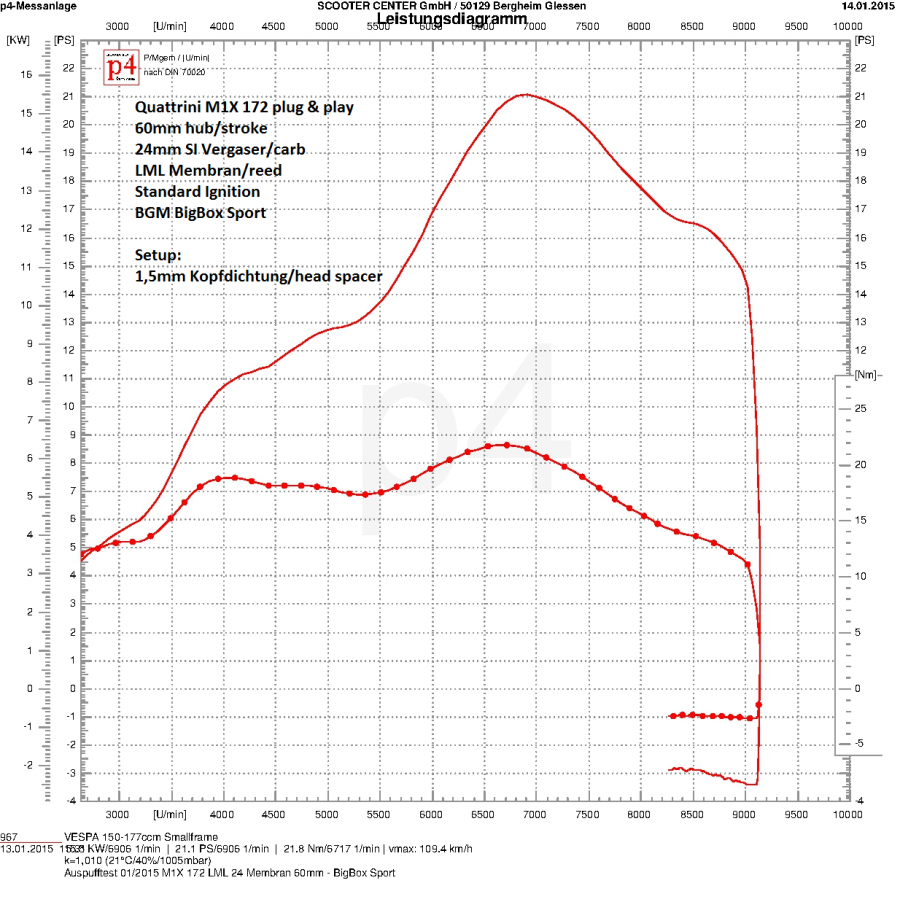 Powerful engine concept required
Like any good racing exhaust, the Sport Box requires a powerful engine concept in order to develop its full performance. In the environment of cylinders like the Quattrini M1X and Co., it offers impressive results. It also supports engine outputs above 25PS without any problems and pushes ahead with full torque. Despite its high peak performance, the Sport Box gets in early and also enables comfortable driving.
Due to its consistent design for a high gas throughput, the BigBox Sport is not intended for use with near-series engines or tame tuning cylinders. It needs a clear and powerful outlet impulse to fill the large volume and the thick elbow of the Sport Box with life.
PRO:
Original optics
Quiet
Top performance like a resonance exhaust
No performance hole
Broad speed range
More top speed
Very unobtrusive
Also fits rally / sprint without modifications
Solid construction with clamp on the cylinder
Handcrafted in Europe
CON:
Not for vehicles with 8 inch tires (ground clearance too low)
Not for near-series engines
The elbow is attached to the cylinder using a clamp. Compared to loose fastening with an O-ring seal, this results in the best stability and prevents damage to the outlet flange. A long spacer should be used on the rear shock absorber for optimal ground clearance.
Conclusion: pure understatement. Performance like a racing exhaust, optics and sound similar to an original exhaust.
Order BigBox Sport here
https://blog.scooter-center.com/wp-content/uploads/2015/03/bgm-bigbox_sport.jpg
451
900
Heiko Lepke
https://blog.scooter-center.com/wp-content/uploads/2016/04/Scooter-Cejnter-SC-Logo-2016.png
Heiko Lepke
2015-03-25 15:00:11
2015-03-31 12:33:40
bgm BigBox Sport is now available again