BGM PRO Tuning crankshaft for Vespa Wideframe

Vespa Wideframe Tuning crankshaft
The bgm PRO crankshaft is optically based on the purpose-built design of the 50s and offers all the advantages of modern materials and manufacturing methods. with 57 mm stroke and a 110 mm connecting rod it is perfect for converting all 2-channel motors from 54 to 57 mm and thus the To enable assembly of a tuning cylinder.
We have developed an extremely resilient tuning crankshaft for the highest demands!
The forged crank webs are adapted to the balancing factor for the cylinder and piston used for tuning by means of compensating bores and offer a particularly good running smoothness even at a higher speed level of the more powerful engines. The high surface quality not only offers an impressive look, the ground surfaces also ensure a long service life for the shaft sealing rings and a reliable fit of the crankshaft bearings.
High-alloy forging blanks had to serve this noble BGM PRO crankshaft for Vespa Wideframe Models could arise. This shaft is ideal in connection with the BGM PRO 150cc Vespa Wideframe Tuning cylinder.
You don't even want to tune your old Vespa? This wave is of course also called a quasi indestructible wave for original engines a clear recommendation.
The bgm PRO crankshaft offers a stronger connecting rod with high quality bearings. The lower connecting rod bearing is flanked by robust thrust washers and is therefore sufficiently dimensioned for higher speeds and outputs. Generous lubrication slots and pockets ensure an optimal supply of the lower bearing with the important lubricant. With the use of a needle bearing instead of a traditional gunmetal bushing for the piston pin, the bgm PRO crankshaft offers another decisive advantage for creating a permanently powerful engine. For a better oil supply, there are also lubrication holes in the upper connecting rod eye, which absorb the centrifugal oil and pass it on to the piston pin bearing.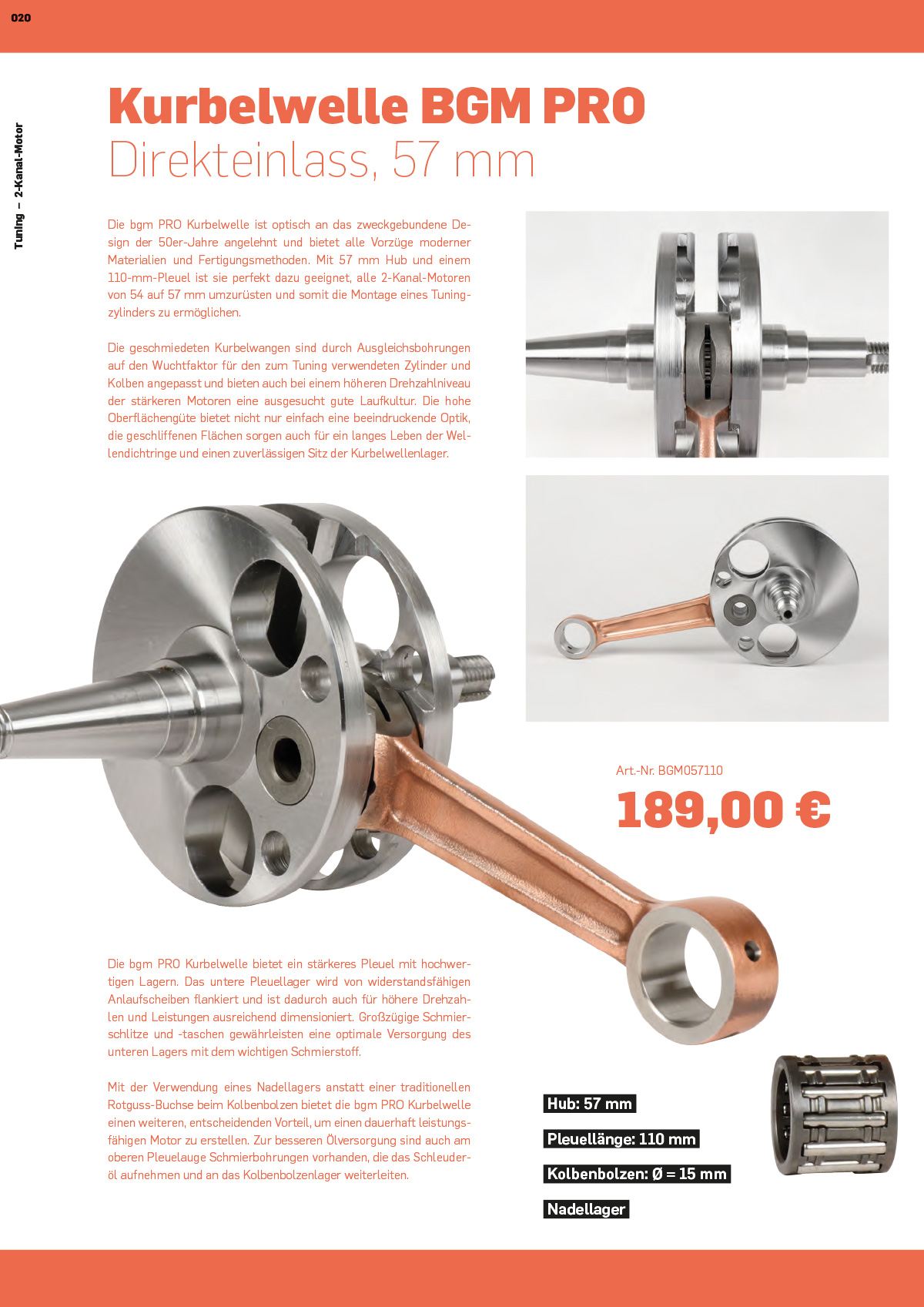 Modern technology for the old engine
A big advantage of the BGM PRO crankshaft compared to an original one is the use of a high-quality connecting rod with needle bearing (instead of a plain bearing bush) and a slotted lower connecting rod eye. This significantly reduces the oil requirement so that the engines can use today's high-quality oils without any problems 1:50 mixture can be driven.
The balancing factor was improved, among other things, by a hollow crank pin.
Hub: 57mm
Connecting rod length: 110mm
Piston pin: Ø15mm
Connecting rod bearings: needle bearings (top and bottom)
Suitable for 125 and 150 Wideframe Vespa engines
The crankshaft is suitable for all 125ccm and 150ccm engines. The 125ccm engines only have a stroke of 54mm ex works, so a cylinder is required here that is designed for 57mm stroke (BGM1550, Pinasco North Cape).
The BGM PRO Vespa Wideframe crankshaft fits in the following vehicles:
Vespa: VM, VN
ACMA: 125 (70191-295883), GL150
Motovespa 125N, 125S, V56, V58, V72
Douglas GL2, 42L2, 92L2
Tip:
You can find more interesting products for your Vespa oldtimer in our Vespa Wideframe Catalog DOWNLOAD
Now here is your new one Wideframe Buy crankshaft
https://blog.scooter-center.com/wp-content/uploads/2019/10/vespa-wideframe-kurbelwelle-bgm057110_3.jpg
1052
1400
Heiko Lepke
https://blog.scooter-center.com/wp-content/uploads/2016/04/Scooter-Cejnter-SC-Logo-2016.png
Heiko Lepke
2019-10-25 17:22:57
2019-10-28 09:52:00
BGM PRO Tuning crankshaft for Vespa Wideframe