bgm SUPERSTRONG clutch for Vespa Wideframe Vespa GS150 / GS160 and SS180 engines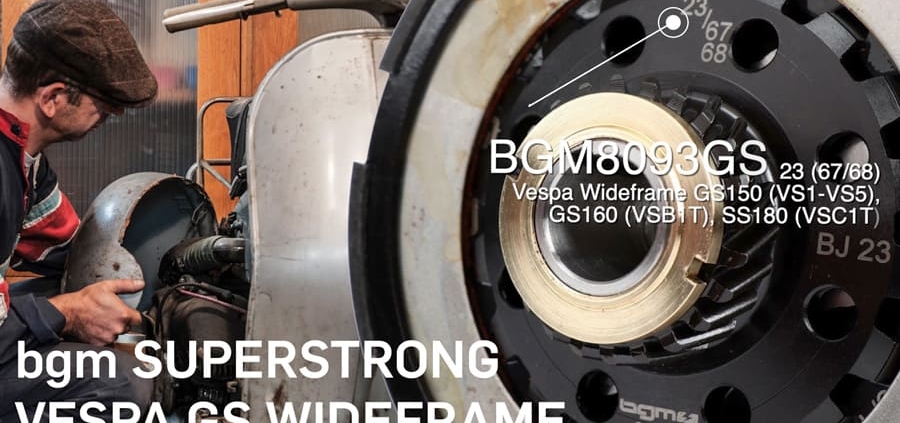 bgm SUPERSTRONG Vespa Wideframe GS
The proven bgm SUPERSTRONG clutch is now also available for the Vespa GS150 / GS160 and SS180 models.
Ready-to-install coupling for your Wideframe Vespa
The bgm PRO coupling is delivered ready for installation. The scope of delivery includes
the assembled coupling,
a new lock washer,
Clutch cover gasket and
Crescent wedge
We also recommend the same Pressure plate and the separating mushroom to replace, available here in a practical set!
The Superstrong GS coupling replaces the serial coupling of the GS / SS models 1: 1 and can usually * be used without further modifications. The clutch is available with 22 teeth (like original) or with 23 teeth (longer stocky). Helical teeth for use with the standard 67-tooth primary gear.
The bgm SUPERSTRONG 2.0 Ultralube coupling combines:
extreme durability,
absolute reliability and
easy operation
It is the foundation of any solid Vespa engine tuning. The CNC-manufactured clutch basket has excellent concentricity and extremely high torsional rigidity. The Vespa clutch thus offers perfect coupling behavior with a clearly defined grinding point and clean separation of the clutch linings.
It is suitable for that Touring riderwho values ​​high quality, as well as ambitious ones Racer, the one extremely resilient and stable coupling .
ULTRALUBE
The latest generation of Superstrong clutches now has an innovative new technology: Ultralube.
Ultralube pumps (through precisely defined bores and centrifugal force) transmission oil both into the highly stressed hub profile (between clutch basket and clutch hub) and onto the clutch linings themselves.
This in the Vespa area unique technology makes the legendary Superstrong 2.0 clutch even more stable than it already is. A clutch designed to last.
SERVICES
The ready-to-install clutch is designed for a power range up to approx. 20PS / 22Nm by means of the mounted clutch springs. Reinforced springs (sold separately, bgm PRO XXL Reinforced clutch spring) expand the performance range of the clutch to over 40 hp. It is still easy to operate.
DELIVERY
The scope of delivery includes the complete ready-to-install clutch with bgm PRO Cosa clutch facings and ten BGM PRO XL springs. A new O-ring for the clutch cover and a new crescent wedge are also included.
RECOMMENDATION
We also recommend a low-alloy gear oil of classes API GL3 / GL4 for high-performance engines in order to prevent the clutch from slipping even under extreme loads. This also applies to our bgm Superstrong couplings. The old engine oil specification SAE30 corresponds to today's transmission oil specification SAE 85W / 90. We recommend this as a lubricant bgm PRO Street gear oil (BGM2025, corresponds to specification API GL-3).
* In some cases it may be necessary to rework the clutch cover and arm, see Instructions & Video:
Instructions for installation and adaptation
You can also find the installation instructions here: Instructions
Tool list:
TIPP: Toptul tool
Ratchet; SW10
Slotted screwdriver sizes 5 to 6
Ratchet; SW14
Open-end wrench SW19
Torque wrench up to 100Nm
Clutch holding tool
Clutch puller
Item list, alternatives and accessories
https://blog.scooter-center.com/wp-content/uploads/2021/02/vespa-wideframe-bgm-superstrong_blog.jpg
506
900
Heiko Lepke
https://blog.scooter-center.com/wp-content/uploads/2016/04/Scooter-Cejnter-SC-Logo-2016.png
Heiko Lepke
2021-02-04 14:37:38
2021-02-04 14:37:38
bgm SUPERSTRONG clutch for Vespa Wideframe Vespa GS150 / GS160 and SS180 engines