BGM Superstrong clutch Vespa Largeframe back in stock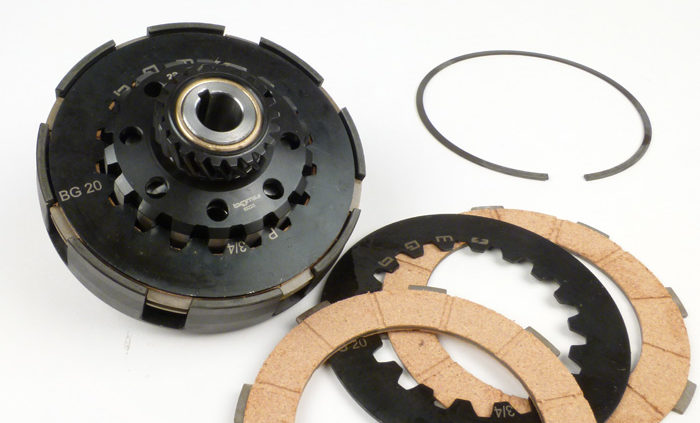 Our best Vespa clutch is back in stock
In time for the summer season is ours bgm Superstrong clutch for the Vespa Largeframe Models available again. The robust and reliable coupling is so popular that we were unfortunately sold out at times.
New generation of friction disks for the Vespa clutch
From now on we deliver the bgm superstrong and the Superstrong CR with a new generation of steel discs. Did you know that the steel discs should be installed in a certain order?
The new clutch is each disc is clearly markedso that it is always clear in which position it should find its place.
All lenses have been redesigned and the fit has been optimized.
The disc at position two was given a defined curvature in a specially designed radius so that a clean separation behavior is achieved under every load condition when the clutch is operated.
The steel disks are subject to series testing, during which we always keep an eye on the concentricity and the planar quality, as well as the material quality and hardness. All steel disks are here in the 10hrc range.
Except for the optimization of the steel discs, nothing changes in the proven and stable concept of the Superstrong clutch for Vespa PX, T5, Sprint, Rally etc.
https://blog.scooter-center.com/wp-content/uploads/2016/06/P1390241.jpg
526
700
alex
https://blog.scooter-center.com/wp-content/uploads/2016/04/Scooter-Cejnter-SC-Logo-2016.png
alex
2016-06-03 12:40:46
2016-06-03 12:49:17
BGM Superstrong clutch Vespa Largeframe back in stock