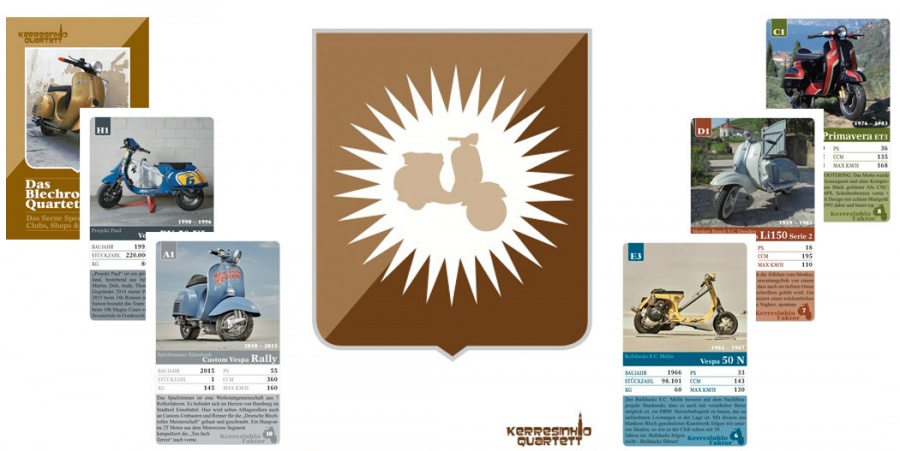 The sheet metal scooter Quartet IV for scooter drivers
"The Scene Special - Clubs, Shops & Colorful Dogs"
Edition: switch scooter from 1947 - 2015
Brand new now available from us!
The quartet is hand-numbered and limited to 2015 sales copies.
Fourth edition of the Vespa Quartet
For the fourth time, the quartet artists from Kerresinhio are dedicating themselves to our favorite toys: the old Vespa and Lambretta scooters, with their Quarett tin scooter.
"The Scene Special - Clubs, Shops & Colorful Dogs"
And this time Kerresinhio not only presents 32 unique Vespa and Lambretta scooters, but also the "Scooter Scene"
The lovers
the freaks
the tuners
the clubs
and the shops
All the scooter freaks who stand behind the rare models and who represent a significant part of the scooter scene.
Great fun with a great variety of scooters
In this game you will find 32 scooter models for example
Extremely elaborate custom roller with CNC motor, gold and airbrush
Old Vesps with original paint - the current hype is also called O-Lack Resto / rescue and fills pages of forums ...
Complete restorations in the original condition
Rats, which are characterized by their characteristic patina
Vespen, whose engine tuning moves beyond the 30 hp mark
or scooters that have already made club history.
Sheet metal roller?
The tin roller - also called scooter - is a motorized two-wheeler (made of sheet metal and with manual transmission) in a motorcycle-like design. For us it's Vespa and Lambretta scooters. The tin scooter has been built since the 1940s and has a wonderful, timeless design. We deliver all spare parts, accessories, tuning parts and care and maintenance products for these Vespa and Lambretta scooters in our Scooter shop
The simple technical structure of the scooter enables self-repair and offers inexhaustible tuning possibilities.
For older and rare models that are part of this quartet, such as the Vespa ACMA Type N, Allstate 125 or the Augsburg T4, incredible prices are paid for by enthusiasts. However, some of the scooters in this game will never change hands.
For a good cause
Like the other one Quartets beforehand, 50 cents per copy sold for this edition also go to: Support Foundation Children in Hamburg www.unterstuetzungstiftung.de
Quartet -DAS BLECHROLLER QUARTETT 3- switch scooter from 1952 to 2014
Article no. 3330936
https://blog.scooter-center.com/wp-content/uploads/2015/10/blechroller-quartett_IV.jpg
451
900
Heiko Lepke
https://blog.scooter-center.com/wp-content/uploads/2016/04/Scooter-Cejnter-SC-Logo-2016.png
Heiko Lepke
2015-10-22 05:30:02
2015-12-07 15:45:56
Tin roller quartet IV