Complete Spanner's Manual Lambretta -Third Edition- by Sticky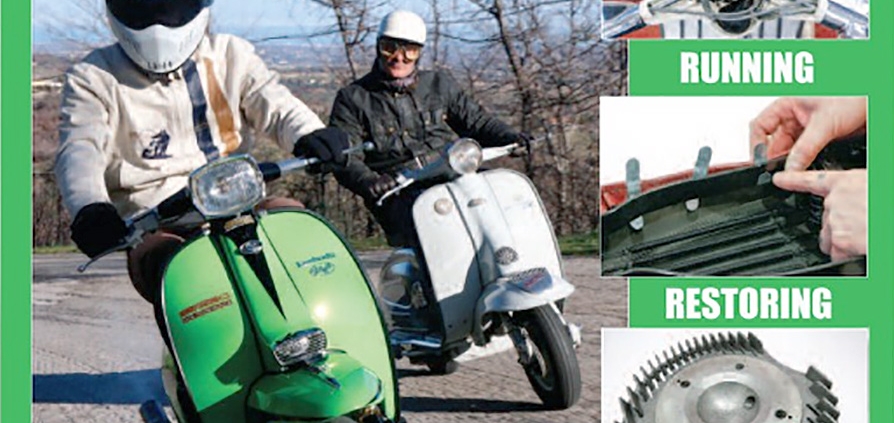 Book -Complete Spanner's Manual Lambretta -Third Edition- by Sticky
The new Lambretta Bible? The -Complete Spanner's Manual Lambretta -Third Edition- from Sticky is an illustrated guide for repairing, modernizing and restoring the classic Lambretta scooter.
Compiled with the help of the world's leading Lambretta experts. This is arguably the most comprehensive technical manual ever produced for the Lambretta scooter. Of course it has Scooter Center supported this project again.
The Lambretta Book is designed in an easy-to-understand image format with hundreds of color photos and technical tips to make working on a Lambretta as easy as possible.
Order the new Lambretta manual here!
The second edition is more than 10 years old and out of print
This is new in volume 3:
New chapters
Current advice
Latest techniques
hundreds of additions
thousands of changes
New attachments
All pictures re-edited
The chapters include:
Tools for work
Use and maintenance of the scooter
Fault diagnosis
Joint repair
Motor bar
Review, selection and preparation of engine components
Original engine overhaul
Advanced engine overhaul
Exhaust
Electrical and ignition systems
Ignition timing
Carburetor and fuel system
Chassis dismantling
Review, selection and preparation of chassis components
Wheels, brakes, steering and suspension
Chassis rebuilding
Special parts for Lambretta slim styles
In addition to chapters on converting the chassis and engines in their original format, the many tuning parts that have become available for our Lambrettas over the past 30 years are also dealt with. In a world where original parts are no longer available, those who remodel a scooter need all the help they can get to identify quality components.
The new Stickys will be of great use to those who restore scooters! The appendices contain lists of all available gearboxes and their identification as well as colored circuit diagrams, torque settings and nozzle specifications for standard machines.
From the end of August in Scooter Center: Sticky's Lambretta Manual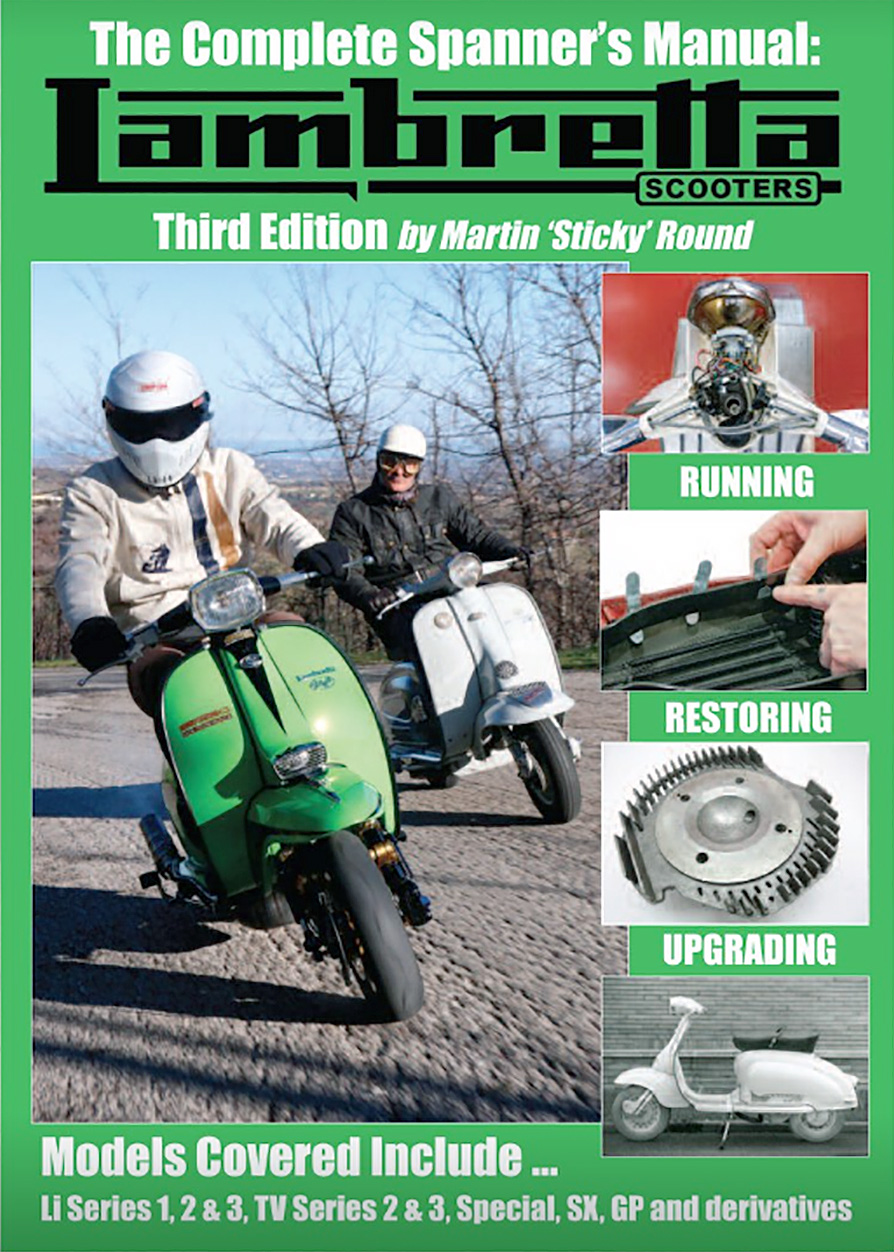 No longer available: the 2nd edition:
Book -Complete Spanner's Manual Lambretta -Second Edition- by Sticky
The first edition of the Sticky Manual was published in 2004. Series 3 was dealt with in detail with lots of pictures and practical tips. A total of around 15.000 copies were sold.
Instead of simply reprinting the book, Fingers in Pies Publications decided to revise the book substantially and to expand the content to series 1 and 2. Sticky 2 offers you:
More than 200 new color photos. Over 1.050 images in total.
Additionally ten colored circuit diagrams.
Five other Italian models (TV175 S2, LI125 S1, LI125 S2, LI150 S1, LI150 S2).
The information about the new models has been carefully incorporated into the context. Not just clapped in!
Updates on the latest developments in the areas of tuning conversions, adjustable chassis, variable ignitions, tubeless rims and much more.
More anorack details and restoration tips (fork type identification, color code breakdown, locks and keys, speedometer and more).
Information on technical changes based on the original Innocenti dealer updates.
Improved index and easy-to-find chapters using color codes.
Completely redesigned layout.
56 additional pages (292 in total).
About the author: Sticky is a freelance writer and photographer who specializes in scooters. Sticky has been writing for the scooter press, motorcycle magazines and newspapers for 24 years. Sticky was also editor for Scootering and Twist & Go. His idea of ​​fun is to hide a motorcycle engine under a Lambretta and significantly expand the public's perception of the scooter.
https://blog.scooter-center.com/wp-content/uploads/2018/08/stickys-lambretta-manual-3.jpg
1252
894
Heiko Lepke
https://blog.scooter-center.com/wp-content/uploads/2016/04/Scooter-Cejnter-SC-Logo-2016.png
Heiko Lepke
2018-08-09 14:15:53
2018-09-10 13:22:01
Complete Spanner's Manual Lambretta -Third Edition- by Sticky