Customshow 2014 categories and tickets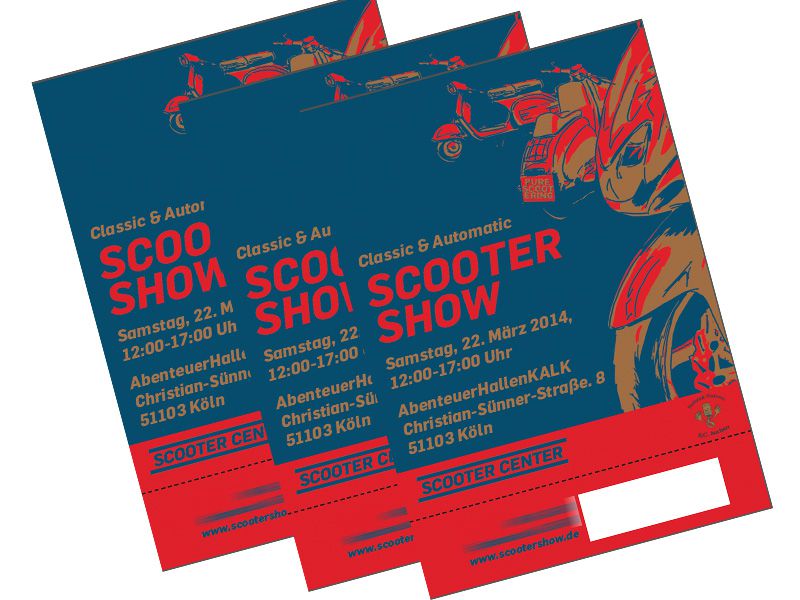 Scooter Show News
Here is a little update for our scooter show - DIE Scooter Custom Show 2014., that we organize together with the Twisted Pistons SC: in the Cologne: Adventure Hall Kalk, March 22.03.2014, XNUMX.
Info for visitors:
Entrance fee: only 5 euros
Opening times: 12:00 - 17:00
Info for participants
FREE Registration for participants here. Registration closes on March 16, 2014.
Cup ceremony, 17:00 p.m.
New categories for the Scootershow 2014:
Total
(A price)
BEST OF ALL - best scooter on the show
BEST LAMBRETTA - the best Lambretta
BEST VESPA - best Vespa
BEST AUTOMATIC - best automatic scooter
BEST CLUB DISPLAY - coolest club stand
Klassik
(First and second place)
BEST ENGINEERING - best technical implementation
BEST ORIGINAL CONDITION - show your oldie
BEST STREETRACER - focus on entries
BEST CUSTOM - best refinement "Chrome & Flames"
BEST STREETCUSTOM - (focus on daily use (signs of use) despite airbrush, chrome etc.)
BEST SPRINTER / CUPRACER - racing device (e.g. DBM / ESC)
BEST PAINT / AIRBRUSH - best painting and / or airbrush
BEST O-LACK RESCUE - only with documentation
BEST MOD - accessory bomber
CRAZIEST CONVERSION - without words
Automatic
(First and second place)
BEST MODERN VESPA - GT / GTV / GTS / LX / LXV / 946 etc.
BEST CUSTOM - best refinement "Chrome & Flames"
BEST STREETCUSTOM - roadworthy ready to drive
BEST SPRINTER / RACER - racing device (DSSC, DM or similar)
BEST ENGINEERING - best technical implementation
BEST PAINT / AIRBRUSH - best painting and / or airbrush
BEST BODYWORK - best bodywork conversion
BEST DISPLAY - best presentation
CRAZIEST CONVERSION - without words
https://blog.scooter-center.com/wp-content/uploads/ticket_5euro.jpg
600
800
Heiko Lepke
https://blog.scooter-center.com/wp-content/uploads/2016/04/Scooter-Cejnter-SC-Logo-2016.png
Heiko Lepke
2014-01-13 09:05:28
2014-05-22 08:17:07
Customshow 2014 categories and tickets