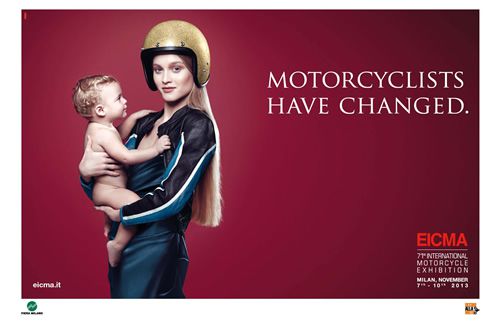 Scooter Center at Eicma 2013
Early in the morning, after a short night, we went to Milan by plane. EICMA 2013 - the world's largest motorcycle fair - took place here.
We were greeted by rays of sunshine and 20 degrees, which made us forget the nasty weather in Germany. We were very curious what news EICMA 2013 had in store for us,
This year there were 4 halls that were bursting at the seams. Everything of rank and name was gathered. But in order:
ITALKIT
The focus at Italkit was on Big Bore cylinders for four-stroke engines and also 140mm kits for Rotax Kart and Aprilia 125cc. For the scooter sector, 70s and 80s kits for the water-cooled Piaggio engines were shown, but they were not really technically revolutionary.
AKRAPOVIC
Akrapovic showed the new exhaust for the Piaggio MP3, which was 5kg lighter than the original and promised 1HP more at 7950 rpm and 1 NM more torque at 6500 rpm
BUZZETTI
Buzzetti showed new footrests and side stands for the LML Star 4-stroke models and side stands for the Vespa GTS.
NOLAN
Nolan primarily showed beautiful skin ;-)
DELLORTO
Dellorto also remembered its roots and showed a section through the history of carburetors with MA19, SH20 and ... carburetors
POLINI
At Polini, we particularly liked the new ignition for the Vespa PX (also Elestart!) Analogous to Vespatronic etc.
Polini has reintroduced primary kits for the Vespa Smallframes. Poliuni has also expanded the range of Polini CP carburettors and kits.
Unfortunately, Polini did not have good news regarding delivery times for the Vespa PX 200 aluminum cylinder kits. Gilardoni, the manufacturer, is overloaded with orders due to the bankruptcy of a competitor and cannot deliver the desired quantities. Fortunately, we have a good supply of kits for standard hub:
Cylinder -POLINI 210 cc aluminum- Vespa PX200, Rally200 -
In the 60s Polini long stroke kits for the Vespa PX 200 unfortunately you bought us empty.
A large, universal air box could be very interesting, but we'll try that first. We'll keep you up to date here!
In the automatic scooter sector, Polini's focus was also more on CP carburettors and varios for maxi scooters and injection systems for the Yamaha T Max. The new BMW scooter was already on site as a Polini variant and will certainly not only be used as a decoration have served.
Pinasco
What we especially liked about Pinasco was that they were on one new 213 cylinder kit work. The cylinder head is screwed eight times. The design of the boost ports and overflows appear a bit old-school in direct comparison to the older layout, Pinasco finally expects more performance.
Furthermore, Pinasco shows crankshafts (which unfortunately have not only proven themselves in the past) and a Smallframe Fir tree with 10/14/18/20 teeth, probably for the original gearbox of the Vespa Smallframe.
Pinasco also jumped on the Vespatronic ignition train and presented his own variant of a Vespa ignition.
NUOVA MAZZUCHELLI
Nuova Mazzuchelli presented the tried and tested long-stroke shaft made from the material of the full-cheek shaft. You are hoping for more security against twisting, we are curious!
VESPA
Vespa: the shooting star was the new one Vespa Primavera. Appealing look on 11 inches with a revolutionary front wheel guidance. We are curious to see when the first fork will be implanted in a classic Vespa scooter and how it will then work!
We really liked that Piaggio remembered its origins - Vespa - and gave a small overview of the Vespa 98, a U-model, SS90, Primavera, ET3 and PK.
MALOSSI
... unfortunately nothing captivated us. New Varios for maxi scooters such as BMW 650 are not quite our business. Otherwise primarily news for 4 strokes and product maintenance in the classic area without setting accents.
MONEY
Quattrini: This "madman" can't help but show off his new engine case and cylinder. I think the pictures say it all ...
CLASSIC VESPAS
Most of all, we were pleased with the steadily improving supply of original spare parts for classic Vespas. Many spare parts that are no longer available, especially for PK, are being reissued (dead people live longer ;-))
The presentation of the sheet metal parts for Vespa was total madness: COMPLETE SMALLFRAME BODIES are no longer a foreign word:
the left part of the Smallframe Stern,
the sheet metal part above the rear wheel,
everything will be relaunched!
PEUGEOT
Peugeot presented its new scooter DJANGO. Another retro scooter with the well-known engines. At first glance we found it too bulky, but over time it became more pleasing as a single-seater in particular.
Our summary:
Another nice trip to the promised land, where it all began with Vespa and Lmbretta!
New Vespa shock absorbers with TÜV
What was the nicest thing: parallel to our trip to Milan, Italy, are the new ones bgm PRO SC shock absorber for the Vespa GS160 & Vespa SS180 arrived.
Vespa shock absorber in front -BGM PRO SC / F16- Vespa GS160 / GS4 (VSB1T), SS180 (VSC1T)
And of course like all bgm PRO SC shock absorbers with TÜV / ABE!
The BGM PRO SC / F16 is the first sport shock absorber specifically for the swing arm the Vespa GS160 / GS4 / SS180 models was developed! During development, attention was paid to the special requirements of the large models with their high possible payload and top speed, and the damper was designed accordingly.
So it's not just a converted damper for 50cc models!
Shock absorbers from the bgm PRO SC series are quality suspension for the Vespa with TÜV!
The chassis developed by BGM in Germany is equipped with a ABE available for almost all Vespa scooters.
The shock absorbers are fully adjustable and offer an incomparable driving experience that was previously unknown from a scooter.
with ABE
specially developed for the GS160 / SS180
Available individually or as a set
athletic
comfortable
fully adjustable
very durable
massive CNC body, anodized
high-strength aluminum for low weight
large expansion tank directly on the housing
Rebound damping 12/16-fold adjustable
massive 13,5 mm piston rod
stepless adjustment of the spring preload
bgm quality assured
From very comfortable to sporty and firm, the BGM PRO SC dampers can! Well-known racing drivers confirm the excellent functionality and superb quality of these struts in numerous races.
https://blog.scooter-center.com/wp-content/uploads/eicma2013.jpg
324
500
Heiko Lepke
https://blog.scooter-center.com/wp-content/uploads/2016/04/Scooter-Cejnter-SC-Logo-2016.png
Heiko Lepke
2013-11-08 14:32:27
2014-05-22 08:16:56
EICMA 2013