Final - RH-Scooter Cup 2010 Victory for SCOOTER-CENTER drivers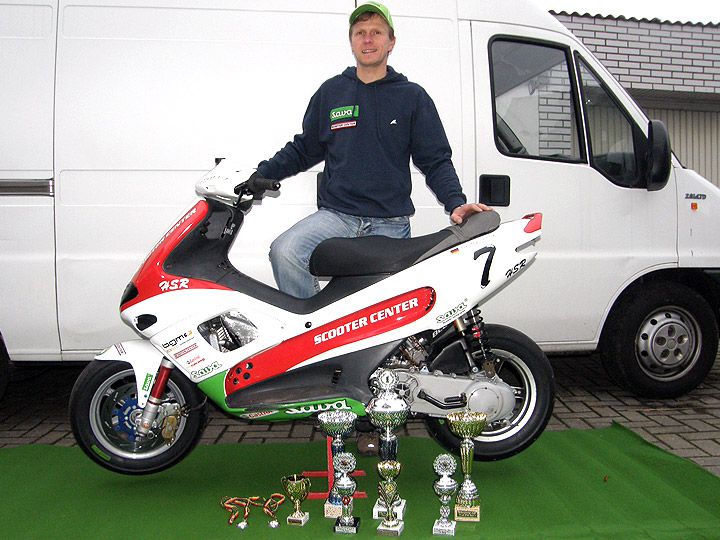 Final - RH-Scooter Cup 2010 at the Harzring
Last weekend the final took place on RH-Scooter Cup 2010 on the Harzring instead.
Since the run at the Intermot in Cologne was canceled at short notice, I came to the Harzring with a 35 point lead as the table leader. Unfortunately, the last time I was out there 3 weeks ago Variomatik and the converter broke so I had to use a different one for this race. I didn't manage to set up the training so well in the short period of time, and that's why I was there Place 3 fully satisfied in qualifying.
The two races in the afternoon were almost the same for me. After a modest start (6th place each after the first lap), I was able to gradually overtake my competition and open both races Place 2 break up!
In the evening there was a humid final party with a championship ceremony that went well into the morning.
This race was the last of the year after a long season.
With a total of 2 victories and 4 second placesn in the 2 / 70ccm class this year I have the Won the 2010 RH-Scooter Cup.
The IDSM / EST I was able to celebrate some successes in 2010:
With 2nd place in Dahlem,
3rd place on the Sachsenring
and various 4 and 5 places
I reached the 7th place in the annual ranking. (here I was only able to take part in 6 out of 8 events)
Finally, I would like to thank all sponsors and helpers. I especially want to be with the Scooter Center thank you for the great support! Without your help, these results would not have been possible. THANK YOU VERY MUCH!!!
Your
Thomas Heck
--------------
The SCOOTER CENTER thanks for the cooperation and congratulates Thomas on this great result.
To a successful and breakdown-free season 2011!
--------------
https://blog.scooter-center.com/wp-content/uploads/thomas-heck_scooter-center.jpg
540
720
Heiko Lepke
https://blog.scooter-center.com/wp-content/uploads/2016/04/Scooter-Cejnter-SC-Logo-2016.png
Heiko Lepke
2010-11-03 12:56:57
2021-10-07 09:57:19
Final - RH-Scooter Cup 2010 Victory for SCOOTER-CENTER drivers