Winner Scootershow Customshow 2014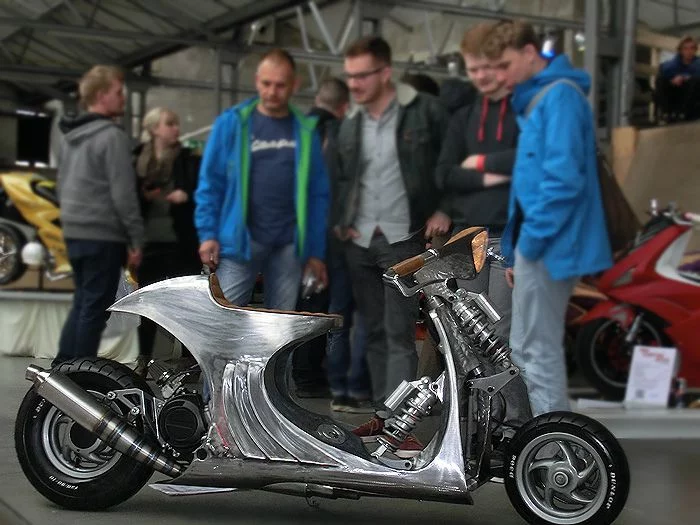 Thank you, Thank You, Merci, Bedankt, ???????!,
The entire Scooter Center Team thanks all exhibitors and visitors of the 7th Scootershow for this super customshow 2014.
We had the pleasure of welcoming exhibitors from Belgium, the Netherlands, Luxembourg, France, Austria, Switzerland, Russia (Moscow) and from all over Germany.
The deserved winner of the "Best of All - Cups " traveled over 2.400km with his girlfriend and traveled a whole day by car from Moscow to Cologne for the scooter show! Respect and thank you, dear Roman!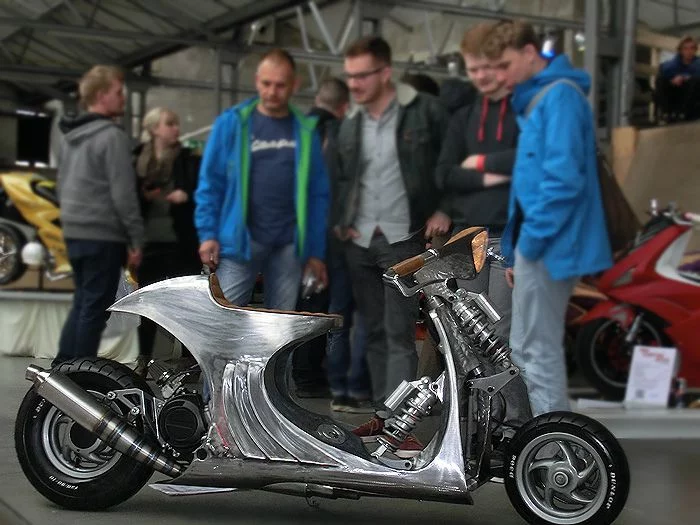 Here is an overview of all winners:
Best of ...
best of all
1
277
Automatic scooter
Roman Timokhin
stalker
Timokhin Custom Design
stalker
Best Lambretta
1
323
Classic scooter
MT
The myth of the Nordschleife
Innocenti
DL125
Best Vespa
1
280
Classic scooter
Fabian flat
There is none
Vespa
150 GL
Best automatic
1
110
Automatic scooter
Daniel Todayr
0
Yamaha
aerox
Best Club Display
1
Minus screwdriver
Klassik
Best engineering
1
108
Classic scooter
Olaf Boeckmann
Tinsel
Lambretta
LI150
2
357
Classic scooter
Ron Sqooter
0
Vespa
PX electro
Best original condition
1
72
Classic scooter
Frank Thole
queen
Hoffmann works
Hoffman HC
2
17
Classic scooter
Ursula Nagy
VS 2T
Piaggio
GP.150
Best street racer
1
16
Classic scooter
Sebastian Beilstein
Brown Sugar
Piaggio
Vespa
2
52
Classic scooter
Christian Lohey
0
Vespa
PX 125
Best Custom
1
18
Classic scooter
Peter Voss
AlligatorPush
Vespa
PX 80 Lusso
2
355
Classic scooter
Ron Sqooter
Fight Club
Vespa
125 Primavera ET3
Best Street Custom
1
63
Classic scooter
Peter Mollenkamp
Indian parasite
Bajaj
Chetak 150
2
366
Classic scooter
Dirk Pekrul
0
Vespa
V50
Best Sprinter / Cup Racer
1
67
Classic scooter
Herbert Schöneweiß
Castrol Lambretta Racer
RL Customer
Jet 200
2
43
Classic scooter
Christian Schnieder
CutDown
Innocenti
Lambretta TV200
Best paint / airbrush
1
354
Classic scooter
Ron Sqooter
Leonardo
Vespa
50 pedalo
2
22
Classic scooter
Claudia Zinnen
Three question marks
Piaggio
PX 200
Best O-paint
1
113
Classic scooter
Tailor Dennis
Seis slides
Motovespa
125 Sport
2
52
Classic scooter
Christian Lohey
0
Vespa
PX 125
Best Mod
1
255
Classic scooter
Hans Gunther
Fistfight
Eibar Lambretta
LI 150 winter model
2
246
Classic scooter
MT
Ram bolt
Innocenti
LiS150
Craziest conversion
1
285
Classic scooter
ted perry
The Red Baron
Lambretta
Chopper
2
42
Classic scooter
Christian Schnieder
Lambretta Chopper Black Pudding
Innocenti
Li 150 series 3
Automatic
Best Modern Vespa
1
262
Automatic scooter
Markus Froebrich
0
0
Vespa GTS 250
2
#NV
#NV
#NV
#NV
#NV
Best Custom
1
68
Automatic scooter
Tobias Ernest
0
Gilera
Runner
2
351
Automatic scooter
Laura Schmiedmaier
0
0
0
Best Street Custom
1
33
Automatic scooter
Philip Knuppertz
Black Red Aerox
Yamaha
aerox
2
302
Automatic scooter
Dennis Mueller
Black orange Custom / Street Rox
Yamaha / MBK
Aerox / Nitro
Best sprinter / racer
1
316
Automatic scooter
Sasha Reinhold
0
Mission Drag Race
Presenters
2
31
Automatic scooter
Pascal Bluhm
Yellow-gray zip
Piaggio
Zip
Best engineering
1
44
Automatic scooter
Rene of males
RvR Twin
Peugeot
Speedfight 2
2
61
Automatic scooter
help markus
Burberry Turbo Benelli
Benelli
491
Best paint / airbrush
1
80
Automatic scooter
Suat Bilgin
Violet Btch
Peugeot
Jet Force
2
102
Automatic scooter
Bjorn Velez
Dicke snor jonguh
Bjorn Velez
aerox
Best bodywork
1
32
Automatic scooter
Florian Kowalczyk
Aerox Team RCD
Yamaha
aerox
2
109
Automatic scooter
Daniel Todayr
BiggerBigBore stunt
MTC tuning
MBK stunt
Best display
1
314
Automatic scooter
Tina Iwanitzki
Team Iwanitzki Cologne & Malossi Italia – YSS Suspension Thailand & Europe
Piaggio
Zip SP 1
2
70
Automatic scooter
Tobias Baumann
The Orange Dream
Piaggio
NRG MC3 LC DD
Craziest conversion
1
100
Automatic scooter
Andreas singer
0
Yamaha
aerox
2
228
Automatic scooter
Klaus Matzat
Body
Yamaha
aerox
https://blog.scooter-center.com/wp-content/uploads/best-of-all-customshow-2014.jpg
525
700
Heiko Lepke
https://blog.scooter-center.com/wp-content/uploads/2016/04/Scooter-Cejnter-SC-Logo-2016.png
Heiko Lepke
2014-03-24 14:42:24
2015-02-13 11:00:13
Winner Scootershow Customshow 2014