Hidden Vespa and Lambretta treasures in junkyards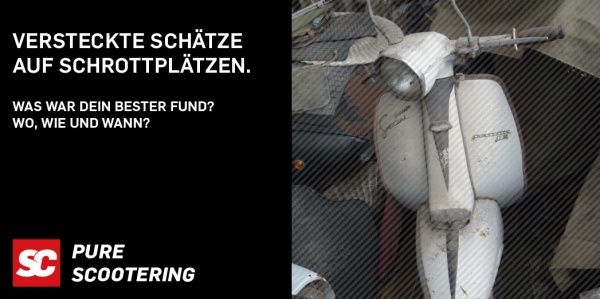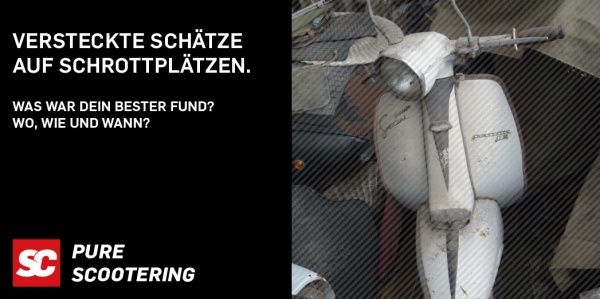 Do they still exist? The real garage find? Loft find?
Do you still get nervous when you pass old sheds, garages and junkyards in Italy?
Even after more than 30 years, the tingling does not let go of us to this day!
PURE SCOOTERING!
We have collected a few nice examples for you here.
What was your best find?
How, when and where did you pick up a Vespa or Lambretta treasure?
I remembered two experiences in particular.
Vespa barn find
On a farm in the Rhineland: The scene like in the best Scooterist film.
The farmer pushed the heavy barn door aside with a creak and led me to the farthest corner. The evening sun shone through the holey barn wall. There she stood - surrounded by dusty bales of straw and old farm implements: an old Vespa - more precisely, a complete Hoffmann Queen.
Although completely covered with a thick layer of dust and full of cobwebs that were now illuminated by the sun and glittered in the light like precious stones. Gold - for me it was pure gold. I was rooted to the spot; I had dreamed of this moment for years. On several trips to Italy I had driven people crazy: "Look at the shed - there is probably stilln there old scooter inside ".
But then it rattled in my ears something like this: "Dat things are still from Minge Pap. If I do mol Zig, I do them for my grandchildren".
Believe me, I tried everything back then, the good Lord didn't want to give her up.
Is it still there today?
Vespa in junkyard
I was once more successful in a junkyard on Lake Como. The owner was just about to set the dogs on me when I discovered the Vespa Stuzzo in a pile of junk and was able to convince him with hands and feet of my interest in the rusty scooter.
Except for the engine complete, even the original key was still in place. Well, little paint - some rust ... anyway - one in my eyes real bargain - For my parents it was more of a disaster at the time ;-)
The price in lire was negotiated on the dusty bonnet of my silver Clio.
And the entire village youth gathered around my sporty small car when I was clearing out the luggage for 2 people from a 2 week camping holiday. When I pulled out my toolbox, there was a big laugh: "Vespa -> Clio: NIENTE"
Waving happily, I drove slightly overloaded and cramped with Vespa and luggage in the Clio over the next pass home. Looking in the mirror, I looked happily into astonished faces ...
Spare parts for your old Vespa or Lambretta scooter can be found in our scooter shop
https://blog.scooter-center.com/wp-content/uploads/2014/07/Versteckte-Vespa-und-Lambretta-Schaetze.jpg
299
600
Heiko Lepke
https://blog.scooter-center.com/wp-content/uploads/2016/04/Scooter-Cejnter-SC-Logo-2016.png
Heiko Lepke
2014-07-01 11:31:23
2014-07-08 13:44:41
Hidden Vespa and Lambretta treasures in junkyards