Holiday in Hungary -> Vespa ESC & 6h race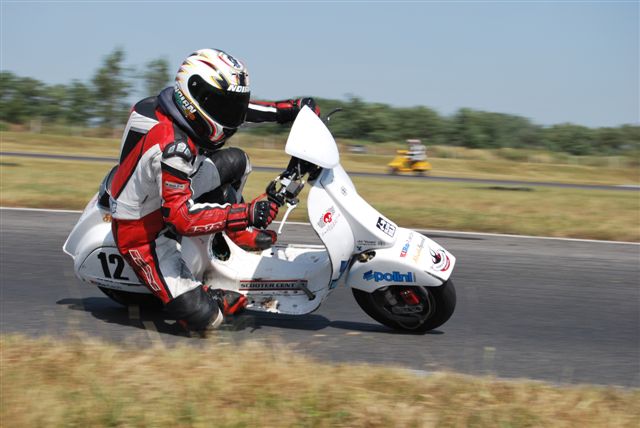 Holiday in Hungary Vol.2 was the motto of the last weekend!
In the night of Thursday we took the 1.097 km route and arrived at the Panonia Ring after a 12-hour drive. There were already some friends to be found there and with very summery temperatures, we had the opportunity to train on the kart track on Thursdays and Fridays.
In addition to our long-distance team scooter (PK XL2 with Polini EVO cylinder), we had Alex and Dennis with us, their class 1 racer, as well as my old racer in a new look for class 2. In addition to new chassis modifications, we still had some power in the Parmakit W Force found and so I was curious how the new / old scooter can be driven.
Most of the teams / drivers arrived on Friday, the last ones on Saturday ESC runs queue up and one for Sunday 6h race was on the program!
Am Samstag
There were then 3 more training units for everyone and the championship races began at 14:00 pm!
Here it should be mentioned that in class 2 the driver Markus Angleiter (Team Stoffi) drove the fastest race lap ever and thus faster than that falc Works driver Hilton!
Overall, the lap time level was very high and even one-class scooters under a minute were driven. (For results see http://eurochallenge.de/)
On Sunday
stood that 6h race on, as the 2nd run of the long distance cup. (Consists of Springrace; Hungary and Fallrace)
Last year there was a 4h race on the kart track and this year it was increased to 6h! The temperatures were like last year - EXTREMELY hot - for man and machine!
Starting in 19th position, we were able to work our way forward and after 3 hours we were in 12th place! Unfortunately we lost the carburetor once and had to re-connect it a second time after a broken hose clamp on the carburetor rubber carburettor fix! After that he should hold and so it was a nice 10th place in the end. We shouldn't have continued to drive much longer with our front brake, because it would have lasted for a maximum of 10 minutes!
In the overall ranking
we are now in 7th place and hope in fall race for a good result.
After chilling 2 in the restaurant along the way, we had to SCOOTER CENTER The bus was then loaded again and drove towards home at 11 am on the same day.
Here then again THANKS to ALL of our sponsors !!!
With that in mind, up fall race
DART Racing Team
https://blog.scooter-center.com/wp-content/uploads/DSC_0622.jpg
428
640
Heiko Lepke
https://blog.scooter-center.com/wp-content/uploads/2016/04/Scooter-Cejnter-SC-Logo-2016.png
Heiko Lepke
2011-09-07 15:48:51
2014-05-22 08:12:46
Holiday in Hungary -> Vespa ESC & 6h race