KYTRONIK Smart Booster 2 Vespa Lambretta CDI AddOn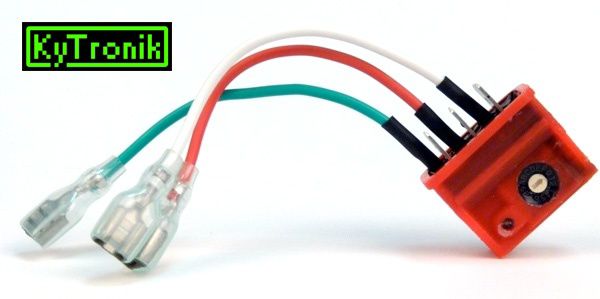 Kytronic CDI tuning
The Kytronic is a mini CDI module with huge performance! To the update 2016/2017
Easy construction
This CDI add-on is simply plugged onto the original CDI. Side hood off, rubber protection up, pull off plug and insert AddOn. Change pre-ignition. Finished.
16 different ignition curves
By mere insertion So, do you have a CDI with 16 different ignition curves!
Underneath there is also a curve that the known one Vespatronic is very similar.
The engine generally gets in the lower speed range significantly more pre-ignition and, depending on the selected ignition curve, takes this back more or less with increasing engine speed. So the engine can operate in the lower speed range better torque produce without overheating or unwilling to turn in the upper speed range. On the contrary, the reduction of the ignition angle in the upper speed range promotes revving.
Clean idling as a Vespatronic
In the area of ​​the idle speed, the ignition angle is also greatly reduced and thus ensures easy and good starting behavior as well as very quiet idling. A feature that is unfortunately not inherent in the expensive Vespatronic and that often makes the engine rattle loudly when idling.
The only adjustment work necessary is to increase the pre-ignition to 24 ° -28 °, depending on the base engine and the degree of tuning.
Features
The features of the Smart Booster module are:
Clearly noticeable improvement in acceleration and performance
Reduction of the mechanical and thermal stress on the engine components at higher speeds
Reduces consumption, smoke and pollutants in the exhaust gas
Plug and play, easy to set up, no battery required
16 different pre-programmed ignition curves, tailored to your engine for best efficiency
Potted in a protective orange urethane case
Manufacturer:

http://www.kytronik.com/sb
https://www.facebook.com/kytronik
Note:
Often does not work with Mitsubhi CDI replica.
We then recommend this against an original Ducati or
BGM CDI To deceive!
https://blog.scooter-center.com/wp-content/uploads/2014/06/kytronic.jpg
299
600
Heiko Lepke
https://blog.scooter-center.com/wp-content/uploads/2016/04/Scooter-Cejnter-SC-Logo-2016.png
Heiko Lepke
2014-06-05 07:29:30
2017-01-18 10:37:33
KYTRONIK Smart Booster 2 Vespa Lambretta CDI AddOn