Lambretta exhaust BigBox V3.0 bgm PRO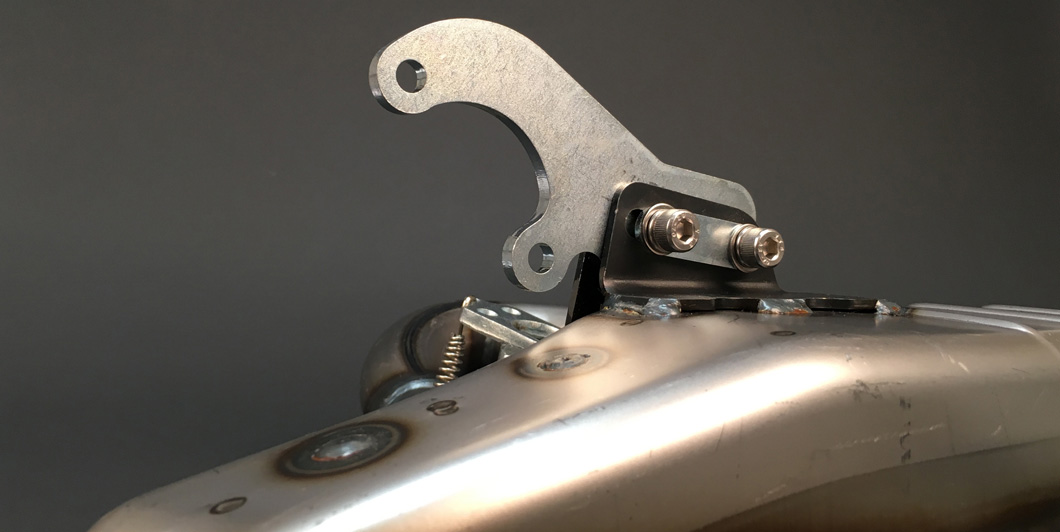 Exhaust -BGM PRO Clubman V3.0- Lambretta series 1-3 - unpainted
Article no. BGM2105U3
This is the V3.0 version of our bgm PRO Lambretta Big Box. The extensively revised version of the Lambretta exhaust system now has better insulation in addition to the familiar mechanical damper of the V2 version. As a result, the exhaust is now even quieter. All plug connections on the exhaust have been further strengthened and optimized. The bracket to the engine has been significantly revised. The result is now a wider range for adjustment and optimal adaptation to your scooter / motor setup.
Optimized bracket:
Buy the Lambretta Big Box exhaust here
Lambretta Clubman exhaust bgm PRO Big Box 3.0
With the BIG BOX Clubman, Mark Broadhurst made full use of his experience in 2-stroke tuning. With the BigBox, Mark has managed to create an exhaust that is visually not far removed from an original Lambretta Series 3 exhaust. Mark managed to fit the performance of a resonance exhaust into the big box. In terms of performance and speed, our Clubman is on the level of the legendary but unfortunately no longer available MRB Devtour exhaust. With the bgm Lambretta Big Box V3.0 you will find high torque, a wide power range and a very pleasant noise level. Many features are available for the first time in series production:
Advantages of the Lambretta Big Box V.3.0
Performance like a resonance exhaust
Quiet
Larger volume of the exhaust body
More ground clearance
Outlet socket for round (TS1 & Co.) and oval (RaceTour, Mugello, Standard, ...) outlet
The outlet, manifold and body are suspended from springs
Reinforced at all critical points
Suspension like the racing exhaust for perfect and tension-free assembly
Can be dismantled without having to remove the right footboard or the cylinder hood
Well thought-out design that works
The gloves for screwing scooters:
Fine knitted glove BGM Protection
A breathable back of the hand ensures extra comfort.
100% nylon fine knit for a perfect fit.
The PU coating ensures optimal grip and a high sense of touch.
At the same time, it protects the palms from dirt and oil.
Ideal for work that requires a high level of protection and good tactile sensitivity at the same time.
https://blog.scooter-center.com/wp-content/uploads/2016/02/bgm-bigbox-lambretta_v3.jpg
532
1060
Heiko Lepke
https://blog.scooter-center.com/wp-content/uploads/2016/04/Scooter-Cejnter-SC-Logo-2016.png
Heiko Lepke
2016-02-02 09:06:23
2016-02-02 13:57:11
Lambretta exhaust BigBox V3.0 bgm PRO