Lambretta Lui dyno days - put to the test
The boss has come up with something: Lambretta Lui dyno days!
From the very beginning - since 1992 - the Lambretta has been a fixture in our company Scooter Center. Much has changed in almost three decades. In the 90s it was mainly the GP and, if necessary, other Series 3 models, now the entire range is available from Series 1 and 2, the cardan models and right up to the Lambretta 'Smallframes' * more popular than ever.
Grade the small Lambrettas with 50 cc displacement were until the appearance of the 75 Casa Lambretta cylinder Completely useless at the beginning of 2009 due to the extremely modest driving performance.
Ulfs Lui Lambrettas put to the test
We took the soft lockdown as an opportunity to put part of Ulf's Lui collection through its paces. We were particularly interested in how the 75 cc Casa cylinder against the original Innocenti 75 cc beats.
And were surprised at how good it was 75 cc aluminum cylinder with Nikasil coating.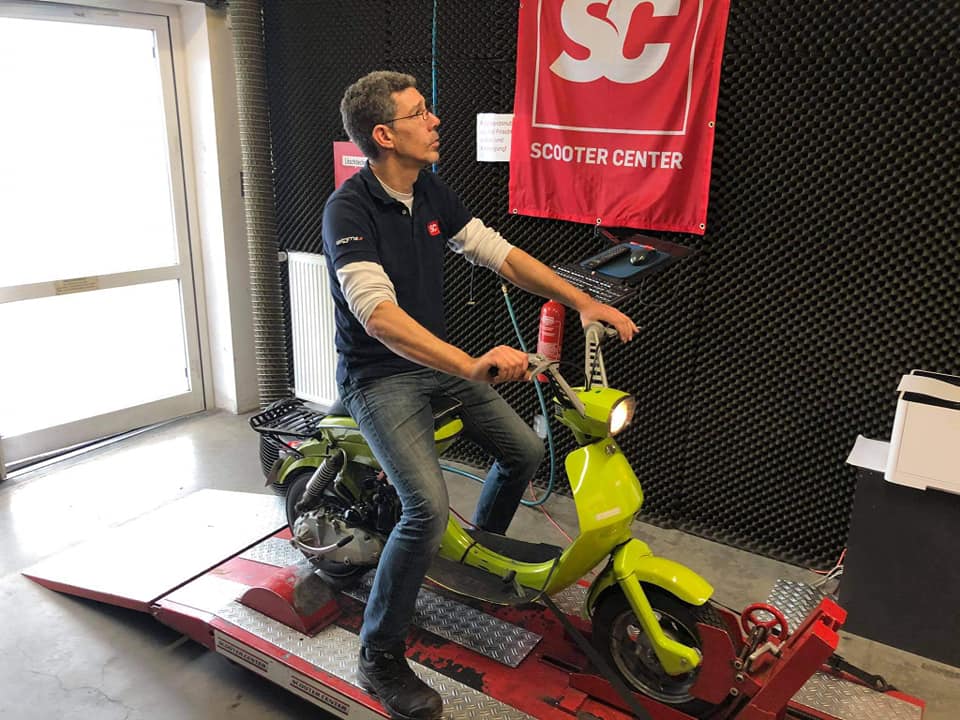 Im Performance chart In the blue corner you can see a completely original lui 50 C. The performance curve with 2,1 HP "peak" performance you unfortunately have to look for at the height of the torque curve of the two 75s.
The green curve with 4,5 HP at around 5.500 rpm was delivered by an original Vega with an SH20 carburetor.
The red curve is a 75 series Casa engine. The cylinder was fired with the 15 SHA carburetor kit (main nozzle 68). A special feature of the engine is the exhaust of the 75 models, which is unfortunately not available and is very popular.
Lambretta LUI tuning configurator
The LUI motor has been assembled with the help of this configurator:
LUI tuning configurator
The result: an easy-to-drive motor that really enables the lui for everyday use.
If you want to know more about the lui series, you can find it here model history to:
https://www.scooter-center.com/de/innocenti-lambretta-lui-50-50-c-50-cl-luna-veh821
Casa Performance Lui Tuning
If all of this is not enough for you, you should definitely check out the tuning kits and parts from our friends from Rimini from Casa performance occupy:

There is much more possible! But maybe more on that next lui dyno days ...
https://blog.scooter-center.com/wp-content/uploads/2020/11/lambretta-lui.jpg
972
500
Heiko Lepke
https://blog.scooter-center.com/wp-content/uploads/2016/04/Scooter-Cejnter-SC-Logo-2016.png
Heiko Lepke
2020-11-25 17:12:13
2020-11-25 19:28:54
Lambretta Lui dyno days - put to the test