Lambretta pole wheel - Lambretta bgm PRO fan wheel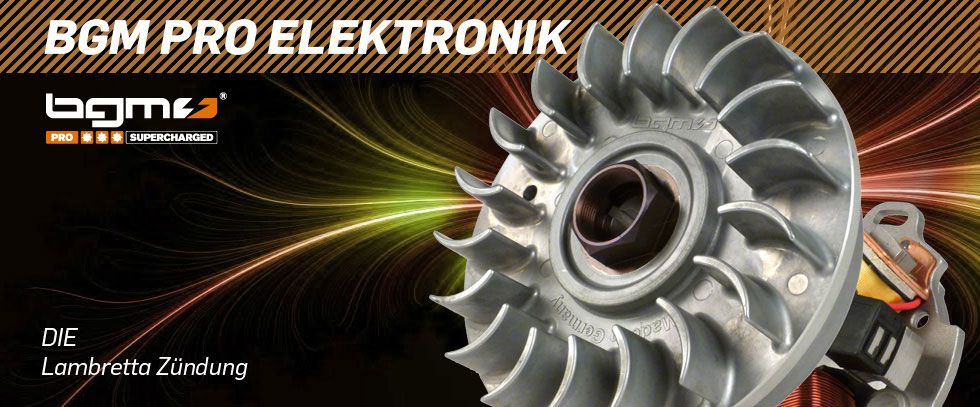 New Lambretta pole wheel bgm PRO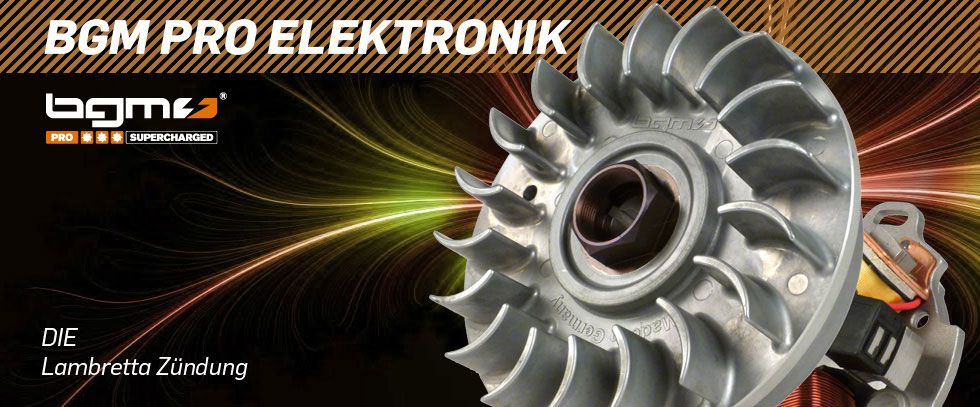 The bgm PRO Lambretta pole wheel is completely Made in Germany.
The fan wheel is a one-piece design, completely without screws or rivets. The pole wheel was specially designed to bgm PRO Lambretta ignition components designed, but also works with all other electronic ignitions based on the Ducati design.
The new Lambretta flywheel and all other high-end ignition components are now available here:
Pole wheel -BGM PRO electronics- Lambretta GP, DL
Pole wheel -BGM PRO electronics- Lambretta LI, SX, TV
data
Moment of inertia 6240 kg / mm² (-5%)
Weight dl / GP 2025 grams
Weight LI / SX 2051 grams
Imbalance <100 gmm
Burst test 24.000 rpm
Improved cooling effect

Totally new design
The fan wheel is a completely new design that has been made around the existing bgm ignition components. The goals were maximum reliability and a strong alternator performance.
Highest reliability
In order to be able to guarantee the greatest possible reliability, the cone is neither screwed nor riveted, but is cast in place. Each cone is checked and reworked after casting to ensure an optimal fit to the crankshaft.
We do specify the weight of the fan wheel, but this is of secondary importance in relation to the engine running. Here the achieved moment of inertia is the decisive value. In other words, how and where the weight is distributed on the circumference.
This Lambretta pole wheel is a stunner
The balance factor is the next interesting factor. Here we achieve a value that is also used in real motorsport. Each fan wheel is individually brought to at least this value. This is the best value ever achieved for a Lambretta fan wheel.
The fan wheel passed the burst test up to 24.000 rpm without any damage.
Compatible
Of course, the bgm PRO pole wheel can also be used with all components based on the original Ducati design with 6 coils. Such as Indian, AF, AFR, Vespa components. However, problems can arise here due to the many different tolerances, which are usually based on the orientation of the pickup to the trigger. If you have any questions: email lambretta@scooter-center.com.
https://blog.scooter-center.com/wp-content/uploads/lambretta-zuendung-bgm.jpg
407
980
Heiko Lepke
https://blog.scooter-center.com/wp-content/uploads/2023/08/SC_BLOG-300x69.png
Heiko Lepke
2013-09-30 11:34:39
2014-05-22 08:16:50
Lambretta pole wheel - Lambretta bgm PRO fan wheel