Lever Vespa PX CNC bgm PRO
New levers Vespa PX (brake lever & clutch lever)
We are happy to introduce you to the new CNC sport levers from bgm PRO. The Vespa PX levers are CNC-machined from solid aluminum. The surface is hard anodized, which results in a very noble and also resistant finish in black or alternatively matt black.
Order new levers for your Vespa here
Top ergonomics
Ergonomically, the new bgm PRO lever is significantly better than the original lever. The bgm PRO sport levers offer better performance and more direct feedback. The shape of the levers is also ideal for braking with just two fingers.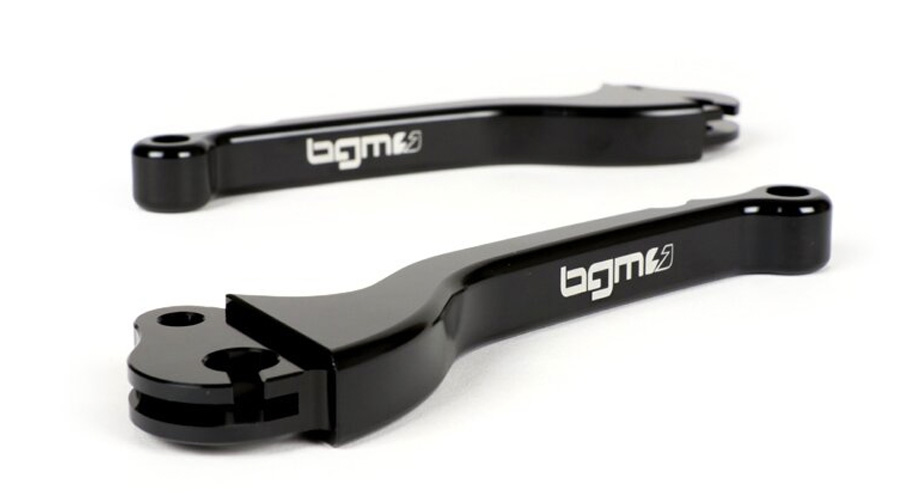 Individually or in a cheap set
We deliver these levers as a set with brake lever and clutch lever. The levers are also available individually! Practical if you only want to replace a single lever as a spare part due to a fall, for example.
Available as a version for Vespa models with classic cable brake and for hydraulic disc brakes.
Order new levers for your Vespa here

LEVER FOR VESPA PX WITH DISC BRAKE
For vehicles with hydraulic disc brakes, the upper brake master cylinder on the handlebars is crucial for choosing the right lever / set:
GRIMECA year of construction 1998-2004
From 1998, with the introduction of the PX Disc models, Piaggio installed master brake cylinders from Grimeca. This can be recognized by the inscription "GRIMECA" on the brake fluid reservoir.
HENG TONG year 2004-
From around 2004, the company switched to Heng Tong brake pumps. These have no manufacturer identification. These pumps are also used on the current PX models.
LEVER FOR VESPA PK MODELS
The PK S and PK XL1 models (approx. 1983-1989) use brake and clutch levers made of plastic (black) ex works. These are slightly larger on the mount and therefore require an approx. 1,5 mm thick washer at the top as well as at the bottom for compensation. Then the levers can also be used here. The PK XL2 models (recognizable by the choke lever on the handlebar) can unfortunately not be equipped with these levers.
LEVER FOR VESPA GTS / MODERN VESPA
OUR TIP:
When changing the lever, take advantage of the opportunity and that too Bowden exchange and insert the lever with a little grease.
You get lever screws, the matching nuts and washers here in the shop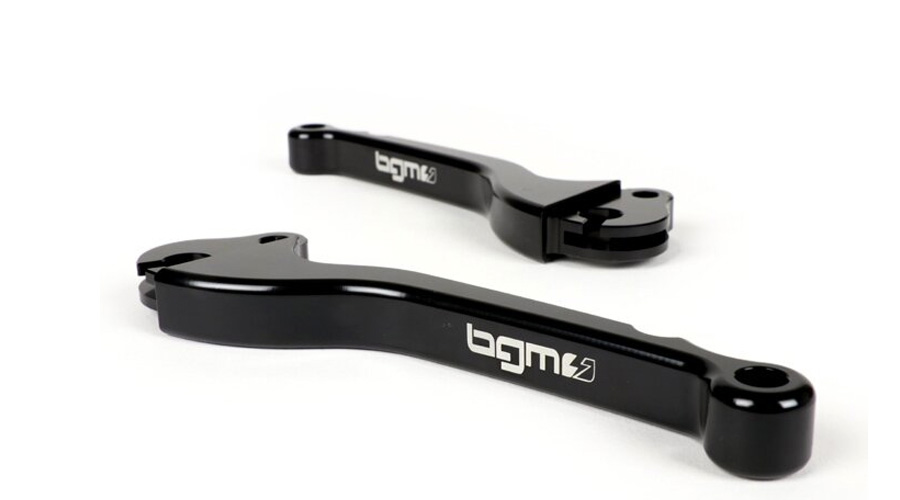 The levers fit the following scooters:
Vespa

50 L (V5A1T)
50 N (V5A1T)
50 (V5A1T - 1963)
50 S (V5A1T - 1964)
50 Special (V5A2T)
50 Special Elestart (V5A3T)
50 Special (V5B1T)
50 Special Elestart (V5B2T)
50 Special (V5B3T)
50 Special Elestart (V5B4T)
50 Sprinter (V5SS2T - 1975)
50 SR (V5SS2T - 1975-)
90 (V9A1T)
90 Super Sprint (V9SS1T)
150 (VBA1T)
150 (VBB1T)
150 (VBB2T)
150 Super (VBC1T)
150GL (VLA1T)
150 sprint (VLB1T)
150 Fast Sprint (VLB1T)
125GTR (VLN2T)
125 Nuova (VMA1T)
125 Primavera (VMA2T)
125 ET3 (VMB1T)
125 (VNA1T)
125 (VNA2T)
125 (VNB1T)
125 (VNB3T)
125 (VNB4T)
125 (VNB5T)
125 (VNB6T)
125 Super (VNC1T)
125GT (VNL2T)
125TS (VNL3T)
160 GS (VSB1T - 1962) GS4
160 GS (VSB1T - 1963) GS4
180 Super Sport (VSC1T)
180 Rally (VSD1T)
200 Rally (VSE1T - Femsa)
200 Rally (VSE1T - Ducati)
Order new levers for your Vespa here
https://blog.scooter-center.com/wp-content/uploads/2018/02/hebel-vespa-px-bgm-PRO-cnc_1.jpg
500
900
Heiko Lepke
https://blog.scooter-center.com/wp-content/uploads/2016/04/Scooter-Cejnter-SC-Logo-2016.png
Heiko Lepke
2018-02-27 14:23:25
2018-02-27 14:56:06
Lever Vespa PX CNC bgm PRO