Malossi MHR 221ccm, new cylinder for the 200cc Vespa with 60mm stroke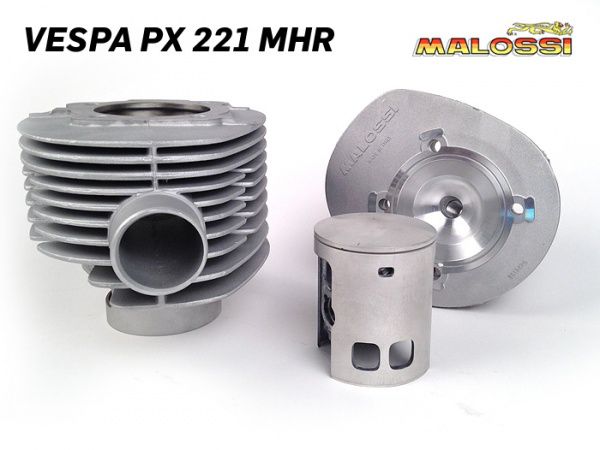 Malossi follows suit with the MHR 221 long-stroke cylinder
After Polini with the Torque hammer 221cc an own Cylinder for their very beautiful 60mm stroke crankshaft, Malossi is also sending a version of the MHR cylinder for 60mm stroke into the race: Malossi MHR 221ccm for Vespa PX and Vespa Rally 200.
The Scooter Center delivery
We can do that Malossi MHR 221 cylinder already delivering for Vespa 200 and have taken a look at it for you:
The new flask is immediately noticeable. Here a piston ring keeps the combustion pressure in check. The piston has not undergone any further changes. In the 1-ring variant, the piston ring sits in the same place as the upper piston ring in the 2-ring variant.
The length of the piston skirt is also identical to that of the piston in the 57mm stroke variant. When assembling with a 60mm stroke crankshaft, the length of the piston skirt must also be taken into account with the 221 to avoid hitting the crankcase.
As a replacement for the piston with one piston ring, the normal piston with two rings can also be used.
Malossi specifies a compression ratio of 98,3: 10,5 for the 1mm cylinder, which is slightly longer. The cylinder head is borrowed from the little brothers MHR210 and Sport 210 and is centered with bushings on the cylinder to the bore. We also quickly looked at the heights of the canals. Since the overcurrent channels on the right and left were not identical, we have entered the mean value here as 47,2mm.
The outlet width is a good 63% in the green area. The moderate chord size and the large corner radii make the piston ring
make life easy and make the cylinder a permanently reliable service provider even on longer tours.
We are looking forward to the first 221ccm engines with the new MALOSSI MHR 221 cylinder that will appear on our P4!
You can use the new Malossi MHR racing cylinder for your Vespa PX Order here !
The cylinder takes care of:
Vespa
200 Rally (VSE1T - Femsa)
200 Rally (VSE1T - Ducati)
What CL 200 (VSR1T)
200 What CLX (VSR1T300)
200 What FL (VSR1T301)
200 PE (VSX1T - 1980)
200 PX E Lusso (VSX1T - 1984-97)
200 PX E (VSX1T - 1981-83)
200 PX E Lusso (ZAPM18 - 1998-)
https://blog.scooter-center.com/wp-content/uploads/2014/06/malossi-mhr-221-vespa-px.jpg
450
600
alex
https://blog.scooter-center.com/wp-content/uploads/2016/04/Scooter-Cejnter-SC-Logo-2016.png
alex
2014-06-05 10:00:18
2014-06-05 19:29:41
Malossi MHR 221ccm, new cylinder for the 200cc Vespa with 60mm stroke