Malossi Multivar 2000 with homologation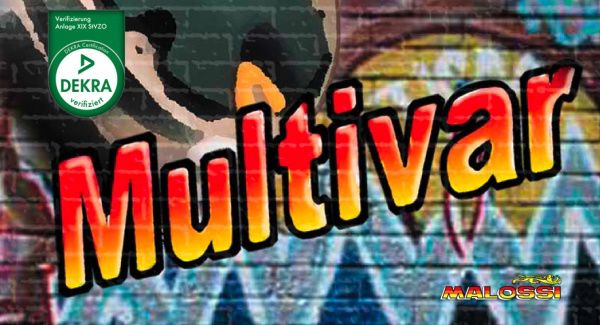 Malossi Multivar legal on the road
Malossi has now homologated the successful Vatiomatik Multivar 2000 for many vehicles.
So this may Malossi Multivar 2000 can be used legally in road traffic.
Validity of the approval
The parts certificate for the Multivar is valid:
for specified vehicles (see usage list)
if the installation was carried out according to the installation instructions (see instructions "Downloads")
Throttle ring Art. No. M0812673B (included in all sets) is used
If all points have been complied with, an older variator is also retrospectively permitted (do not forget the throttle ring).
The Malossi Multivar 2000
Thanks to a significantly optimized shifting process, the MALOSSI Multivar variator produces very good results even on production engines in terms of improving top speed and acceleration, and without putting any more stress on the engine.
The roller races have been specifically calculated for each model and the useful scope of the sliding surface of the belt has also been expanded.
With such a high level of technological effort, it goes without saying that the Malossi Multivar the best materials and the most modern production methods are used:
Self-lubricating sliding bush made of sintered steel
Alloy steel hub
Sliding surface with a layer of hard, polished and lapped chrome
Half pulley made of silicon-aluminum alloy with precision NC machines
Diamond finishing
Nothing stands in the way of completely new driving fun. Jerk-free starting, greater shifting comfort, mechanical silence even at high speeds and constant driving performance are the result.
Assembly of the Malossi Multivar
MULTIVAR - ASSEMBLY INSTRUCTIONS
https://blog.scooter-center.com/wp-content/uploads/2014/05/malossi-multivar_dekra.jpg
325
600
Heiko Lepke
https://blog.scooter-center.com/wp-content/uploads/2016/04/Scooter-Cejnter-SC-Logo-2016.png
Heiko Lepke
2014-05-26 10:14:05
2014-05-26 10:23:53
Malossi Multivar 2000 with homologation