New Bandit jet helmets 2018
Bandit jet helmet 2018
The new 2018 season at BANDIT Helmets is all about a wealth of new products, new colors and optimizations of the Bandit open face helmets.
New colors
The BANDIT jet helmets get four innovations. The trend towards a second helmet is unbroken. And who could resist these colors as a complement to the obligatory white or matt black open face helmet:
Premium Quality
So these are the colors of the new premium line in the Bandit Jet Premium helmet range. These Bandit half-shell helmets are popular scooter helmets and 2018 even higher quality processed as usual:
Fine cotton materials in the interior and
high quality genuine leather around the helmet edges
These two upgrades give the beautiful new Bandit Jet Premium -Series the expression of the highest "BANDIT Original" quality.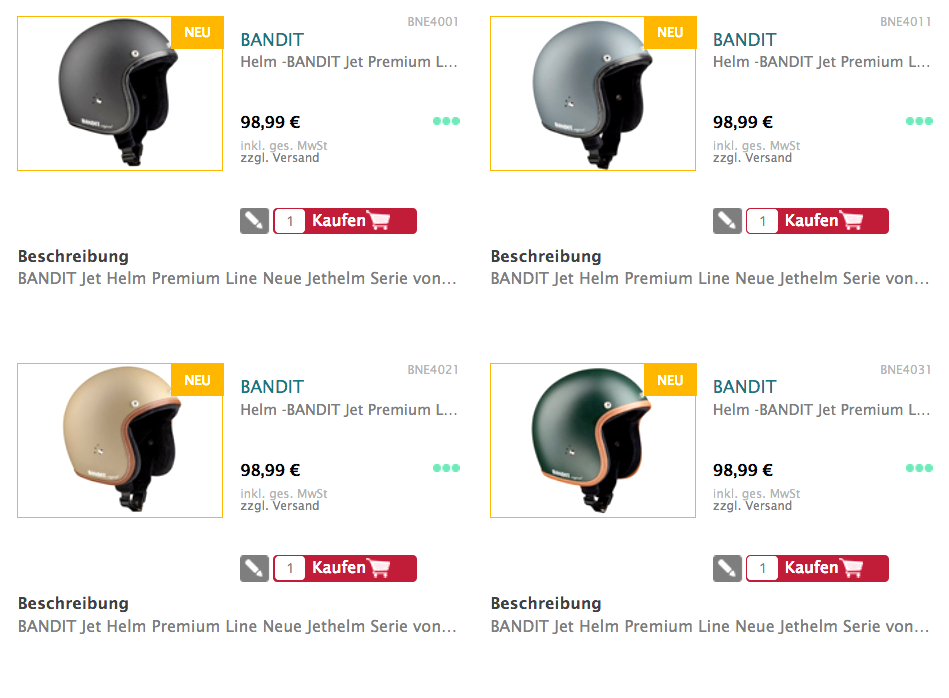 Bandit helmets since 1996
In 2018 too, Bandit stands for exceptional helmets and reliability in terms of price and quality. BANDIT means anything but mainstream. This is how the brand tradition should continue in the future.
This started in 1996. At that time, the beginnings of the BANDIT brand were still in the young streetfighter scene. Today Bandit has a big one Choice of helmetsthat appeals to a much broader target group. Scooter riders in particular love these helmets and Vespa riders like the narrow cut, every bandit helmet is unique and unconventional. And not just with the legendary BANDIT design. Because not only a great look is the trademark. Bandit lays on all helmets great emphasis on quality, fit and a comfortable feeling when wearing. The continuous improvement of the Bandit helmets is a daily requirement. Twenty years of experience in development enables the guys to offer helmets that are of higher quality than others in many areas.
The inner lining of the helmets is made exclusively for Bandit. It consists of 95% cotton and is made through a special manufacturing process particularly soft and skin-friendly. The same applies to the fiberglass of the helmet shell: it is braided in a special pattern for bandit helmets and achieves excellent test results in terms of safety. The quality standard extends to the helmet bag: The helmet bag is made of 100% pure cotton.
The helmets are made in small numbers and with a high proportion of manual labor. So at Bandit you still don't get mass-produced goods, but exceptionally beautiful and good helmets.
Bandit to the ECE standard
"The ECE test standard is always an occasion for questions. In Europe, the ECE 22-05 standard is mandatory. It is mandatory for motorcycle helmets in road traffic in many EU countries. In Germany this is not the case according to §21a, STVO. In this country, the following applies: A "suitable" helmet must be worn. He should
comply with ECE 22-05 or have an adequate protective effect. Unfortunately, the ECE standard also has some disadvantages. So the visor or field of vision is very large. Wearers of glasses, for example, often find this annoying, since normal glasses have a much smaller field of vision than a helmet according to the ECE standard. In addition, is
the impact test so strict that the helmet shell inevitably becomes larger. This look does not meet the expectations of most motorcyclists. Therefore, in addition to our ECE helmets, we also continue to have helmets without ECE standards in our range. They are significantly slimmer and correspond to the US standard FMVSS 218 of the Department of Transport of the USA (Bandit XXR, SuperStreet and Crystal), DOT for short, or roughly the former German standard
DIN 4848 (Bandit JET and Integral). All of these helmets are completely legal to wear in Germany. Regardless of this, we are a certified helmet manufacturer at the Federal Motor Transport Authority with our own manufacturer number and have a TÜV-tested quality management system. We develop many of our ECE-approved helmets on our own test bench, have them checked and homologated by TÜV.
Our ECE jet helmets are unique, smaller than others, developed by us, tested by TÜV and homologated for us.
Decide for yourself which standard, which protective effect and which appearance is important to you! "
The right bandit helmet size
Measure your head circumference at the widest point above your ears to find out the right size.
If you don't have a tape measure at hand, just take a thread, clutch cable, throttle cable or cord and then measure the circumference with a folding rule
Please only test the new helmet with a balaclava, also for hygienic reasons.
When you've put on your helmet and fastened the chin strap, shake your head. If the helmet slips, it is too big.
Check whether you can get under the helmet with 2 fingers. If so, the helmet is too big.
If you wear glasses, be sure to test the helmet with glasses.
Note that the helmet should be very tight at the beginning, every helmet expands after a while and should only then be comfortable.
Table of helmet sizes

Helmet size Europe

XS

S

M

L

XL

XXL

XXXL

Centimeter head circumference

53-54

55-56

57-58

59-60

61-62

63

64

Inches

20 7/8 - 21 1/4

21 5/8 - 22

22 1/2 - 22 7/8

23 1/4 - 23 5/8

24 - 24 3/8

24 3/4 - 25 1/4

25 5/8 - 26
| | | | | | | | |
| --- | --- | --- | --- | --- | --- | --- | --- |
| Helmet size US | 6 5/8 - 6 3/4 | 6 7/8 - 7 | 7 1/8 - 7 1/4 | 7 3/8 - 7 1/2 | 7 5/8 - 7 3/4 | 7 7/8 - 8 | 8 1/8 - 8 1/4 |
https://blog.scooter-center.com/wp-content/uploads/2018/02/bandit-jet-helm-premium-2018.jpg
348
900
Heiko Lepke
https://blog.scooter-center.com/wp-content/uploads/2016/04/Scooter-Cejnter-SC-Logo-2016.png
Heiko Lepke
2018-02-16 18:36:35
2018-02-16 18:36:35
New Bandit jet helmets 2018