Reinforced brake drum 10 inch Vespa PX, T5, Vespa Sprint, Rally, TS, GT, GTR
Reinforced brake drum for Vespa PX, T5, LML 2T, Cosa 10 ″
That's an optimized 10 inches Vespa brake drum from Scootopia. This drum simply replaces the old part and impresses with a massively reinforced steel core with significantly larger aluminum struts inside. Externally it is fortunately very similar to the original brake drum, the original look is retained!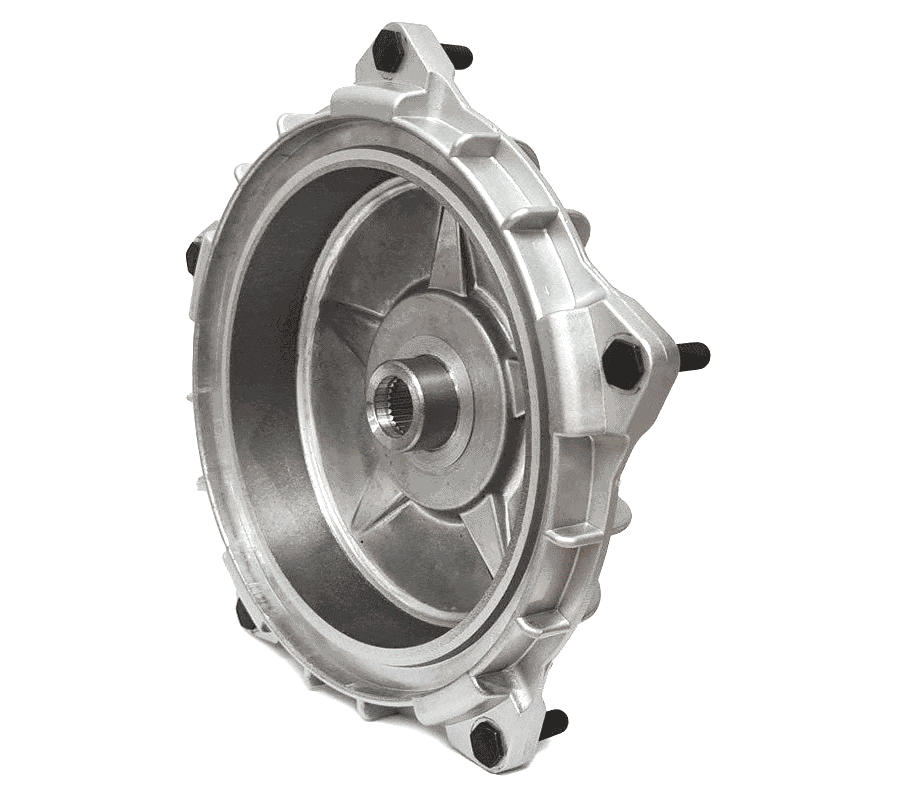 With the original Piaggio brake drums it was possible to change the stud bolts, with the repro drums available afterwards a change was no longer possible.
With this new Scootopia drum they are Wheel studs can be replaced again, useful if a thread is defective here. In addition, it is cheap and sustainable at the same time, because only a bolt is replaced instead of a complete drum.
Our recommendation for Vespa Largeframe Tuning
Due to the massive construction, the Scootopia brake drum offers significantly more safety. This makes them the preferred choice for all powerful tuning engines.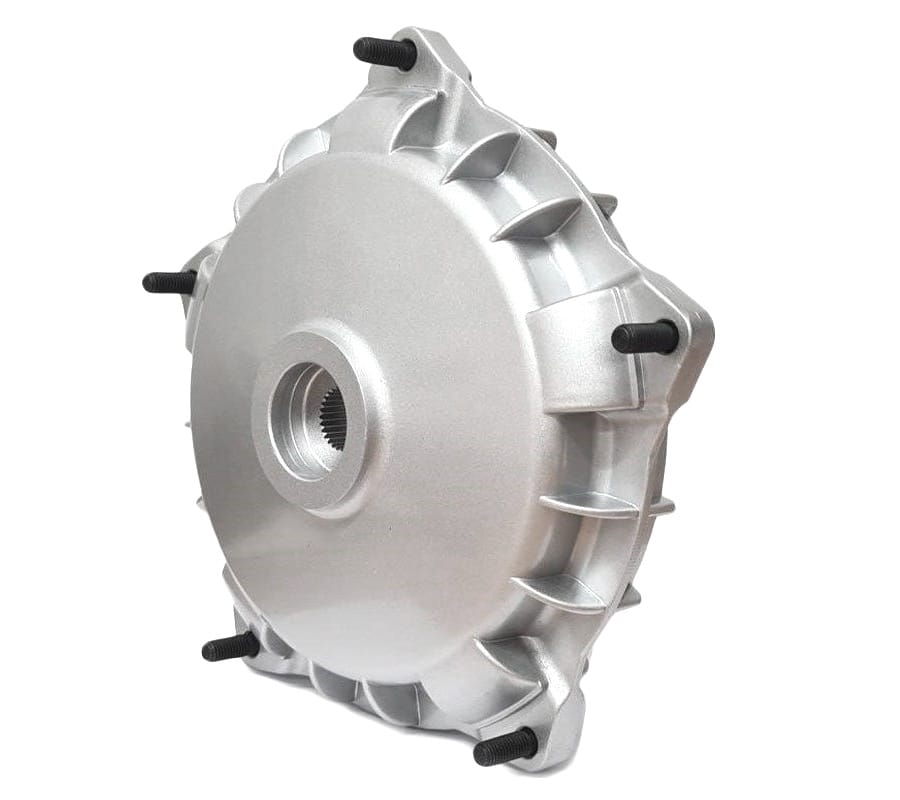 Does the brake drum fit on my Vespa?
The drum fits all Vespa engines with a Ø30mm shaft seal.
If the Shaft seal is also changed (see below), it fits almost Largeframe Engines with 10 inch tires. Therefore e.g. for Vespa Sprint, Rally, TS, GT, GTR etc.. usable.
Background knowledge 10 inch brake drum Vespa:
With the introduction of the Vespa GL around 1962, a new type of brake drum was established for the rear wheel shaft, which is still used today in almost the same design. With the exception of the GS160 / SS180 and COSA models, this type of drum was used in all Vespa scooters from 1962 with a horizontal cylinder (Vespa Largeframe) installed.
1962-1984: Drum with Ø27mm shaft sealing ring surface, castle nut secured with a split pin. Tightening torque: 75-90NM
1984-1988: Drum with Ø30mm shaft sealing ring surface, hexagon nut secured with cage and split pin Tightening torque: 90-110NM
1988-today: drum with Ø31,5mm unsanded running surface for felt ring, hexagon nut secured with cage and split pin (the actual shaft sealing ring is located here in the gearbox). Tightening torque: 90-110NM
The steadily growing flange diameter (from Ø27 to Ø31,5mm) enables a significantly more stable brake drum flange. The models with only Ø27mm tend to expand quickly if the tightening torque was too low. A spread brake drum flange can be seen on a rear wheel that keeps loosening, despite the correct tightening of the rear wheel nut. The only thing that helps here is to replace the brake drum early, otherwise the Main shaft toothing affected pulled and must also be replaced. For reasons of stability, it is always advisable to change to a drum with a flange diameter of 30mm.
Brake drum conversion
BRAKE DRUM UPGRADE old to new (27mm => 30mm)
The more stable drum of the PX Lusso models from 1984-1988 can also be used on the older years of construction with a Ø27mm drum, provided that the shaft seal of the Lusso models with Ø30mm and the washer of the models from 1984 onwards are used there.
BRAKE DRUM DOWNGRADE new to old (31,5mm => 30mm)
The latest type of brake drum (1988-today) no longer has a ground running surface and is therefore unsuitable for combination with a shaft seal. An internal shaft seal and an external felt ring were used ex works on models from 1988 onwards. Here, too, the Lusso drum from 1984-1988 can be used and converted to a conventional shaft sealing ring (TIP: If the inner shaft sealing ring is omitted here, please make sure to close the drip hole in the housing.
https://blog.scooter-center.com/wp-content/uploads/2021/06/vespa-bremstrommel-10-zoll-animation_s.gif
356
400
Heiko Lepke
https://blog.scooter-center.com/wp-content/uploads/2016/04/Scooter-Cejnter-SC-Logo-2016.png
Heiko Lepke
2021-06-28 15:17:56
2021-06-28 15:48:34
Reinforced brake drum 10 inch Vespa PX, T5, Vespa Sprint, Rally, TS, GT, GTR