Report 2nd Customshow Innsbruck 2016 in Völs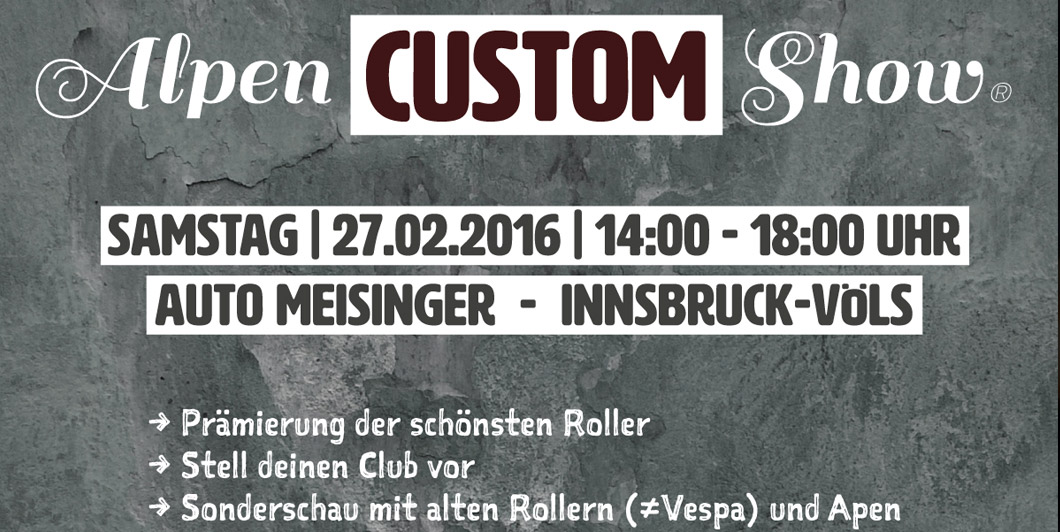 Customshow in Austria
Before our own Scooter Custom Show 2016 starts on April 9th ​​in Cologne, we were already on the Alps Customshow excited in Austria.
The 2nd Alpen Custom Show took place this weekend, on February 27, 2016 in Fiè near Innsbruck instead.
The Scooter Center was at the premiere of Alps Customshow last year with a big booth. Here is the video about our trip to our friends in Austria:
Unfortunately we didn't make it to Innsbruck this year. We still have a report and the results for you:
More than 800 visitors
You have to have been there to believe it. More than 800 Vespa and scooter enthusiasts stormed the 27nd Alpine Custom Show in Völs near Innsbruck on February 14th from 00:XNUMX p.m.
A wide variety of scooters were on display, from
tuned (like Lambretta with RC350 engine)
via airbrush (by Markus Scheiber like the GT3 300 Film Airbrush 300)
and 30 pieces Wideframe Models up to
2 scooters from 1949 (Gerhard Mair and Elvio Bosshart from Switzerland)
Great location full of Vespa, Lambretta and Co.
The new location at Auto Meisinger with a wonderful mountain panorama and twice as much exhibition space (2000m²) as compared to the previous year convinced the around 100 exhibitors with their Vespas, Lambretta, Acmas, Motovespas and Apen.
Many a manufacturer of scooter parts also presented new products here, such as the company Pinasco Wideframe Tuning kit.
Vespa Primavera with 51 HP
On the dynamometer there was a lot of people all afternoon. PS monsters (from Erich from South Tyrol Primavera with 10 PS) as well as original vehicles (Manuel Philipp Acma ´51 with 54 PS) were put on the rollers every 2,74 minutes.
The exhaust test, in which different exhaust systems from the companies LTH, SIP, Bollagmotos and Scootercenter could be tested on the scooter, also met with great interest.
The many visitors came from all over Austria, South Tyrol and Switzerland. Numerous clubs were represented with stands, such as the "Thirsty Cattles" from Burgenland, which won the prize for the longest journey with 530km.
The end and at the same time the highlight of the II. Alpen Custom Show was the award ceremony in 25 categories - including "Best Automatic", "Stronges Wideframe"Or" Best Lambretta "
A long, exciting day came to an uneasy end at the after-show party in the Soulkitchen ...
The 25 winners of the Customshow:
Best OF All: Thomas Linhard
Best Custom: Jorg Hezel
Best Street Custom: Marco de Villa
Best Vespa: Roman Becvarik
Best Lambretta: Bernd Kirschner
Best Auto: VC Burgenland "Thirsty Cattles"
Best Non Italy: Wolfgang Dickinger
Best Wideframe: Robert Zinnöcker
Best Largeframe: Christian Sommer
Best Small Frame: Woidi
Best Racers: Klaus Hochschwarzer
Best Street Racers: Patrick Adam
Best Ape: Elvio Bosshart
Maximum respect: Mario Kloibhofer
Craziest conversion: Roland Astner
Best airbrush: Markus Scheiber
Best engineering: Thomas Linhard
Best O-paint rescue: Peter Flick
Best original condition: Gerhard Maier
Longest journey: VC Burgenland "Thirsty Cattles"
Best Club Display: Vespa Club Margrait
Air Vespa Contest: Employee from SIP
strongest Wideframe: Zickler GS 150 with 13 HP
Strongest Small Frame: Erich Oberpertinger PV with 51 HP
strongest Largeframe: unknown PX with 37 hp
https://blog.scooter-center.com/wp-content/uploads/2016/01/customshow-innsbruck-2016.jpg
532
1060
Heiko Lepke
https://blog.scooter-center.com/wp-content/uploads/2016/04/Scooter-Cejnter-SC-Logo-2016.png
Heiko Lepke
2016-03-01 09:38:39
2016-03-01 10:20:56
Report 2nd Customshow Innsbruck 2016 in Völs