Panoniaring scooter race - Hungary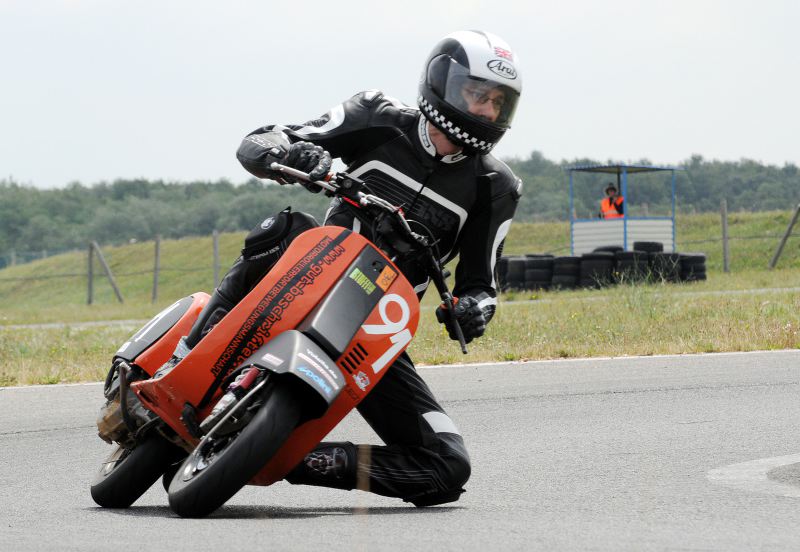 Last week the Eurochallenge 2010 took place in Hungary (Panoniaring)!
The program included: free driving on the kart track on Friday and Sunday, ESC runs on Saturday and a 4-hour race on Sunday. Those who still didn't have enough could do 3 times 20 minutes on the GP track on Monday!
All in all, a tight program - we haven't left anything out.
We drove with 10 people and 7 scooters on Friday night. After just over 1000 kilometers At 4 o'clock in the morning we arrived quite exhausted at the totally rainy Panoniaring in Hungary.
Nonetheless, the scooters were also introduced to the first test purposes / track around noon, sometimes chased over the almost 1000m long kart track. We used the opportunity to properly adjust our scooters to the conditions.
On Saturday we were in the fun class and our girls were in their class, but our priority was the 4h race on Sunday.
Our Vespa PK-XL race scooter ( 136 Malossi with 30 Dellorto Carburetor and 54 BGM Pro racing crankshaft ) had received a small Evo level ( Vespatronic Exhaust) in contrast to the 12h engine at the spring race in April, we drove through the corners with about 5 hp more.
On Sunday, as on the day before, the sun showed its best side, ie felt 40 ° in the sun, which led to warm people and machines.
We started the 4h race with 3 teams (1x girls team with 133 Polini , 1 x Signs & Styles race team and we)…. After 4 hours we were able to say that all in all a good result was achieved for us as amateur teams. Of the 19 teams that had started, we finished 6th & 7th and the girls 9th. Ie all scooters lasted until the end and except for a small fall, sunburn and defective ones spark plug we were saved from worse!
To get a time dimension - the fastest on the kart track drove less than a minute, our girls 1:02 and we 1:00 ... but Michael Hilton (Falc's works driver) drove a time of 53 seconds !!!
The next day, as mentioned, the big GP course was on the program.
A training / qualifying run and then two short races over 20 minutes (approx. 4 laps) - unfortunately too short for me to really memorize the course. From the driver's point of view, it was definitely worth the boxes with the Quattrini cylinders sometimes to go out. Unfortunately I was translated a little too long despite BGM short 4th gear , but next time you know it and maybe there will be a repeat next year. I would be happy even if it was a long journey.
In this sense,
c ya all
Torsten
DART Racing Team
https://blog.scooter-center.com/wp-content/uploads/091.jpg
552
800
Heiko Lepke
https://blog.scooter-center.com/wp-content/uploads/2016/04/Scooter-Cejnter-SC-Logo-2016.png
Heiko Lepke
2010-08-09 10:25:05
2014-05-22 08:11:30
Panoniaring scooter race - Hungary