Scooter Center at the Alpen Customshow 2015 in Innsbruck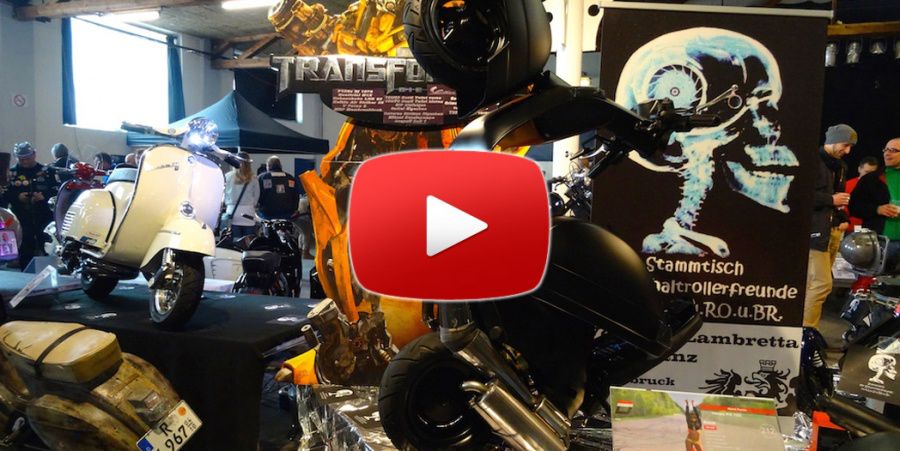 We were at the Alpen Customshow 2015 Innsbruck
The Contact with our customers is very important to us. Such is the tradition of great own Scooter Center Events like our own Scooter Custom Show SCOOTER SHOW and the Classic Days very big. the Support the scene is a matter of course for us, so we support a lot of scooter meetings and are also at many events with our own Scooter Center / bgm - Stand represent. So we went to the last weekend too Alps Customshow of our friends from Tyrol.
After an arduous journey with over 800km, lots of traffic jams and holiday traffic, we arrived in Innsbruck in beautiful Tyrol with the best weather!
Stop - I think we have to clean up here first:
"Alpen Customshow", "beautiful Tyrol", "best weather"... NO, unfortunately the custom show did not take place in a mountain hut with cow bells ringing. After all: thanks to Innsbruck's great location, there was still a mountain panorama: as soon as you step out of the event hall:
No vacation in Tyrol
And of course it wasn't a vacation either, it was hard work, because we had made every effort to use the huge storage space of the long van effectively and loaded the cart full of scooter parts.
But thanks to the many helping hands of the Mountainmen scooter club, our van was unloaded very quickly. So we were ready for the rush of visitors right on time for the start of the first Alpine Customshow in Innsbruck.
We had a lot to do all day and enjoyed the many interesting conversations with our international customers
Germany,
Österreich,
Italy and
Switzerland is very happy.
This weekend, they are special to us. often noticed by very young Vespa drivers, some of whom bought from us with their parents. This is how we imagine family shopping together on the "long Saturday" :-)
It's nice to see that the long-term support of the scene pays off and that young, enthusiastic Vespa and Lambretta drivers are also joining us!
Speaking of the "long Saturday": the customshow lasted until 20:00 p.m. - a long and exhausting day, which we had a lot of fun.
We had promised fair prices and many scooterists have on Scooter Center Stand made real bargains. Thanks to our mobile payment terminal, customers were also able to go along with ease Credit, debit cards and even PayPal pay, which was very well received. We have several boxes of those new bgm catalogs distributed, costly merchandise, benches, tires, rims, helmets, ignitions, small parts etc. and were very happy to be able to drive home relatively empty.
The storm on the BigBox
A very special kind of rush surprised us in the late afternoon:
We have had some of our new bgm PRO BigBox Sport Vespa exhaust systems for the whole day Vespa PX 80-150 and Vespa PX 200 / Rally 200 sold, but suddenly the demand exploded and we sold two huge boxes of BigBoxes within a very short time. Only later it turned out that outside on the test bench an exhaust test took place. The operator of the test bench had tested a lot of exhaust systems here and of course the performance of the BigBox had convinced everyone here. The performance-oriented Vespatuners took advantage of the favorable opportunity and bought a new BigBox directly on site at the fair price.
Thus the bus was loaded relatively quickly and the stand was quickly dismantled. Many thanks again to our friends Andy, Stoffi and Zini, who helped us with the tent dismantling and with whom we spent a nice evening at the evening event in the Weekender.
Photos Alpen Customshow 2015
In between we found time to take a few photos of the event and a small video:
https://blog.scooter-center.com/wp-content/uploads/2015/02/scooter-center-auf-alpen-customshow-2015.jpg
451
900
Heiko Lepke
https://blog.scooter-center.com/wp-content/uploads/2016/04/Scooter-Cejnter-SC-Logo-2016.png
Heiko Lepke
2015-02-23 16:34:50
2015-02-23 19:17:02
Scooter Center at the Alpen Customshow 2015 in Innsbruck