Scooter Center goes Italy - 3 Inside Polini - the Polini tour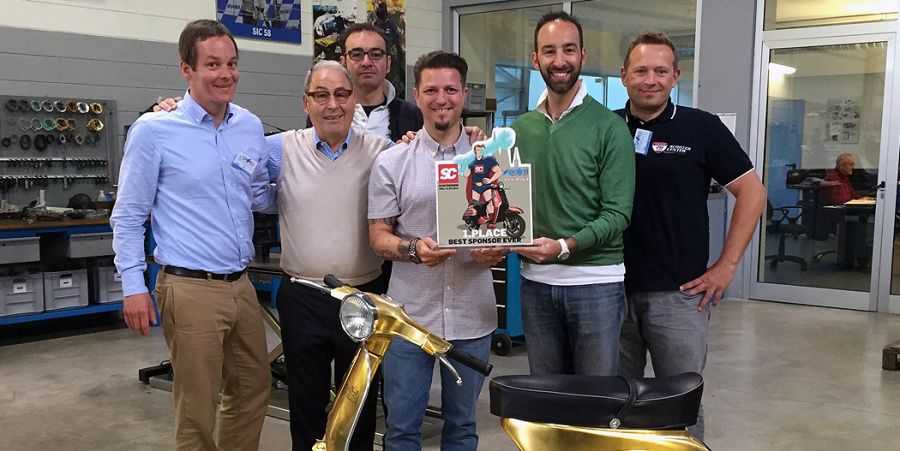 Inside Polini
Part 3 of our trip to Italy takes place in Bergamo near Polini.
1. Rimini Lambretta Center 20th Anniversary Open Day / Rimini
2. Try Cromate Scooter Club Ride Out / Rimini
3. Polini factory tour / Bergamo
4. Casa Lambretta and Lambretta Museum visit / Milan
We still completely flashed from the Rimini weekend on the fourth day of our trip to Italy two more highlights on the program:
Visit to POLINI in Bergamo
Visit of the Lambretta Museum by Vittorio Tessera followed by a quick check of the new CASA LAMBRETTA parts
Scooter Center visits POLINI in Bergamo

Polini is known for Vespa tuning parts as well as scooter and motorcycle motorsport. The high-performance, high-quality tuning products are available from Scooter Center at a great price / performance ratio: POLINI scooter shop
The roots of the Family business lie in a small one Bicycle manufacture in Bologna. After World War II, Polini Battista originally built bicycles. During our visit we got to know his sons and grandchildren who run the company today very successful continue.
The video
A real Picture book family business. We meet at least three generations of the family who work in a wide variety of positions in the company. We were introduced to a different family member at almost every corner. You are working in the company as Engineers and designers, photographers, designers and managers.
Today only the plaque and a few old pictures at the entrance to the Polini headquarters remind of this origin. Today Polini has nothing to do with bicycles. Almost nothing, because Polini wouldn't be Polini if ​​she wasn't even one Would tune e-bikes...
A tuning kit for e-bike motors such as Bosch or Panasonic with a remarkable performance from 25 to 50 km / h has recently been available.
But now back to real motorsport.
Cup handover Customshow
We were really looking forward to the meeting because Polini is one of ours main suppliers and one of the oldest business partner. Polini supports us in ours Scooter Center Custom show SCOOTER SHOW from the beginning. So it was high time, now for the 8th year, to finally be there, personally and with a current one Customshow Cup thank you for that.
The family showed us the entire sacred halls, from development to laboratories with stress tests, several performance test benches, workshop, assembly halls to warehouse and logistics.
We were very impressed with the size and above all about the very open and warm, sympathetic nature with which we were received.
But you know us, the long way has to be worth it, that's how it came about the business Not too short:
In the future we will expand our Polini product range even more, for example:
Polini CP - carburetor
We have had them in our range for a long time: The Polini CP carburettors.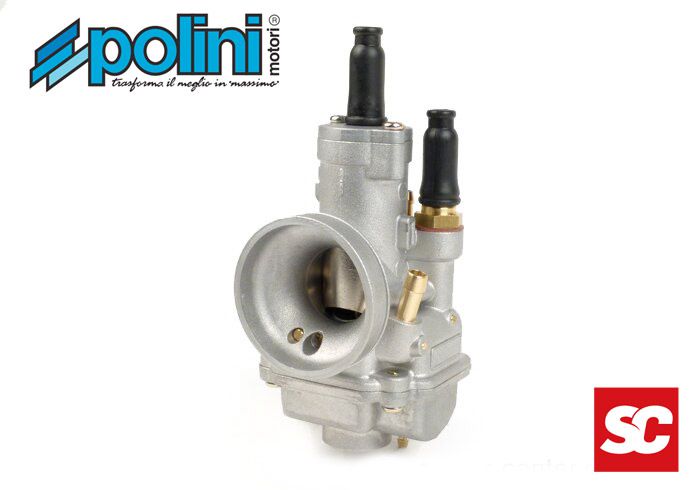 Word has already got around here that this very easy to tune carburetor on too Vespa Smallframe and Lambretta excellent The range of application is limited, however, as only the following sizes are available: 17,5 / 19/21/23/24 (Evolution).
Polini in-house development, MADE in ITALY. PWK - nozzles fit!
Polini brake pads
The brake pads are used in the Polini Cup races and other racing companies and the drivers are enthusiastic.
Polini brake pads suitable for your scooter you will get from yours soon Scooter Center Scooter shop
Polini Modern Vespa exhaust
It's brand new Polini exhaust for the new Vespa models. VESPA GTS125 / GT200 / GTS250 / GTS and GTV300 4Str. SUPER GT.

Great lookwhich has been specially adapted to the line of the Vespa body. The workmanship and the finish are great! And as you can hear in the video, there are also nen rich sound on this.
With and without throttle / homologation in short Scooter Center Modern Vespa shop .
Thank you POLINI
At this point, too, many thanks again to Roberta and the Polini family, we know that they check our blog from time to time :-)
Pictures POLINI
The photos from our visit to POLINI
https://blog.scooter-center.com/wp-content/uploads/2015/05/inside-polini.jpg
451
900
Heiko Lepke
https://blog.scooter-center.com/wp-content/uploads/2016/04/Scooter-Cejnter-SC-Logo-2016.png
Heiko Lepke
2015-05-06 10:42:21
2015-05-08 10:54:05
Scooter Center goes Italy - 3 Inside Polini - the Polini tour