Scooter Center Shop - innovations 2019

Scootershop optimization 2019
Customer opinions and the exchange with our partners and customers is very important to us. After our major online shop relaunch last year, we are now stepping up and offering you a shop with further optimizations:
Straight to the new features in the Scooter Center Shop
Navigation: Your scooter quickly & easily in focus
The internal project name "Expresso-Navigation "says it all: Just like the popular Italian espresso: black, quick, easy and super good!
The navigation at the top, at the top of the page, is the new central element of the Scooter Center Stores:
New: You can only now select the vehicle and then only products that fit your vehicle will be displayed.
You can find particularly popular vehicle groups above, all manufacturers alphabetically below. You can also find recently selected vehicles and scooters from your garage (see below) directly here.
In just 2 steps you can get to your vehicle model quickly and easily and in 1 or 2 additional steps to product categories with special parts for your scooter.
Tip 1: Search within the lists
You can also search within the lists and narrow it down with one entry, eg "PX" - instead of scrolling and then selecting.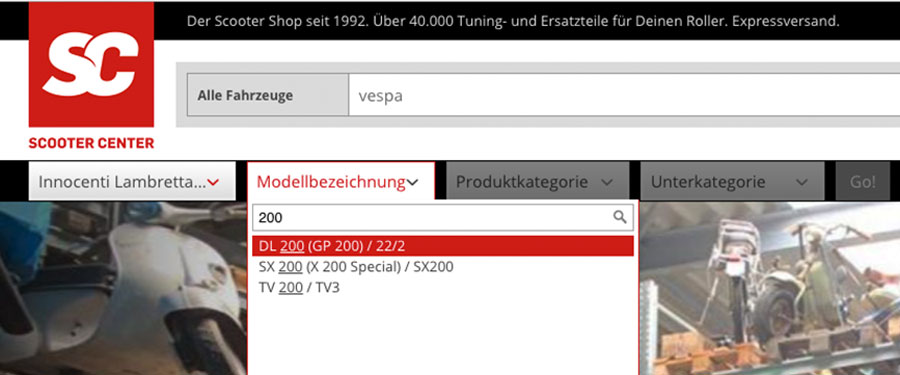 Exception: The general categories such as tires, helmets, literature, tools etc. When you visit these categories, you leave the vehicle world again. And vice versa, you will not find any universal products such as helmets under a selected vehicle - and currently no tires either - please use the here Scooter tire finder
Vehicle info: a garage full of scooters!
The vehicle pages are also new. Once you have selected your vehicle, you will now find here (if we already have it) pictures, technical information and the model history. example Lambretta SX200
Tip: Park favorites in the virtual garage
Who wouldn't want a garage full of scooters? in the Scooter Center Shop you now have the opportunity to live your dream, at least virtually: create a free account and park vehicles that you regularly shop for in your personal garage. This allows you to create the model as a favorite for you and you don't have to select it from the list again the next time you visit.
Find scooter spare parts using exploded views
With the selection of your scooter you will now also get to the exploded view of your vehicle (if available). Here you can then select the panel for the vehicle area and visually find and select the spare parts and alternatives to it on the graphic. Alternatively, you can also find all exploded views and Exploded view drawings for carburetor spare parts also here: Scooter Center exploded
NEW: You will now find all products in an exploded view listed one below the other. This makes it easy to select neighboring products that are required directly.
Search: Especially for your scooter or everything?
With the selection of the vehicle described above, you immerse yourself in the world of your scooter. This also means that when you search, you will now only see parts for your vehicle. This individual product selection by vehicle makes shopping with us now clearer, faster and easier! You can also recognize an active vehicle filter by the information next to the search field. If you delete the filter here, you leave the vehicle world and can also search through the entire range.
Buy scooter parts without any obstacles
Of course, the shop is optimized for mobile devices and works on your smartphone or tablet. So you can shop anywhere and anytime without any obstacles. What is new, however, is that shopping is now even faster, easier and more fluid:
If you put a product in the shopping cart, this will be indicated directly next to the product and in the shopping cart with the quantity, we do without a separate note! In this example I have Products in the shopping cart and one of them is the excellent bgm PRO cylinder MRB-Racetour, of which I have just added one.
When choosing the sender, you will receive information about the delivery time and the shipping costs, which will make your decision for the current delivery even easier.
Tip: Always look out for the new, green postage free icon!
You will notice that the buying process has also become leaner and easier.

All in all, further process optimizations ensure that you can still use your parts faster and more reliable receive! After all, you would rather sit on the scooter than in front of the screen with our shop!
Now the innovations in Scooter Center Try the shop
https://blog.scooter-center.com/wp-content/uploads/2019/08/scooter-center-shop-optimierung-2019.jpg
949
1761
Heiko Lepke
https://blog.scooter-center.com/wp-content/uploads/2016/04/Scooter-Cejnter-SC-Logo-2016.png
Heiko Lepke
2019-08-27 17:03:10
2019-08-27 17:03:10
Scooter Center Shop - innovations 2019