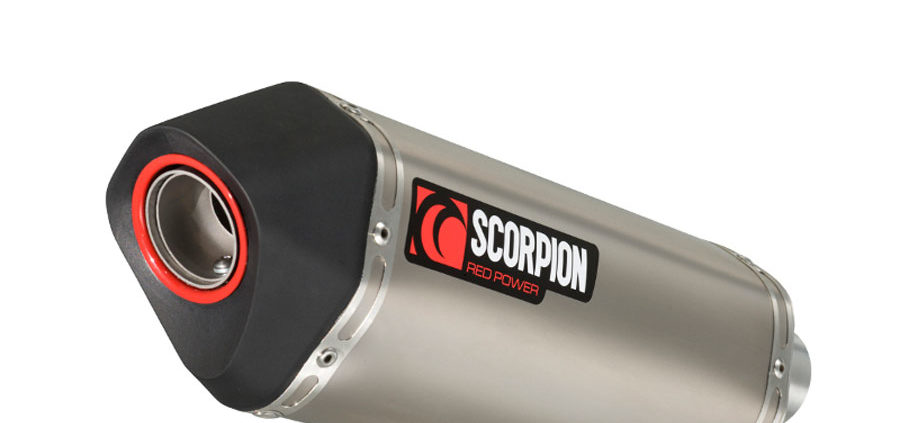 Noble exhaust for Vespa and other scooters: Scorpion - Handmade in England
The Scorpion exhaust systems for Vespa have been with us since the 90s. At that time, the manageable noble forge from England was of course still building 2-stroke systems for the classic Vespa and Lambretta models. Even then, the Scorpion exhaust was one of the first stainless steel exhaust systems and is still impressive today, especially in terms of quality.
A lot has happened in the meantime. That Scooter Center celebrates its 2017th anniversary in 25 and Scorpion has developed into one of the leading exhaust system manufacturers for 4- and 2-wheelers.
Successful in motorsport
RED POWER: Motorsport is the team's passion and plays a central role at Scorpion, where successes have already been achieved in the BTCC, Porsche Cup, VW Racing Cup, World Endurance, Time Attack and Superbike. Series production naturally also benefits from this experience.
Certified production and exhaust with TÜV
Of course, the exhaust systems are approved.
The necessary EC permits and operating permits are created directly by the manufacturer. For this, Scorpion was certified according to DIN EN ISO 9002. Your guarantee for quality and safety.
Lifetime warranty
Speaking of guarantee: The likeable English are so convinced of the quality of their exhaust systems that Scorpion gives a lifetime guarantee on the exhaust. In the event of an accident, there is a crash replacement, i.e. an extremely discounted exhaust in exchange. Valid for the original owner:
Scorpion Lifetime Warranty & Crash Replacement
The manufacturer Scorpion gives one lifetime warranty on its exhaust systems.
In addition, damaged exhaust systems in the event of an accident can be replaced at a preferential price.
These manufacturer's services are only valid for the first owner.
Please keep the invoice / proof of purchase in a safe place.
Address of the manufacturer / guarantor
Scorpion Exhausts Ltd, Unit 3 High Holborn Road, Codnorgate Business Park, Ripley, Derbyshire, DE5 3NW.
Scorpion goes Scooter Center
We took a closer look at the Scorpion systems. Quality, optics, sound and service convinced us.
We are now adding the new models to our range. In the future we will work closely with Scorpion and will bring one or two exhaust delicacies.
| | | | | |
| --- | --- | --- | --- | --- |
| Brand | Model | Aupuff type | Finish | OEM number |
| Peugeot | Metropolis 400 | Serket slip-on | Stainless steel sleeve | RPG102SEO |
| Piaggio | MP3 400/400LT(2008-2013) 500/500LT(2008-2016) | Serket slip-on | Stainless steel sleeve | PI180SEO |
| Piaggio | MP3 400/400LT(2008-2013) 500/500LT(2008-2016) | Serket slip-on | Titanium sleeve | PI180TEO |
| Scomadi | TL125 | Serket full system | Black ceramic sleeve | RSM50BCER |
| Scomadi | TL125 | Serket full system | Stainless steel sleeve | RSM50SEO |
| Scomadi | TL125 | Serket full system | Titanium sleeve | RSM50TEO |
| Scomadi | TL200 | Serket full system | Stainless steel sleeve | RSM51SEO |
| Scomadi | TL200 | Serket full system | Stainless steel sleeve | RSM51BCER |
| Vespa | GTS125/GTS250/GTV250/GTS300 SUPER/GTV300 SUPER | Serket full system | Black ceramic sleeve | RVE211BCER |
| Vespa | GTS125/GTS250/GTV250/GTS300 SUPER/GTV300 SUPER | Serket full system | Stainless steel sleeve | RVE211SEO |
| Vespa | GTS125/GTS250/GTV250/GTS300 SUPER/GTV300 SUPER | Serket full system | Titanium sleeve | RVE211TEO |
| Yamaha | TMAX 530 | Serket full system | Stainless steel sleeve | RYA182SEO |
| Yamaha | TMAX 530 | Serket full system | Titanium sleeve | RYA182TEO |
https://blog.scooter-center.com/wp-content/uploads/2016/12/scorpion-vespa-auspuff.jpg
900
900
Heiko Lepke
https://blog.scooter-center.com/wp-content/uploads/2016/04/Scooter-Cejnter-SC-Logo-2016.png
Heiko Lepke
2016-12-19 14:14:47
2016-12-19 14:57:24
Scorpion scooter exhaust