Smartphone holder for Vespa scooters
Smartphone holder for Vespa
Navigation systems and cell phones are an indispensable part of our lives. I think it is very smart to use the smartphone with GPS as a navigation system. But what to do with the expensive smartphone so that it can be used and safely stored and how is it charged?
Here you can find out how to best use a smartphone on the Vespa.
With this holder All smartphones up to 5,5 ″ display size can be mounted on all Vespa models that have two M8 threads for a rearview mirror screw connection under the handlebar (e.g. Vespa PX, T5, Sprint, V50, Primavera ...).
Smartphone pocket made of neoprene, splash-proof
Up to 5 ″ smartphones, e.g. Samsung Galaxy S5, IPhone 6 ...
Stainless steel holder
Screw connection with wing screws. This means that it can be dismantled quickly and without tools
The smartphone can be easily and quickly removed from the side of the pocket
The touchscreen can still be operated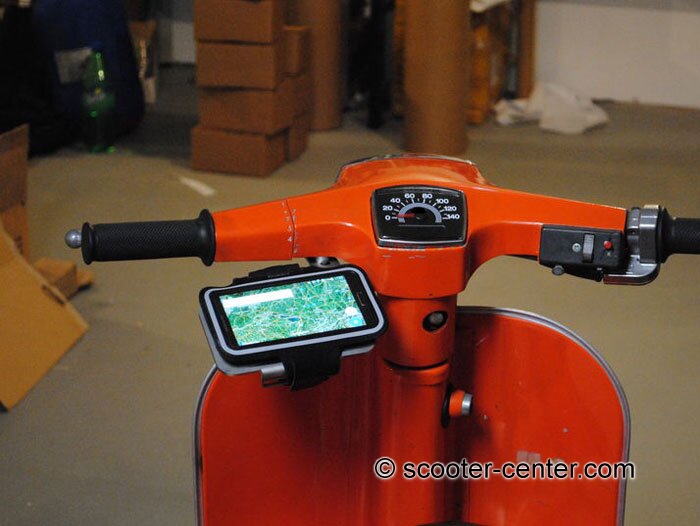 Smartphone holder (up to 5,5 ″) -MRP- universal for hand-switched Vespa models - mounting under handlebar on mirror screw connection
Delivery:
stable and extremely durable retaining plate made of rust-free stainless steel
Splash-proof smartphone pocket made of neoprene
Wing screws and spacer sleeves for perfect attachment to the handlebar
Also available oWithout neoprene pocket and for smaller smartphones / cell phones -> 5 ″ displays .
Charge the cell phone to the Vespa?
No problem with a suitable one Voltage Regulators and a USB port!
We recommend our super compact one Voltage Regulators for all alternators with 12 volts. The controller supplies alternating current and optionally also direct current. Thus, it is not only the perfect and reliable replacement for all conventional voltage regulators, it also enables a modern expansion of the existing on-board network, for example to charge a navigation device or your mobile phone / smartphone.
Easy installation of the voltage regulator on your Vespa
The connection to the existing wiring harness is very simple: With complete AC systems, the regulated AC current simply has to be applied to the lines for the electrical consumers. For systems that are operated with AC and DC, a distinction only has to be made between AC and DC and wired accordingly.
Find a few connection examples You here (are deposited under the documents on the right).
USB socket for Vespa scooters
Waterproof outdoor USB socket
Super USB power socket with two USB slots for connection to a 12V-24V motorcycle, scooter, scooter, ATV or car battery. Encapsulated waterproof and can therefore also be used in boats or in the camping / outdoor area! Perfect for charging devices such as mobile phones, smartphones, notebooks, iPads, iPhones, iPod touches, Sony, Nokia, HTC, Samsung, GPS, MP3 players, PDAs, etc. on board any vehicle with a 12-24 volt electrical system.
Easily integrated into the 12V system, there are two USB slots on the front.
With a single assignment, a socket has 5V / 2.1A.
If both slots are occupied, 5V / 1.0A are available at each output.
Blue LED lighting: The slots are also permanently switched on by blue background lighting (LED) easily recognizable in the dark.
Technical data:
Output voltage: 5V DC +/- 5%
Input voltage: 12V-24V DC +/- 4V
Maximum output current: 2.1A DC
Mounting hole diameter: 29mm
Installation depth (overall length): about 60mm
Cable length approx 145cm
Width clamp: 39mm
IP65 protected (completely dustproof + protected against water jets)
Incl. Fuse holder with blade fuse
Including handlebar bracket for handlebars up to 7/8 "(22,2mm), rubber protection cap.
Easy construction
The connection is made to the ignition lock-switched positive cable of the wiring harness (red cable to live cable when ignition is on, black cable to earth / frame).
Tour tips
Here you can find out how to best stow your luggage with a high-quality bag on the Vespa (Transport luggage on Vespa) and how you can safely extend the range with a compact reserve canister: Reserve canister for the Vespa glove compartment
https://blog.scooter-center.com/wp-content/uploads/2016/06/smartphone-vespa_33317273.jpg
526
700
Heiko Lepke
https://blog.scooter-center.com/wp-content/uploads/2016/04/Scooter-Cejnter-SC-Logo-2016.png
Heiko Lepke
2016-06-06 14:44:09
2016-09-29 10:17:30
Smartphone holder for Vespa scooters