Is there a nice top case for Vespa?
Yes there is! Aside from the plastic suitcases, we have something very special made of synthetic leather for you: A super designer top case for Vespa at a great price!
Original Piaggio Vespa Design helmet bag / top case
The bag cost 279 euros RRP at Piaggio. We are currently selling them at a special price in our Vespashop.
Vespa topcase at a special price
This great black synthetic leather bag is much more than "just" a top case: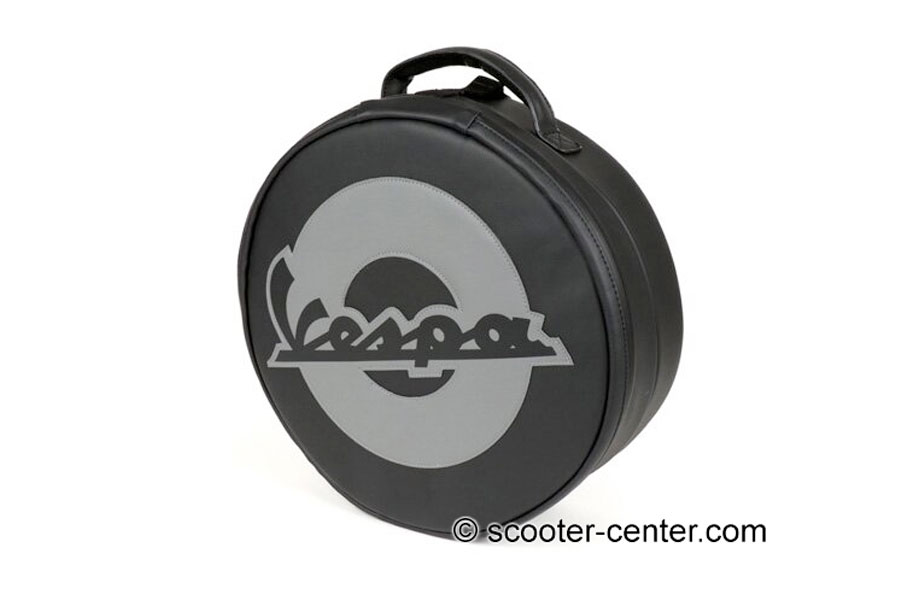 The practical bag is round! Possibly based on the shape of a tire, because the way this topcase is positioned on the scooter is where the spare tires were previously attached to the luggage rack. With a modern Vespa, however, you don't do much with a spare wheel these days. This is why there is no tire in this elegantly lined bag, but a full-blown helmet, for example. Because once opened and unfolded, the bag is a real space saver.
Practical: case, helmet bag and top case
With the patented fasteners, the bag can be quickly and securely attached to the carrier, it can be removed just as quickly for shopping trips and thanks to the handle and the elegant design, it also looks good in the hand of every Vespisti.
Buy a Vespa helmet bag here
Conversion and assembly on your scooter
This noble processed original Piaggio topcase made of synthetic leather, in avant-garde form, was specially created for the 946 models. But it fits with a little skill also on many other scooters. The original instructions are included. If you don't drive a Vespa 946, you need a bit of skill to build an adapter for the locks Made in Germany:
LOXX system
The Vespa bag has the LOXX system:
These original LOXX (R) screws in the length M5x22mm are included.
So you can easily build an adapter plate for your luggage rack and attach the topcase to your scooter. The handling of LOXX is then totally simple:
Vespa top case with LOXX system
https://blog.scooter-center.com/wp-content/uploads/2018/06/vespa-helmtasche-koffer-topcase_01.jpg
600
900
Heiko Lepke
https://blog.scooter-center.com/wp-content/uploads/2016/04/Scooter-Cejnter-SC-Logo-2016.png
Heiko Lepke
2018-06-29 12:19:17
2018-06-29 12:50:48
Vespa Piaggio imitation leather design helmet bag & top case for Vespa