Personal gift tips for scooter drivers from Scooter Center Team
Name: Thomas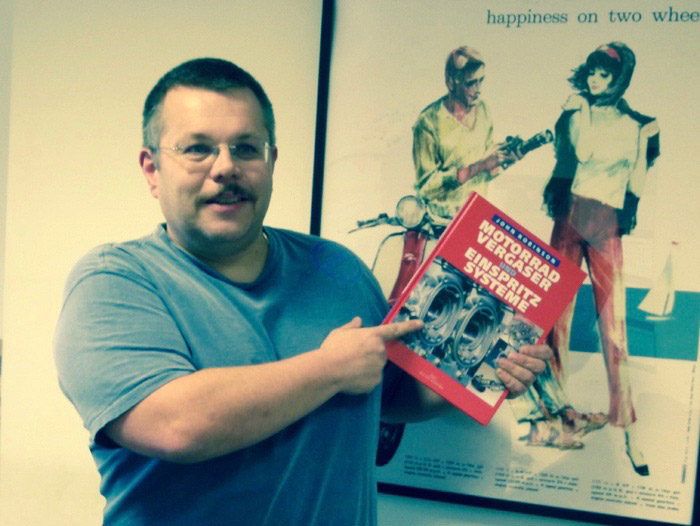 How long have you been working in the Scooter Center:
Since 1996 (almost part of the inventory ;-))
What is your job in Scooter Center:
Product management
What do you have to do with scooters:
I have been driving scooters since 1987. It all started with a P200E, I just didn't have enough money for a car. 2 years later my first Lambretta was added, an LD125 (2nd series). In the course of time various vesps and lambrettas were added. Now there are only Lambrettas, my oldest is a Lambretta 125m (2nd series) from 1948, the youngest a Lambretta DL 200 from 1969.
The most important meetings for me are definitely the Eurolambretta 1991 in The Hague and various meetings in Venlo as well as the Scooter Dive Aachen 1991.
Why:
Two absolute standard works that should not be missing in any screwdriver household!
Gift idea for scooter drivers
Book -Motorcycle Electronics in Practice - by Hans Hohmann
Article no. 7676940
Motorcycle electrics in practice
Without functioning electrics, even the most powerful motorcycle is just a collection of interesting machine parts. Few things make the motorcyclist so desperate as the activities of mysterious "copper worms" in the wiring harness of his two-wheeler: fuses constantly blow when the lights are blinking, the motorcycle is having breakfast for headlights, the ignition suddenly gives up ... No reason for short-circuiting - some basic knowledge and a consistently systematic one Proceedings certainly lead to the core of the problem. Hans Hohmann, motorcycle journalist and long-time director of technology courses, helps with wit and clear words:
- The motorcycle electrics are explained step by step and assembly by assembly.
- Functional principles, sources of error, and opportunities for improvement are presented.
- Tips and tricks and a "programmed troubleshooting" provide solid advice for tense situations.
"Motorcycle electrics in practice" - the tried and tested standard work! Suitable for all types!
Book -Motorcycle Carburetors and Injection Systems - by John Robinson
Article no. 7676939
Motorcycle carburetors and injection systems
4th edition 2012, 176 pages, 130 b / w photos, 140 b / w illustrations, format 21,4 x 27,7 cm, bound, Moby Dick
For advanced screwdrivers: detailed and well-founded presentation of the tasks, construction and function of carburetors and injection systems, with numerous instructive photos and graphics. Valuable tips on tuning complete the information.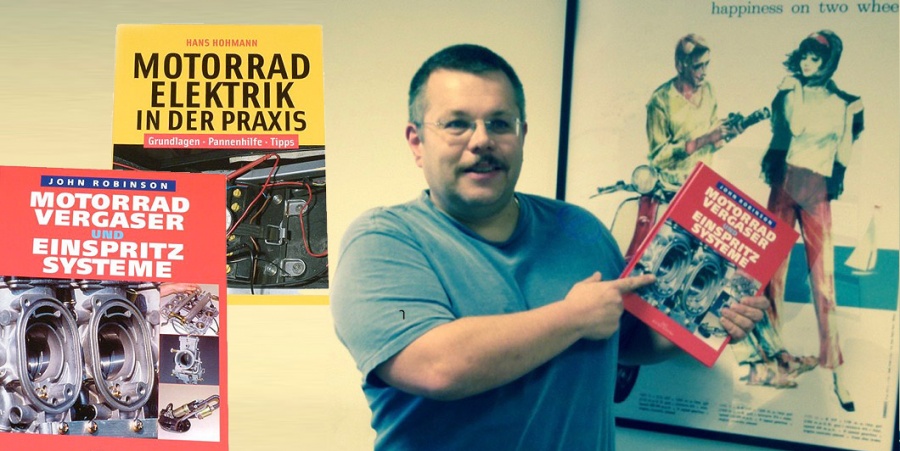 https://blog.scooter-center.com/wp-content/uploads/2015/11/geschenk-zweirad-technik-buecher.jpg
451
900
Heiko Lepke
https://blog.scooter-center.com/wp-content/uploads/2016/04/Scooter-Cejnter-SC-Logo-2016.png
Heiko Lepke
2015-11-18 16:35:29
2015-11-26 10:58:44
Scooter driver gift idea - books about carburetors and electrics