10-hour Scootentole roller race in Magny Cours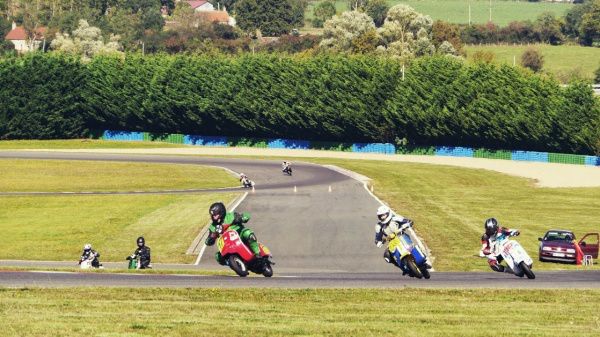 The 3rd endurance race of Association Scootentole and Retro Scooter Nivernais on the Long Club Track of Magny Cours, reached a new level with the 2014 edition:
34 teams at the start,
About 130 drivers
6 different nationalities.
The principle is actually simple: start on Sunday morning at 9:00 a.m., finish 10 hours later. The first under the finish flag wins. Finished!
Great weather, great race track - this event was full of (good) expectations.
The qualifying on Saturday was a competition of the "official teams", the 225SS Casa Lambretta reached the pole position before the "full Money "Water-cooled Vespa. Directly behind - somewhat surprisingly - in front of the Quadra Corse MitoLambretta team (AF Rayspeed RB20 ) and the Dart Racing Team with Vespa PK 150 Polini Evo., the team Burzock LML with Vespa PX 215 Pinasco Engine.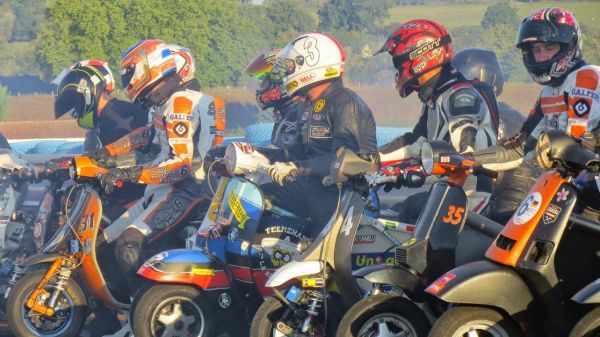 To the delight of the racing drivers and spectators, one began on Sunday hard fight: best lambrettas versus best Vespas.
On the side of the fast Lambrettas, the Casa Lambretta team had a broken crankshaft in the first hour, so MitoLambretta Rayspeed AF stayed at the forefront and the Lambretta-Authentik (RT195 MB Dev) team was able to hold 4th place until they got the Exhaust demolished. So it seemed like the Vespas would win this time!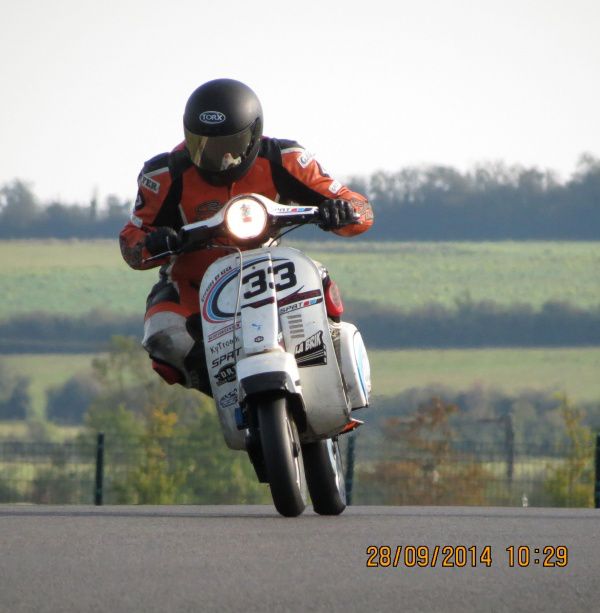 For the Vespa Pugenti Corsa Quattrini team it was a start-to-finish victory - and that on their first participation! The German team Dart Racing was able to fight for second place against the French team LML-Pinasco-Burzock (overall third and first Largeframe) push through. Followed by the Spanish Vespa PK Racing Rolando Quattrini, and the Italian team from MitoLambretta. Meanwhile in 5th place were the Vespa PK from SPRT (Quattrini), the PK from PRT-Korona (Falc), the PX Authentik (210 Malossi) and Old Scoot Racing (Parmakit 177), and the Pinasco VSP21. But due to falls or technical problems, they all fell into the back seat. The long distance and the hot weather were tough on the engines ;-)
This race is already a classic and like the years before the event went perfectly. The organizers want 45 teams at the start for next year - so see you next year!
Many thanks to our partner: Scooter Center
Final results:
1. Vespa Pugenti Corsa Quattrini (ITA-Thomas Leonardi / Cristian Mazelli / Mauro Murgia) - Vespa Proto 125cc liquid full Quattrini - 352T. - MTC: 1.33.225
2nd Dart Racing (GER-Mark Dittgen / Robert Ludwig / Felix Richter / Torsten Wengeler / Alex Stroh) - Vespa 150 Polini Evo- 340T. - MTC: 1.35.612
3.Burzock Team-LML France (FRA-Lucien Jules / Jean-Luc Nobleaux / Ben Robillard) - LML Star4 moteur PX 215 Pinasco - 332T. - MTC: 1.35.821
4. Rolando Racing Motorodelo (ESP-Rolando Guldris / Jose Perez Guttierez / Fabio Vasques / Pedro Sequeira) - Vespa PK Quattrini M1. 327T. - MTC: 1.40.465
5th MitoLambretta Squadra Corsa (ITA-Luca Bortoletto / Francesco Collodello / Matteo Marconi) - Lambretta Proto RB20 AF Rayspeed - 320T. - MTC: 1.35.811
6.Scuderia Heini Zoller Hof (GER-Matthias Henze / Ivo Knahn / Skender Imeri) - Zundapp Bella 250S "Scramblenette" - 314T. - MTC: 1.44.965
7th Squadra Corse Unogas (ITA-Stefano Bono / Fulvio Brambilla / Fabio Ferrando) - Vespa Special 133 Polini - 314T.- MTC: 1.42.695
8th Stihl Racing Team (GER-Toni Fattorusso / Stefan Kummermehr / Ralph Hofmann) - Vespa Cosa 210 Malossi - 312T. - MTC: 1.45.855
9. Authentic Lambretta (FRA-Gilles Fraval / Lionel Mahous / David Palloume) - Lambretta LD MB dev 195RT - 309T. - MTC: 1.43.541
10.Racing Mob Creusotin (FRA- Eric et Christophe Bidot / Daniel Blanc / Marc Lacombre) - Vespa PK 133 Polini - 306T. - MTC: 1.45.428
11.Bozamix Racing (ITA-Paolo Bozzini / Alessandro Carrella / Filippo Collova) - Lambretta 186 Super Imola - 305T. - MTC: 1.40.093
12.VSP 21 Team (ITA-Fabrizio Sala / Livio Damiani / Alberto Cosa / Gianluca Giorgini) - Vespa Small Pinasco - 298T. - MTC: 1.39.216
13.SPRT 1 (FRA- F-Xavier Bres / Julien Desnuelle / Maxime Dias / Olivier Doussot) - Vespa PK 144 Quattrini puis 133 Polini - 297T. - MTC: 1.36.446
14.La Drouille Racing 2 (FRA-Adeline Buffet / André de Araujo / Flavien Poret / Vincent Cuisset) - Vespa PX 166 Malossi - 296T. - MTC: 1.50.082
15th B & B Racing Team (FRA-Thomas Bartolini / Sébastien Baumert / Dino Vinciguerra) - Vespa PK 133 Polini Evo - 295T. - MTC: 1.45.148
16.8 Ball Racing 1 (FRA-Ric Delacuisine / Frédéric Deluy / Stéphane Garcia / Stéphane Quentin) - Vespa PK Quattrini M1 - 295T. - MTC: 1.45.313
17th TVSC Racing (FRA-Sam Carrette / Jean-Marc Couillaud / Grégoire Fallay / Jordane Vacher) - Vespa PX 177 Pinasco - 288T.- MTC: 1.51.567
18.Bic Racing Team (FRA-Charles Baulu / Nicolas Domerc / Benoit Wunschel) - Vespa PX 210 Malossi MHR - 261T.- MTC: 1.52.865
19.GDM 1 Vespa club Savoie (FRA-Bertrand Ablondi / Yannick Clavel / Jean-Michel Excoffier) ​​- Vespa PX 215 Pinasco - 242T.- MTC: 1.48.431
20th Boyscoot Shop 2 (FRA-Mickael Chabot / Alexis Chevalier / Julien Roux) - Vespa PK 133 Polini - 233T. - MTC: 1.44.715
21.Boyscoot Shop 1 (FRA-Philippe Dupont / Sébastien Jacquinot / Thierry Pot) - Vespa PX 221 Polini alu puis DR177 - 216T.- MTC: 1.46.374
22.Casa Lambretta (ITA-Mattia, Micol et Paolo Pacini) - Lambretta 225SS Casa - 208T.- MTC: 1.31.025
23.La Drouille Racing 1 (FRA-Jean-Paul Belmondouze / Ulysse Blanc / Guillaume Bordas) - Vespa PX 210 Malossi MHR - 208T. - MTC: 1.42.193.
24.8 Ball Racing 2 (FRA-Sophie Deluy / Florence Gillot / Emilie Paris / Thomas Lehmann / Thomas Boisson) - Vespa PK 133 Polini - 207T. - 1.48.858
25th Authentik Racing Team (FRA-Stéphane Azcue / Cyril Castera / Marc Cheverlepot / Sylvain Mathieu) - Vespa PX 220 Malossi - 202T.- MTC: 1.37.116
26th Events Scooter Boys (FRA-Romain Baguet / Stefan Barbot / Eric Bazard) - Vespa Special 133 Polini Evo - 177T.- MTC: 1.38.113
27.PRT-Korona Racing (FRA-Maxime Gautier / Fabien Follet / Patrick Vengeon / Stefano Villa) - Vespa PK 130 Falc Racing - 159T.- MTC: 1.31.717
28.Jean Jean Motion (FRA-David Darphin / Désiré Donat / Karim el Khomri / Joaquim Modesto / Julien Rioult) - Vespa PX200 - 155T.- MTC: 2.00.112
29.Old Scoot Racing (FRA-Eric Daca / Stéphane de Cancellis / Thierry Fortin / Joël Puzantian) - Vespa PX 177 Parmakit - 148T. DNF / AB - MTC: 1.38.437
30.GDM2 Vespa Club Savoie (FRA-Alex Brunet / Aurélien Grosmaire / Patrice Fontaine / Angelo Scalzo) - Vespa PX 177 Pinasco puis 177 Polini- 135T.- DNF / AB - MTC: 1.50.257
31st GDB Team (CH-Stéphane Keickeis / Georges Luthi / Jean-Paul Wenger) - Vespa PK 133 Polini - 212T.- DNF / AB. - MTC: 1.50.414
32.Bricol'Boys Team (FRA-Antoine Cocozza / Stéphane Demonchaux / Florian Illiaquer) - Vespa PK 136 Malossi - 82T.- MTC: 1.42.356
33. MitoLambretta 2 VNR (ITA-Francesco Agostini / Martino Nardi / Marco Rubino) - Lambretta Proto Full Mito VNR 205 - 2T.- MTC: 1.48.661
34.RSP-Area 51 (FRA-Benjamin Arneguy / Richard Beaudet / Olivier Muscat) - Vespa SS replica Quattrini - 148T.- DNF / AB / DEC - MTC: 1.43.655
Meilleur temps en course / best lap: Casa Lambretta (ITA-Mattia Pacini): 1.31.025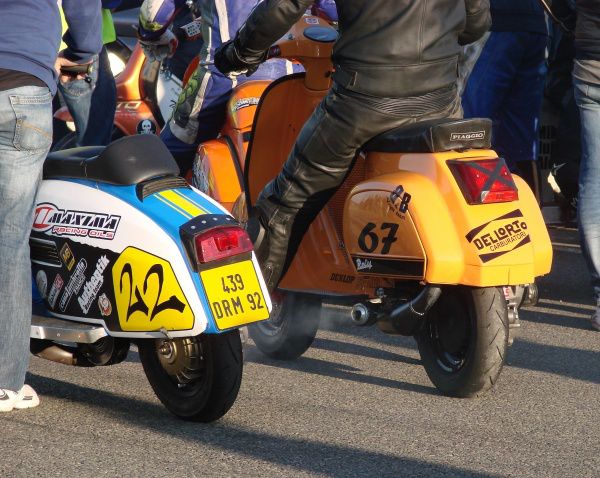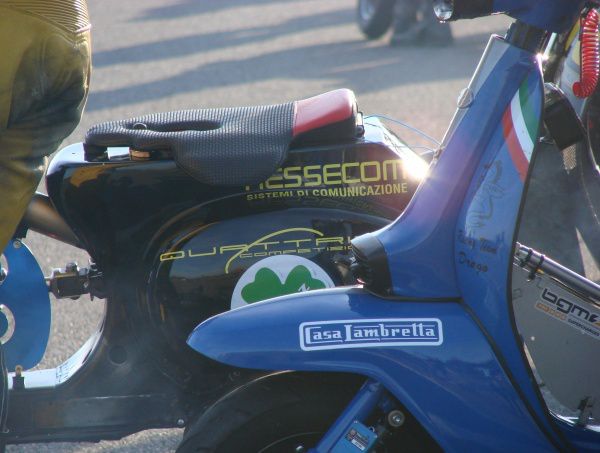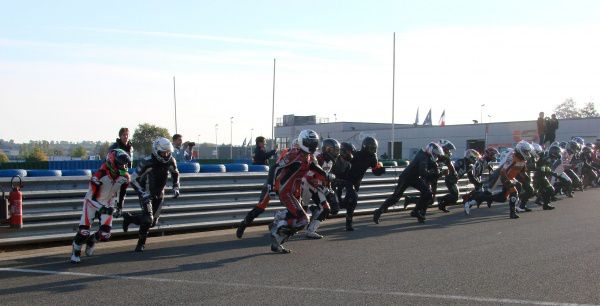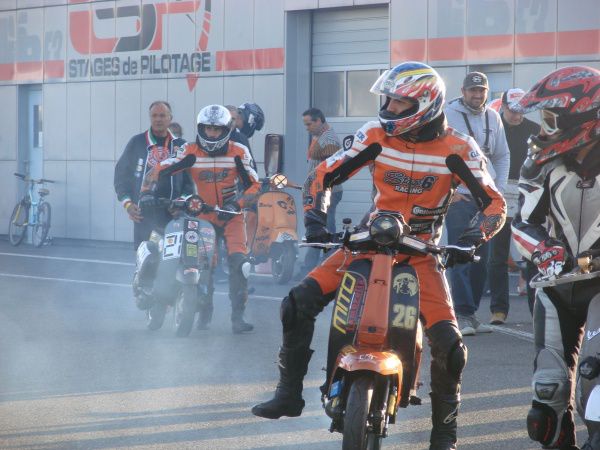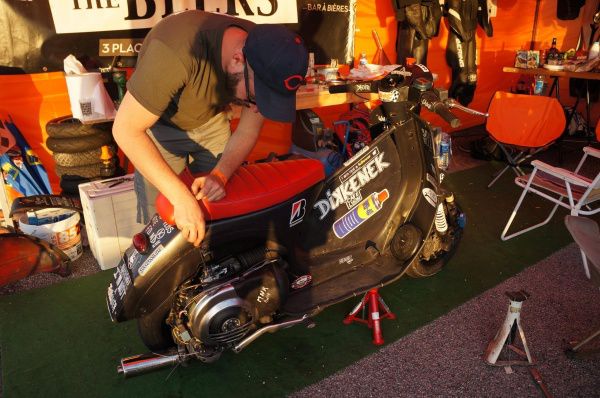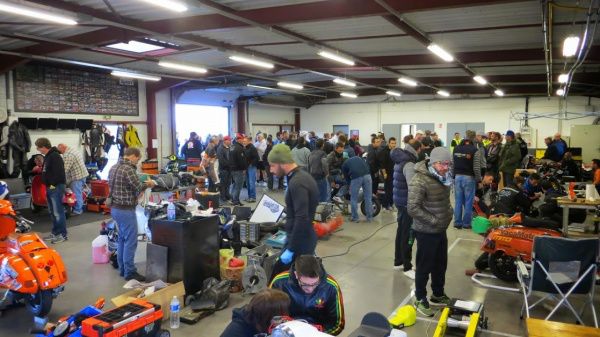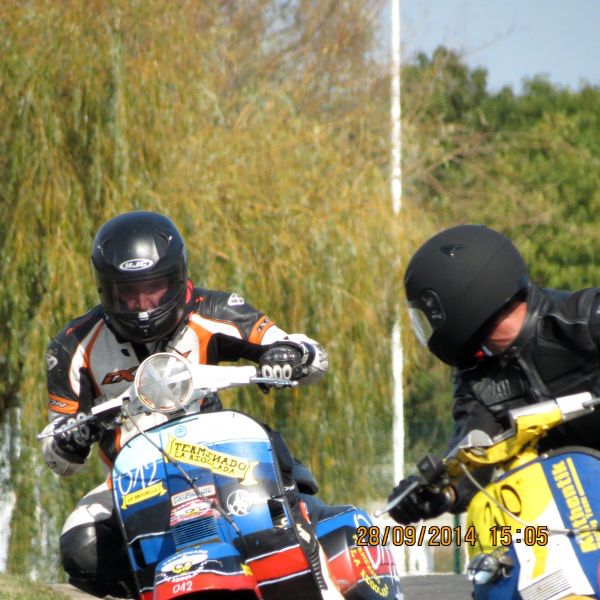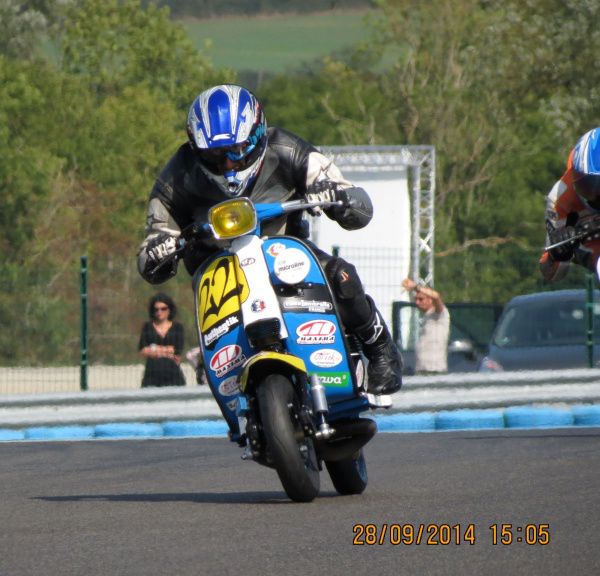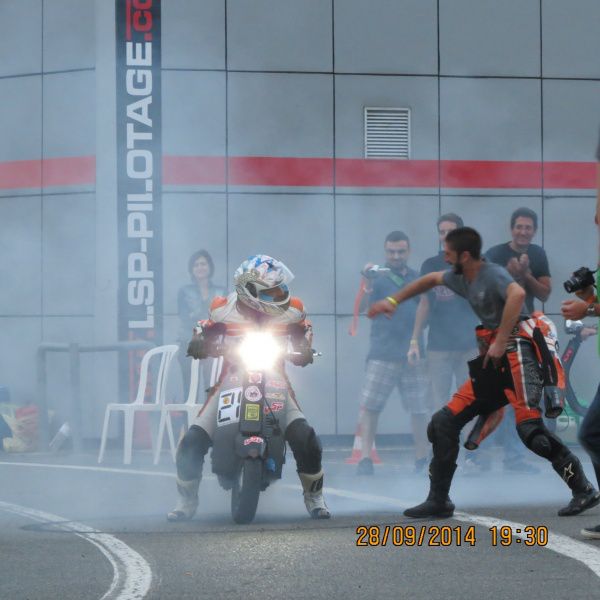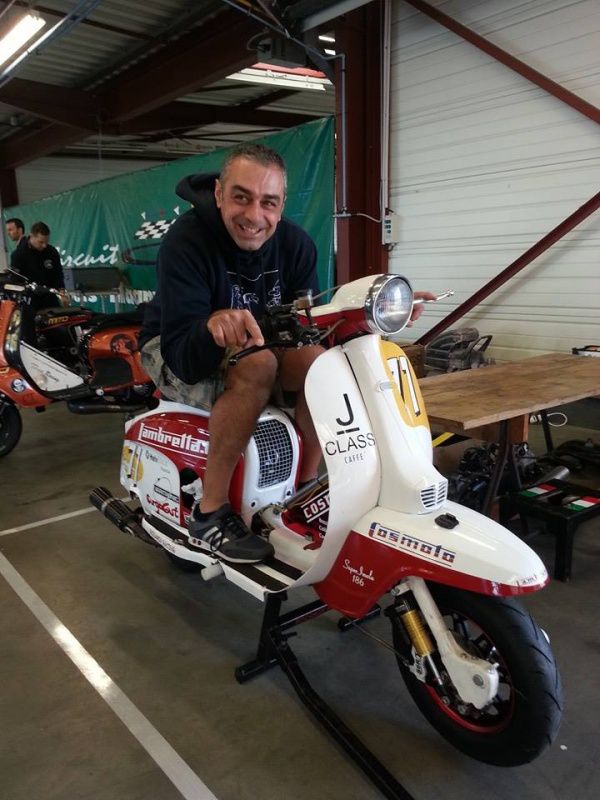 https://blog.scooter-center.com/wp-content/uploads/2014/10/10HMC14m.jpg
337
600
Heiko Lepke
https://blog.scooter-center.com/wp-content/uploads/2016/04/Scooter-Cejnter-SC-Logo-2016.png
Heiko Lepke
2014-10-13 15:09:56
2014-10-13 15:09:56
Scooter race 10h endurance 2014 Magny Cours