Vespa Falc Racing lion mustard
The Classic Scooter Facebook Customshow is currently running on ours Facebook-Seite.
In the course of the customshow we want to show you here, in the Scooter Center Magazine regularly introduce classic Vespa and Lambretta scooters that take part in the show:
Today: Vespa Falc Racing Löwensenf
The information from the owner is briefly meaningful:
Falc engine with 40,7 hp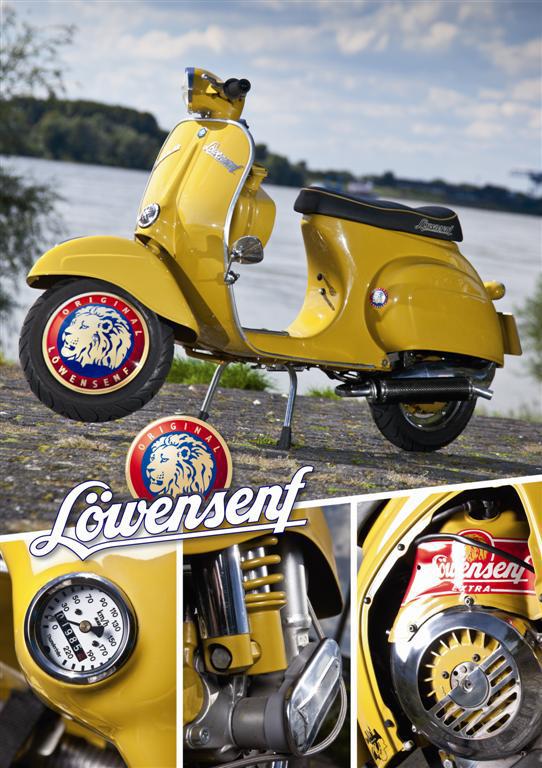 This is the Vespa Falc Racing Löwensenf (Smallframe Vespa)
You can get Falc Vespa Racing products cheaply at Scooter Center Vespa Shop: Falcon Racing
[youtube] J0VlXg2b6ew [/ youtube]
For example this cylinder -Vespa FALC RACING 153 cc (54mm stroke) - Vespa V50, PV125, ET3, PK50, PK80, PK125
Racing cylinder very first cabin!
Here you can find the Vespa Falc Racing 153 cc Nikasil coated aluminum cylinder with 60mm bore and for 54mm long stroke shafts. Membrane direct inlet, 5 transfer ports, split outlet channel are a clear message.
The huge diaphragm direct inlet supplies the cylinder with fresh gases via a 6 flap membrane. Supported by additional Boysen ports. The lavishly dimensioned intake manifold is included in the scope of delivery, as is the flow-optimized stuffer. Even if it is designed for the V50 / PV / ET3 models, the frame must be adapted to the huge intake pipe diameter. (Also necessary when used on the PK.)
In order to be able to distribute the quantities of fresh gas, the overflow areas are designed accordingly generously. The four windows in the cylinder liner ensure a very clean flushing pattern. The housing does not necessarily have to be welded on, which is of course not a problem in order to achieve optimal performance.
BR> In order to create space for the fresh gases, the old gas is disposed of accordingly thanks to sufficient duct space and control time. In order to be as free as possible in the outlet design, the spacing of the stud bolts at the outlet has been increased to 60 mm. The outlet bar was necessary to guide the rings.
The cylinder head is optimized for better air circulation and is centered via a shoulder.
High end tuning with the performance of 30 HP and more are feasible!
https://blog.scooter-center.com/wp-content/uploads/vespa-loewensenf.jpg
768
542
Heiko Lepke
https://blog.scooter-center.com/wp-content/uploads/2016/04/Scooter-Cejnter-SC-Logo-2016.png
Heiko Lepke
2013-07-29 16:53:26
2014-05-22 08:16:29
Vespa Falc Racing lion mustard