On Saturday, October 08.10th, the EST season finale was heralded in Jüterbog. In most classes, the champions of this year's European Scooter Trophy and the European PitBike Trophy were already certain, but behind them there were still important points at stake for the other places in the table. Despite the day event, the field of drivers was well filled and before the big party could start in the evening, the way was clear for a great motorsport Saturday in the EST racing circuit.

The results of the event by class:
Class 1 - Rookies by Scooter-Attack:
Hüske's fastest in his class also dominated the field in the first sprint race. Behind them came Piekatz. Jorgensen was able to collect Müller at the start. However, Jorgensen couldn't keep up the pace from the start and later ended up in 5th place. Winterscheidt was able to work its way up to 3rd place. Hüskes at the front turned a lonely race with a large gap to Piekatz and Hüskes could not hinder the laps on the way to victory. Piekatz took a good second place ahead of Winterscheidt.
Things didn't look good for Hüskes for the second race. Already in the warm-up he had technical problems and was only able to get onto his grid position with a delay. It was confirmed as soon as it started. Hüskes was passed through the field. Piekatz took first place with it, followed directly by Jorgensen. Winterscheidt and Kienzle in third and fourth place. Piekatz was under a lot of pressure from Jorgensen and had to give everything not to lose the lead. But soon it became clear that he could not stop Jorgensen. This grabbed Piekatz. In the chasing role, Piekatz was able to build up pressure again and went on the counteroffensive. Jorgensen held against it. It was also exciting behind it. Winterscheidt and Kienzle fought a great duel. Piekatz fell shortly before the end and robbed himself of valuable points for the day's victory. In the end he even had to give up completely, so Jorgensen won ahead of Winterscheidt and Kienzle.
Day class 1 - Rookies by Scooter-Attack
#20 Marcel Winterscheidt 36 pts.
#991 Jacob Jorgensen 34 pts
#47 Sascha Hüskes 30 pts.
Triebs, who was already champion in Juvaincourt, also showed in Jüterbog why he is at the top of the SuperSport this year. Great performance, calm driving style and a lot of speed were also his godfather in Jüterbog. The Dane Diabelez tried to keep up. Triebs, however, was able to keep him at a sufficient distance. Behind them a three-way battle raged between Merling, Drath and Apostel. Here was for everyone, everything in it. Keep your cool and don't make mistakes. Merling's Scooter dropped after half-time. Drath and Apostel knew how to take advantage of this and were able to overtake. Drath, released from the three-way battle, was able to pull away from his pursuers. However, Diabelez was already too far away to attack again. Nothing burned at the front and Triebs won the first race.
Triebs thundered away from everyone in the second race as well. Diabelez had technical problems at the start and was passed through the field once. Depta on two and directly in a duel with Drath. This didn't hesitate and overtook Depta as well as Apostel. Things didn't go well for Drath during the race. The scooter lacked power. He lost more and more places. This enabled Apostle to take second place. Compared to the first race, Sperling improved significantly and moved up to third place. And he noticed that there was still more to it, so the challenge to the apostles was clear. Apostle and Sparrow fought.
Sperling had the faster scooter, but Apostel cleverly closed it. That went to the substance at Sperling. In the background, Just and Depta had fought their way up to the two. Just took advantage of Sperling's inattentiveness for a second and overtook him. Even apostles should still believe in it. Just did it very well and was able to concede it too. Triebs didn't notice any of this at the top. This brought in his second win of the day.
Daily classification class 2 - SuperSport
Class 3 - Expert by Scooter-Attack
As always, the Expert race was spectacular. Ong had secured pole position in front of Lukas and the champion Andersen. Andersen got off to a great start and immediately took second place. Lukas on three and Schnell on four. Andersen was also able to pass Ong on lap two. However, he didn't let him go away, but tried to keep at it. Two scooter lengths behind, Ong waited for Andersen to make a mistake. Lukas retired early from the fight for the podium after a fall. With luck he was able to get back into the race ahead of the large group of pursuers. In third place, Schnelle asserted itself. In the constellation it was round after round. None of the opponents made mistakes and so Andersen was able to win ahead of Ong and Schnelle.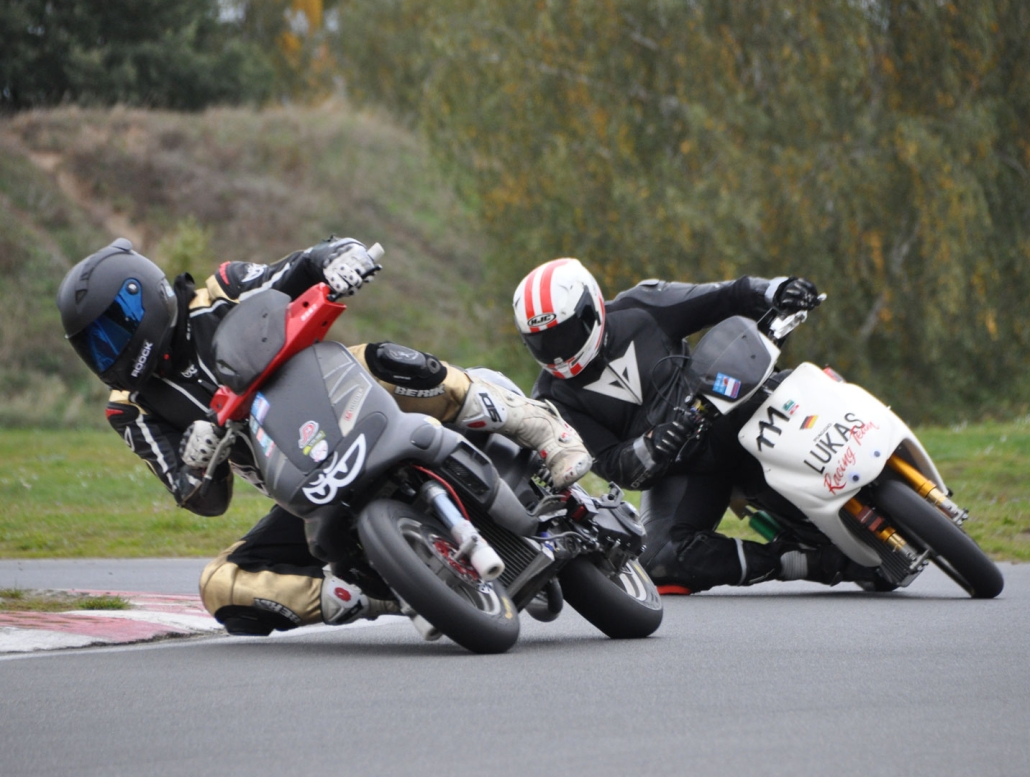 In the second race, Andersen drove straight to the front of the field. Ong behind kept his eyes on the Dane and didn't let him pull away. Lukas also wanted to get involved and made a three-way fight out of the duel and so it went into a strenuous internal fight for laps. You could feel that Ong could get more out of the scooter but getting past Andersen was extremely difficult for him. However, Ong was able to seize his chance and brake from the inside, leaving Ong in the lead ahead of Andersen and Lukas. But Andersen didn't let that sit and took the lead back. In the end he was rewarded for a great performance with two wins. Second place went to Ong ahead of Lukas.
Day class 3 - Expert by Scooter-Attack
#336 Stefan Andersen 50pts
#169 Yannik Ong 40 pts
#111 Andreas Lukas 29 pts.
Class 4 - Supramatic & BigBore
Hüser just sprinted away from the field. At the lonely top he raced to a flawless victory. Bickell dropped out with a technical defect. Second was Kazillas.
Second race, second victory for Hüser. The direct competitor Kazillas had no chance and took second place like in the first race.
Day rating class 4 - Supramatic & BigBore
#81 Christian Hüser 50 pts.
#191 Georgios Kazillas 40 pts.
#21 Sven Bickell 16 pts.
Class 5 - PitBike Stock by Scooter-Attack
Ullrich in 1st place had to give up his ambitions to win early in the race. Technical problems brought him a big backlog. So Ullrich had no chance to get in the top three. Wittwer was able to take the lead directly and build up a large lead over Wolf. It was a hot battle for third place between Nabbefeld and Hartmann. In the end, Nabbefeld had the upper hand. Wittwer took the first win ahead of Wolf.
In the second race, Ullrich was able to get involved again as usual. This also went straight to the top of the class. Wittwer in second place had little to do against Ullrich. Wolf drove in third place. In the end, Wittwer was happy about the day's victory.
Day rating class 5 - PitBike Stock by Scooter-Attack
#112 Jonas Wittwer 45 pts.
#99 Paul Ullrich 36 pts.
#58 Sebastian Wolf 36 pts.
Gras started the race from 1st place, followed by Florian Schweitzer. Both fought hard for first place. Gras was initially able to keep Schweitzer in check. Schweitzer got faster bit by bit and waited for his chance. And he should be rewarded. At a good moment, Schweitzer overtakes Gras. Julian Schweitzer in 3rd place could not quite keep up during the race. He let the duo go, who fought to the finish line until the end. Schweitzer remained steadfast and won in front of Gras.
In the second race, Gras Schweitzer didn't want to admit defeat. Compared to the first race, Gras was able to extend the lead to such an extent that Schweitzer was no longer within striking distance. And so both clearly pulled away from the field of pursuers. Florian Schweitzer took the place, but he could no longer pose a threat to the duo.
Day ranking class 6 - GP-Open
#222 Henning Grass 45 pts.
#86 Florian Schweitzer 45 pts.
#306 Julian Ziegler 29 pts.
The start of the beginners was interrupted by several falls. As a result, the race was stopped. At the restart, Illic took the lead, followed by Weiland. Gaidecka had to pass right away due to a technical defect. Maas and Kalms followed in 3rd and 4th place. Illic quickly built up a lead over Weiland. Maas was able to increase his speed during the race and put Weiland under pressure. This could not defend himself against Maas and had to let him pass. At the end it got tight again for Weiland as Kalms caught up more and more. However, before he could overtake Weiland, the race was over. Ilic was happy about his sovereign victory in front of Maas and Weiland.
Daily classification Class 7 - Beginners
#186 Danny Illic 25 pts
#34 Sascha Maas 20 pts.
#333 Tilo Weiland 16 pts.
Class 8 Endurance & 9 Endurance Split
In the shortened long-distance race, 16 teams duel at the start this time. The 1-day event traditionally covered the race distance of 1,5 hours. So the direction was to step on the gas and not tactically. And the 1,5 hour race was also turbulent and clear. At the latest after a short, heavy shower, the field was totally muddled at the end. At the end of the day, everyone was happy that the ambulance was able to stay in its waiting position despite various falls.
Daily classification class 8 endurance
#101 Twisted Knee24
#196 Street Lights / R&D / Lukas Racing Team
#265 RND Racing Team
Day classification class 9 Endurance Split
#196 Xpear Factory
#99 Blue Cougar
#217 RaceFoxx Pit Bike Endurance
https://blog.scooter-center.com/wp-content/uploads/2022/10/header-1.jpg
708
1264
alex
https://blog.scooter-center.com/wp-content/uploads/2016/04/Scooter-Cejnter-SC-Logo-2016.png
alex
2022-10-14 10:27:38
2022-10-17 11:52:03
Race report for the 5th run of the EST 2022 in Jüterbog on October 08.10.2022th, XNUMX