Test winner shock absorber now also for Sprint and Primavera
Our test winner shock absorber from the GTS (Vespa GTS shock absorber test) is now also available for the Vespa Sprint and Vespa Primavera (2013-2016).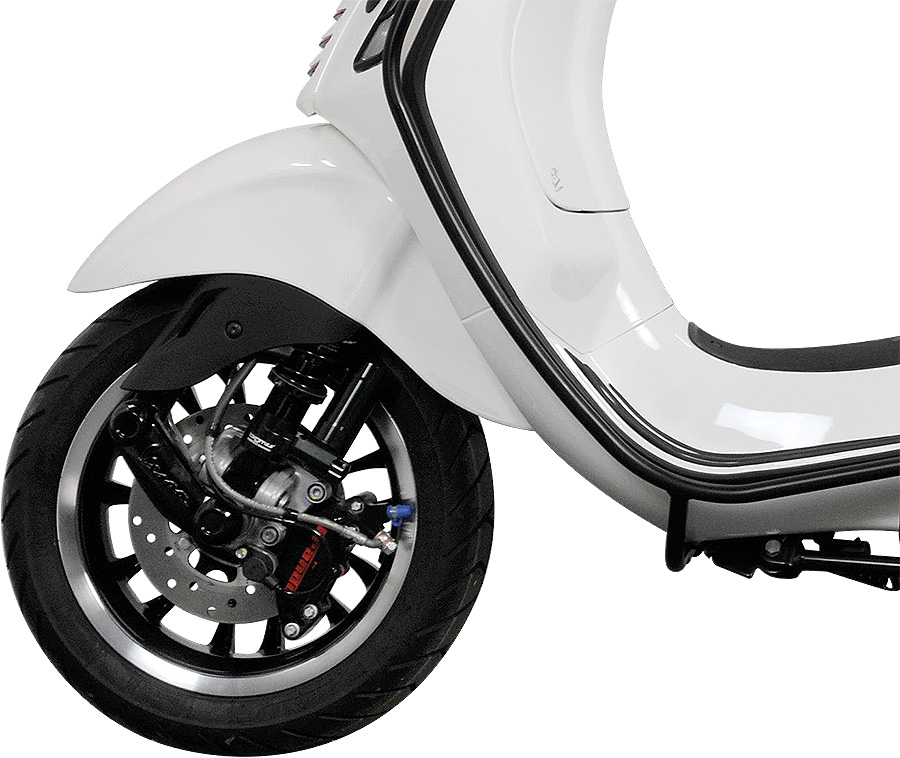 BGM PRO shock absorbers - the reference
The bgm PRO SC shock absorber series are among the finest chassis components that you can treat your scooter to. CNC-machined, high-strength aluminum (6061), which is finally equipped with an absolutely corrosion-resistant hard anodized coating, forms the basis for this High-end chassis. The very stable piston rods are machined in an extremely complex manner in order to obtain perfect surfaces with ideal sliding properties. This combines a sensitive response with absolute stability.
The diverse setting options offer a big bandwidth, which makes the bgm PRO shock absorbers both Tours- as well as that athletically committed driver allow ideal coordination. Sporty, firm or comfortable and gentle - everything is possible within a few clicks.
bgm PRO F16 SPORT and COMPETITION
When it comes to Vespa shock absorbers, we differentiate between the SPORT and COMPETITION series.
SPORTS
The bgm PRO F16 SPORT shock absorber have an adjustable spring preload. The cushioning is fixed and offers a good compromise between comfort and sport.
COMPETITION
The bgm PRO F16 COMPETITION shock absorber In addition to an adjustable spring preload, they also have 12 or 16-fold adjustable damping. The damping can be set separately in the rebound and compression stages and thus also meets the highest demands.

Shock absorbers Vespa Sprint & Vespa Primavera
The BGM PRO Competition F16 The family has grown, suitable for the following vehicles:
Front shock absorber -BGM PRO F16 COMPETITION, 275mm-
Vespa Primavera 50 (2013-2016)
Vespa Primavera 125 (2013-2016)
Vespa Primavera 150 (2013-2016)
Vespa Sprint 50 (2013-2016)
Vespa Sprint 125 (2013-2016)
Vespa Sprint 150 (2013-2016)
BGM Pro SC COMPETITION shock absorber
- Sporty - Comfortable - Adjustable - With TÜV -
Buy Vespa shock absorbers here
HARMONIOUS
The BGM Pro SC COMPETITION suspension impresses with its harmonious basic set-up. Intended for sporty driving on the road, the predefined specific damper setting and spring rate is an optimal balance of sportiness and suitability for everyday use. The damper can be adjusted 16-fold in the rebound damping. Thus, with a simple movement of the hand, the chassis can be set to be sporty, firm or creamy and comfortable.
DIREKT
With the BGM Pro SC SPORT chassis, the otherwise typical scooter immersion during braking, as well as the rolling movements around the longitudinal axis when accelerating strongly, is reduced. This results in an unadulterated directness. Together with significantly sportier handling, driving becomes a very safe and enjoyable affair.
ABE
For pure enjoyment without regrets, the BGM Pro SC SPORT shock absorbers naturally have a KBA test mark and an ABE.
EASY
The expansion tank of the front damper was deliberately designed to be very slim. Installation is quick and easy, without The brake line can be dismantled.
with KBA test mark / ABE
high-strength aluminum, CNC machined
hard anodized surfaces for optimal protection
front rebound damping 16-fold adjustable
sporty, harmonious damping technology
high quality components for a long service life
massive 13,5 mm piston rod
stepless adjustment of the spring preload
ready-to-install complete solution
TECHNOLOGY
A massive 13,5mm piston rod ensures extraordinary stability, the very finely machined surface guarantees extremely low frictional resistance. This is one of the reasons why the BGM dampers respond so finely). The body made of high-strength and corrosion-resistant aluminum is hard anodized in a noble matt black for additional surface protection.
CONCLUSION
Sporty, comfortable damper with approval and an unrivaled price / performance ratio!
TIP
The Vespa struts are also available in an affordable set: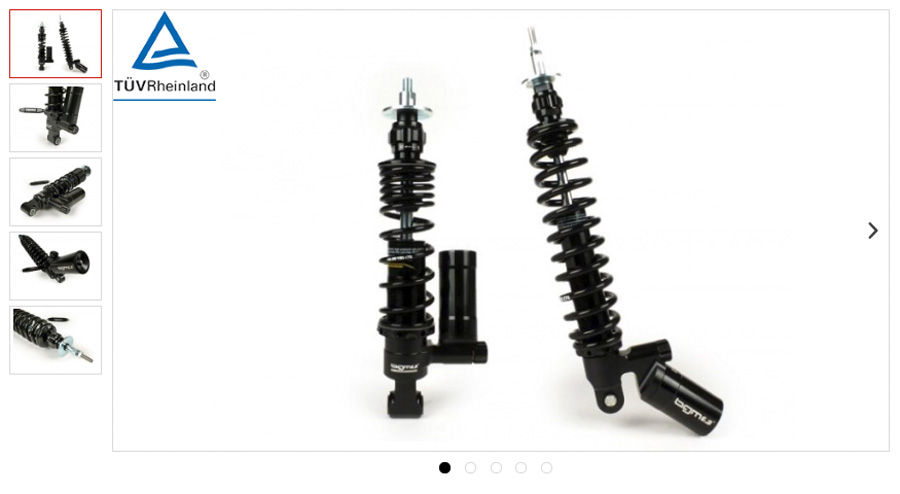 Buy Vespa shock absorber SET here
Vespa accessories
You can also find Vespa Sprint accessories in our Modern Smallframe Vespa special:
https://blog.scooter-center.com/wp-content/uploads/2019/06/vespa-Primavera-Sprint-stossdaempfer-bgm-pro-f16-competition.jpg
758
900
Heiko Lepke
https://blog.scooter-center.com/wp-content/uploads/2016/04/Scooter-Cejnter-SC-Logo-2016.png
Heiko Lepke
2019-06-27 09:55:39
2019-06-27 09:55:39
BGM PRO Competition F16 shock absorber for Modern Primavera & Sprint (2013-2016)