Vespa cylinder in OEM quality for Vespa PX 125/150 and Vespa Sprint
New here: Vespa cylinder for PX / Sprint 125ccm and 150ccm Replacement cylinder for Vespa from Gotze.
What is Götze you ask yourself now?
Some of you will probably remember the curved "Gods"Neon sign on the A1 motorway at Burscheid.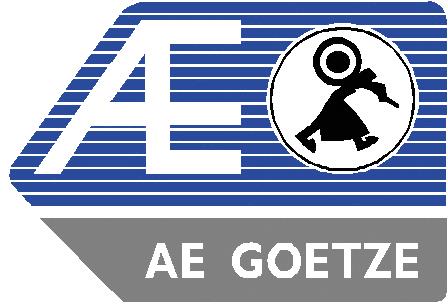 Piston rings were produced there until the 90s, when production was relocated to Friedberg. In the following years, Goetze was from Federal Mogul adopted.
You can find details on the history of Götze here.
Original replacement Vespa cylinder
From Federal Mogul / Götze we can now offer you 3 very beautiful Vespa cylinders, which are of absolute quality at OEM level lie.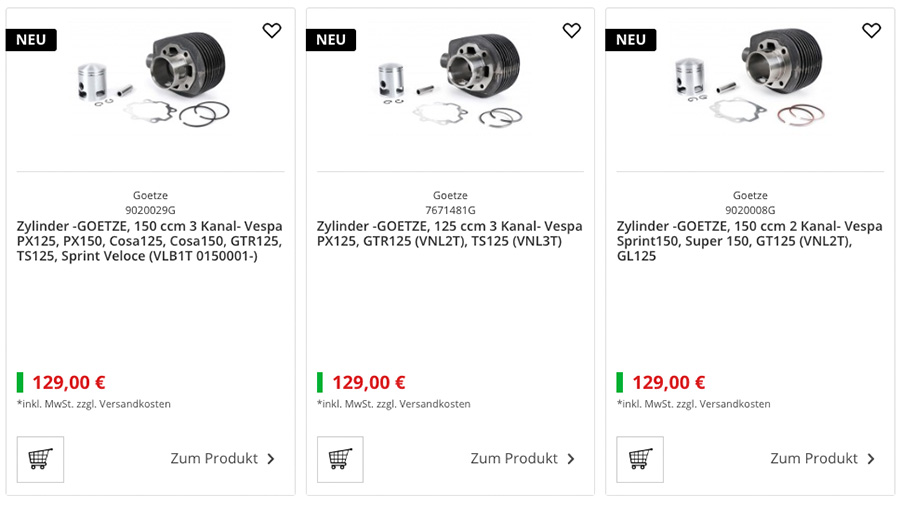 Available Vespa cylinders are:
Buy Vespa original replacement cylinders here
High quality retrofit cylinder from the renowned manufacturer Goetze, the world market leader in the production of piston rings.
Hard, wear-resistant gray cast iron, cast according to the original Piaggio specification
Pistons with a perfect fit and a clean tolerance for the piston pin
High quality piston rings
With the Goetze cylinder you are on the safe side if you are looking for a high quality replacement for an original cylinder.
The cylinder is delivered without a cylinder head, the series cylinder head is still used.
Cylinder -GOETZE, 150 cc 3 channel- Vespa PX125, PX150, Cosa125, Cosa150, GTR125, TS125, Sprint Veloce (VLB1T 0150001-)
Article no.:9020029G
Cylinder -GOETZE, 125 cc 3 channel- Vespa PX125, GTR125 (VNL2T), TS125 (VNL3T)
Article no.: 7671481G
Cylinder -GOETZE, 150 cc 2 channel- Vespa Sprint150, Super 150, GT125 (VNL2T), GL125
Article no.: 9020008G
https://blog.scooter-center.com/wp-content/uploads/2019/05/zylinder_goetze_150_ccm_3_kanal_vespa_px125_px150_cosa125_cosa150_gtr125_ts125_sprint_veloce_vlb1t_0150001_9020029g_4_.jpg
1052
1400
Heiko Lepke
https://blog.scooter-center.com/wp-content/uploads/2023/08/SC_BLOG-300x69.png
Heiko Lepke
2019-05-24 12:38:15
2019-05-24 12:38:15
Vespa cylinder PX 125, Vespa PX 150 cylinder and Vespa Sprint 150 cylinder