Metzeler Feelfree Wintec
The Feelfree Wintec from Metzeler is thanks to its winter tires - M + S approval even on cold days and a reliable companion in winter. But that's not all: the Metzeler Feelfree Wintec scooter tires is a true all-rounder, because its rubber compound, which is optimally matched to scooters, makes it perfect as an ideal all-season tire! So safe scooter riding in autumn, winter but also in spring and summer!
Metzeler tires
Metzeler specializes in motorized two-wheelers and takes care of the new Feelfree Wintec scooter tires for a safe driving experience even in cold and wet conditions. Fully innovative, because the Feefree Wintec is independent of the season and there is no need to change depending on the season. That saves time and money without sacrificing performance or security!
Scooter tires in Scooter Center Shop buy
Scooter tires with reserves in wet and cold conditions
Thanks to a special "wet & cold" performance mixture, this tire has excellent grip on dry as well as on wet and cold road surfaces.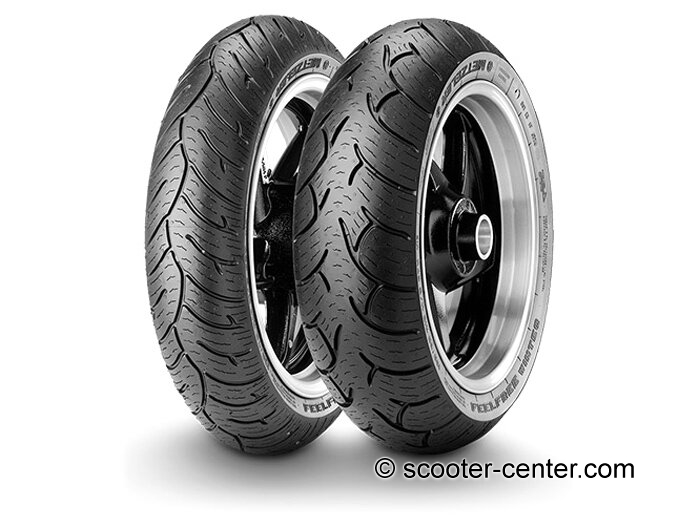 Lamella technology
Slats for short warm-up times and excellent feedback. Scooter tires with tread design from motorcycle technology for improved water drainage and Safety in the wet.
High speed stability up to 210 km / h with easy steering effort for easy handling. You never know where the scooter tuning is going to develop but that should offer enough reserves :-)
The innovative solution for high-performance scooters with radial tires.
High-performance rubber compound for a secure grip in all weather conditions (note: for physical reasons we do not recommend riding two-wheelers on roads covered with ice and snow), ideal for year-round use, even in cold weather down to -10 ° C
Robust rubber compound offers secure grip in summer temperatures - no tire changes required from summer to winter
All-season tires approved for winter by the M + S symbol
Specially developed sipe profile design for a short warm-up time, as well as good water drainage and driving safety in wet conditions
0 ° steel belt in connection with a light steel carcass for optimal handling and high speed stability up to 210 km / h
available sizes: 12, 13, 14, 15 and 16 inches
Available sizes of the Metzeler Feelfree Wintec
your Front Wheel.
120/70 - 12 51P M + S TL
110/70 - 13 M / C 48P M + S TL
130/60 - 13 M / C 53P M + S TL
120/70 R 14 M / C 55H M + S TL
120/80 - 14 M / C 58S M + S TL
120/70 - 15 M / C 56P M + S TL
120/70 R 15 M / C 56H M + S TL
100/80 - 16 M / C 50P M + S TL
110/70 - 16 M / C 52P M + S TL
behind
30/70 - 12 62P M + S REINF TL
130/60 - 13 M / C 60P M + S REINFTL
150/70 - 13 M / C 64S M + S TL
140/60 - 14 M / C 64P M + S REINFTL
140/70 - 14 M / C 68P M + S REINFTL
160/60 R 14 M / C 65H M + S TL
160/60 R 15 M / C 67H M + S TL
120/80 - 16 M / C 60P M + S TL
130/70 - 16 M / C 61P M + S TL
130/70 R 16 M / C 61P M + S TL
Buy tires for your scooter here
Wintec Technology
Lamella technology for faster warm-up and an amazing driving experience combined with a tire compound that does not allow compromises even in cool temperatures. With Wintec technology, you can travel safely all year round without sacrificing performance.
Winter tires for scooters
The 2014 adopted Winter tires are mandatory always causes confusion, because it does not say very clearly if and when Winter tires for scooters are prescribed.
First of all, the most important thing: In general, winter tires will not be required in the future either.
Law §
There is no seasonal requirement for winter tires by the legislator, but only one that is based on the weather conditions on the road.
In the case of "black ice, slippery snow, slush, slippery ice or frost", winter tires are prescribed according to the legislator.
If you still drive with summer tires you run the risk of an accident and a fine.
However, if the road is in good condition even in December or January, you can safely drive with summer tires.
The crux of it is that of course nobody can know when and where it will freeze or the next change in weather is imminent.
The tire industry has made the formula "from O to O" out of this, in other words, it would like us to equip our vehicles with winter tires from October to Easter.
What are winter tires?
As a layman, you can usually recognize winter tires by their profile. This is usually coarser, often provided with lamellas and has a different rubber compound.
The softer rubber compound remains smoother and now offers significantly better grip, the lamellae interlock with the ground and ensure better vehicle control and a shorter braking distance.
Markings M + S or snowflake?

Often tires are marked with M + S to convey to the customer that these tires are especially for Match + Schnee is suitable.
Unfortunately, this marking is not protected and now adorns many tires that are anything but suitable for the cold season.
Even pure summer tires can bear this mark. Legally, you are on the safe side with it, but not always in terms of driving physics. The only indicator by which you can recognize a tire that is suitable for winter use is the so-called snowflake symbol (also called a mountain pictogram with a snowflake or Alpine symbol).
The snowflake symbol is the identification for a standardized test with defined criteria. If the tested tire achieves a minimum traction on snow and ice, it receives the snowflake symbol. These tires have the optimal properties for winter weather conditions and accelerate about 10% better on snow and ice than tires without the snowflake symbol.
ANLAS Winter Grip 2
Not least because of their own interests, two-wheelers are interested in the safest possible driving characteristics. The new Winter Grip 2 from Anlas is therefore not only suitable because of its properties propagated by the manufacturer, such as strong grip, high cornering safety and short braking distances.
As one of the very few winter scooter tires, it is equipped with the snowflake symbol.
This officially certifies that the tire is very suitable for winter.
On closer inspection, however, this is not at all surprising. The manufacturer, which is certainly still unknown to many Event has, according to the Report by the British online magazine SLUK, already the winter all-rounder ContiMove 365 manufactured. After Conti no longer lists this tire in its delivery program, Anlas is now offering an adequate successor to the Move 2 under its own brand with the Winter Grip 365. As a further developed version, it now has significantly improved rolling resistance, thanks in part to the newly designed carcass structure. In addition to its low price for a real specialist made in Europe, it also offers real added value for the bargain hunter. Not only in terms of purchase but also due to low consumption costs.
CONCLUSION:
In the sum of its overall characteristics, the event is certainly still an insider tip, it offers year-round drivers one thing above all; Security. Both legally and on the street. Buy recommendation!
Winter clothes for scooter riders
Suitable protective clothing that also keeps you warm at the same time is ideal for the cold season!

https://blog.scooter-center.com/wp-content/uploads/2016/12/anlas-winter-grip-2.jpg
407
980
Uwe
https://blog.scooter-center.com/wp-content/uploads/2016/04/Scooter-Cejnter-SC-Logo-2016.png
Uwe
2016-12-08 10:54:29
2018-01-25 18:39:11
ANLAS Winter Grip 2 - mandatory winter tires also for scooters
Shock: compulsory winter tires also for scooters Vespa and Co.!
On Friday, the Federal Council approved the Federal Ministry of Transport's submission on mandatory winter tires.
Winter tires have been compulsory since Monday, 29 of November 2010, in force.
The regulation applies to all motor vehicles, so also for motorcycles and Motor scooter / scooter.
See also NTV.
Is there a penalty without winter tires?
Probably yes, but only if you are active on the scooter. In the event of a violation, there is a risk of an increased fine, because if you drive (and get caught) with summer tires under winter road conditions, you will be asked to pay a fine of 40 euros. In case of obstruction to road traffic caused by the wrong tires, even 80 euros plus one point are due in Flensburg!
If you just park your scooter somewhere on snow and ice with summer tires, you don't have to fear any consequences.
Is it controlled?
What is certain is that the police can distinguish a winter tire from a "summer tire" at first glance based on the profile.
What about insurance coverage?
The comprehensive insurance for your scooter can partially or completely refuse to pay in the event of an accident if the missing M + S tires were the cause of the accident.
winter tires for your scooter can be found at SCOOTER CENTER we carry, for example:
Heidenau K58 SnowTec
Schwalbe HS544 Iceman
Sawa MC 32
IRC Urban Snow SN23
https://blog.scooter-center.com/wp-content/uploads/vespa-im-schnee.jpg
600
800
Heiko Lepke
https://blog.scooter-center.com/wp-content/uploads/2016/04/Scooter-Cejnter-SC-Logo-2016.png
Heiko Lepke
2010-11-30 19:12:51
2018-01-25 18:34:40
MANDATORY winter tires also for scooters! Now winter tires at SCOOTER CENTER buy
https://blog.scooter-center.com/wp-content/uploads/2018/01/metzeler-feel-free-3332824.jpg
526
700
Heiko Lepke
https://blog.scooter-center.com/wp-content/uploads/2016/04/Scooter-Cejnter-SC-Logo-2016.png
Heiko Lepke
2018-01-25 18:12:37
2018-04-26 11:41:24
Metzeler Feelfree Wintec scooter tires