Cups and categories Scooter Customshow 2016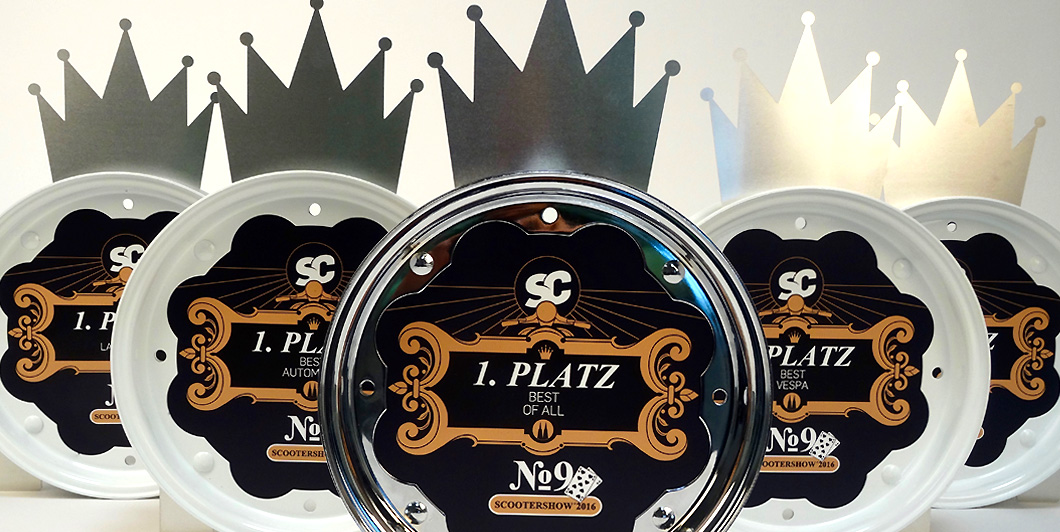 Trophies 2016
Many of the exhibitors are probably feeling the same - they are still busy screwing and polishing to be ready for the big Cutomshow in Cologne on Saturday.
It's no different for us. Today the trophies are finally ready.
On Saturday we will hand out no less than 43 trophies to the best scooters on ours custom show.
Total
(A price)
BEST OF ALL - best scooter on the show
BEST LAMBRETTA - the best Lambretta
BEST VESPA - best Vespa
BEST AUTOMATIC - best automatic scooter
BEST CLUB DISPLAY - coolest club stand
Klassik
(First and second place)
BEST ENGINEERING - best technical implementation
BEST ORIGINAL CONDITION - show your oldie
BEST STREETRACER - focus on entries
BEST CUSTOM - best refinement "Chrome & Flames"
BEST STREETCUSTOM - (focus on daily use (signs of use) despite airbrush, chrome etc.)
BEST SPRINTER / CUPRACER - racing device (e.g. DBM / ESC)
BEST PAINT / AIRBRUSH - best painting and / or airbrush
BEST O-LACK RESCUE - only with documentation
BEST MOD - accessory bomber
CRAZIEST CONVERSION - without words
Automatic
(First and second place)
BEST MODERN VESPA - GT / GTV / GTS / LX / LXV / 946 etc.
BEST CUSTOM - best refinement "Chrome & Flames"
BEST STREETCUSTOM - roadworthy ready to drive
BEST SPRINTER / RACER - racing device (DSSC, DM or similar)
BEST ENGINEERING - best technical implementation
BEST PAINT / AIRBRUSH - best painting and / or airbrush
BEST BODYWORK - best bodywork conversion
BEST DISPLAY - best presentation
CRAZIEST CONVERSION - without words
See you on Saturday at the Customshow :-)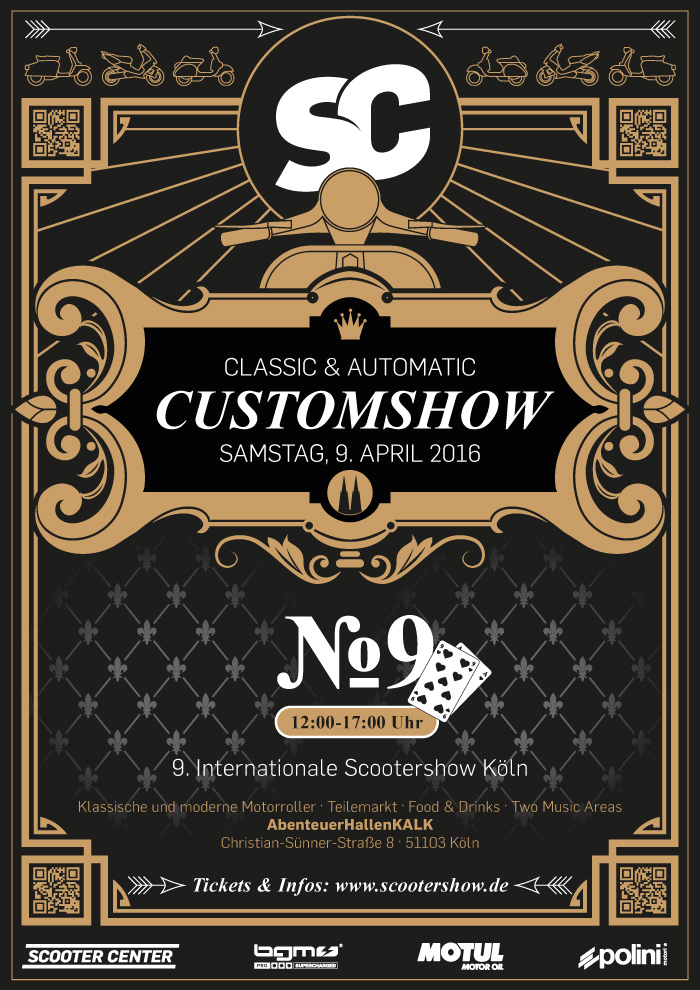 https://blog.scooter-center.com/wp-content/uploads/2016/04/pokale-customshow.jpg
532
1060
Heiko Lepke
https://blog.scooter-center.com/wp-content/uploads/2016/04/Scooter-Cejnter-SC-Logo-2016.png
Heiko Lepke
2016-04-07 08:36:28
2016-04-07 08:36:28
Cups and categories Scooter Customshow 2016