Update Sticky's Lambretta Manual 2.0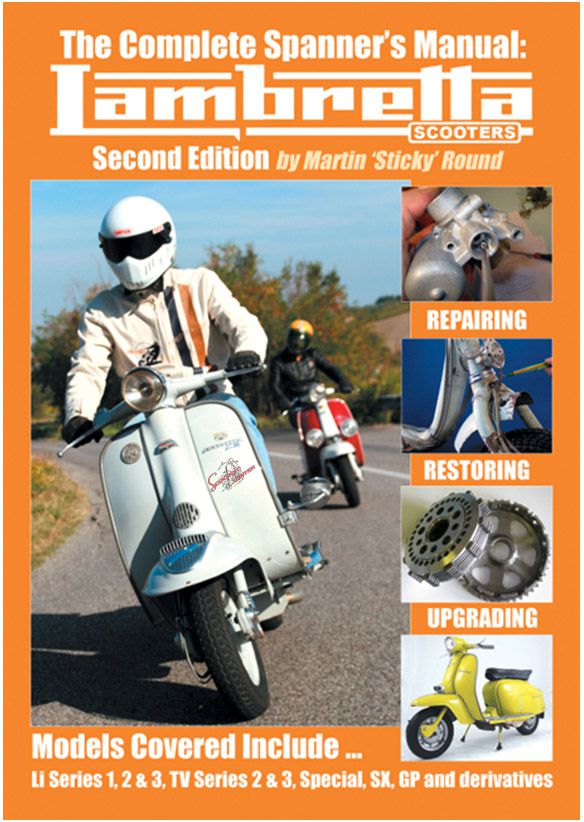 New Lambretta Bible
As announced at the beginning of the year click ->
8100071 | Book -Complete Spanner's Manual Lambretta -Second Edition- by Sticky | 29,90 euros
The "best Lambretta manual" even better!
The first edition of the Sticky Manual was published in 2004. Series 3 was dealt with in detail with lots of pictures and practical tips. A total of around 15.000 copies were sold.
Instead of simply reprinting the book, Fingers in Pies Publications decided to revise the book substantially and to expand the content to series 1 and 2. Sticky 2 offers you:
More than 200 new color photos. Over 1.050 images in total.
Additionally ten colored circuit diagrams.
Five other Italian models (TV175 S2, LI125 S1, LI125 S2, LI150 S1, LI150 S2).
The information about the new models has been carefully incorporated into the context. Not just clapped in!
Updates on the latest developments in the areas of tuning conversions, adjustable chassis, variable ignitions, tubeless rims and much more.
More anorack details and restoration tips (fork type identification, color code breakdown, locks and keys, speedometer and more).
Information on technical changes based on the original Innocenti dealer updates.
Improved index and easy-to-find chapters using color codes.
Completely redesigned layout.
56 additional pages (292 in total).
About the author
Sticky is a freelance writer and photographer who specializes in scooters. Sticky has been writing for the scooter press, motorcycle magazines and newspapers for 24 years. Sticky was also editor for Scootering and Twist & Go. His idea of ​​fun is to hide a motorcycle engine under a Lambretta and significantly expand the public's perception of the scooter.
Lambretta - parts are available from SCOOTER CENTER
...
https://blog.scooter-center.com/wp-content/uploads/sticky.jpg
822
584
Heiko Lepke
https://blog.scooter-center.com/wp-content/uploads/2016/04/Scooter-Cejnter-SC-Logo-2016.png
Heiko Lepke
2010-07-22 16:40:59
2014-05-22 08:11:23
Update Sticky's Lambretta Manual 2.0