Vespa bgm PRO shock absorbers prove themselves again in racing
bgm PRO Vespa shock absorbers successful in ASCC races!
Just like we did at our Scooter Customshow, the Austrians also do common cause: The ASCC - Austrian Scooter Challenge Cup - is the racing scooter series in Austria for Switch scooters, automatic and electric scooters.
Seven races of two runs each are held each season. Of these, you have 2 racing days as discarded results.

With Scooter Center and bgm products on the road to success
Surprise driver Lukas Schossmann drove this year on a racing scooter from sQooter - Rennteam four times as winner through the finish line. The team relies on many tuning parts from Scooter Center Cologne. Quattrini engine with M1L-60 cylinder and 51mm stroke crankshaft. Landing gear: bgm Pro shock absorber for Vespa PK front and back. The braking system is also BGM with a radial brake pump at the front.
Only 5 Euro postage to Austria
The Scooter Center delivers with UPS and DHL very quickly for only 5 euros shipping costs to Austria - up to 31kg, something fits in there.
Now in Scooter Center Order scooter shop
ASCC - innovative and modern scooter racing series in Austria
The ASCC relies on trying out known and new products during the training phases. For example, it is possible to borrow and try out chassis. Many racing drivers then also drive these products in their street scooters and recommend them to friends and acquaintances.
The ASCC organization team spared no expense and effort and invested a lot for the 2015 season! So they have their own timekeeping and from race day # 2 in Greinbach on April 25.4th. all races are documented via MyLaps live timing. This is the next generation of timekeeping with a live app on smartphones and tablets, live timing on the web and on on-site monitors, as well as the option for drivers to have various information played back on their display. Race results can be found on www.ascc.at or on www.mylaps.com (slightly under country selection à austria)

Race day 1: Premiere in Tulln - a complete success
On April 11.4.2015th, XNUMX the time had finally come: the first race day of the new season was about to begin. And with him 23 racing scooter drivers who made it before several thousand spectators and fans at bike in Tulln could not wait to finally compete in the first race in 2015. In addition, a motorcycle trade fair (the largest in Austria for 2015) is a great opportunity to present the ASCC, the teams and yourself to an interested audience. And so it happened…
... that was already in qualifying on Saturday morning Large audience interest. The weather just right. The drivers are fully motivated. And the surprise perfect: the newcomer Lukas Schossmann from the sQooter.com team took pole position with a lap time of 22,8 seconds. Starting place 2 went to Thomas Lukaseder from GP-One and in third place went to the overall winner 2014, Thomas Prasch from the Horny-Hornets.
At 14 p.m. the starting gun was fired for race 1, which, like almost all ASCC races, lasted 15min + 2 laps. The track turned out to be not too fast, rather narrow and, above all, very selective. Race number 1 was characterized by many crashes and failures, most of which ended with minor problems. Surprise driver Lukas Schossmann got through without any problems and celebrated his first victory. Second place went to Thomas Prasch and third went to Christoph Lafer. Organizer Ron said: "We knew beforehand that it would be tight and short. From then on it was driven very fairly. "
In race 2 there were even more spectators at the edge of the track. They got great racing action and exciting duels again. There were tight times, changes in leadership, lapping. The drivers agreed: "Tulln was awesome. Cool with the crowd. ". At the end of race 2 Schossmann again prevailed with his bgm PRO Vespa chassis, ahead of Prasch and Kirchhofer.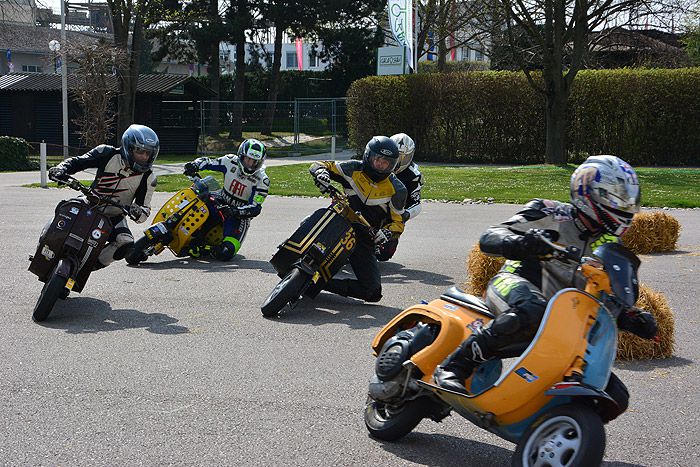 Race day 2: Greinbach All or nothing!
The drivers of the ASCC agree on this: on the racetrack of the PS Racing Center in Greinbach there is only one motto: all or nothing! Anyone who does not fully pull through the long, high-speed curve (over 100km / h), who is afraid of the bumps at the end of this curve and who does not apply various load changes in the infield perfectly, has no chance to ride up front here.
And that's exactly how it was on April 25.4.2015, 2 at race day # 3 of the current season: only the most fearless and experienced racers were involved for the podium places. After local hero Gerhard Konrad from the HG racing team had to end the day prematurely (cylinder damage during training), the way was free for the 3 best of the season, Lukas Schossman, Thomas Prasch and Rainer Kirchhofer. It was surprising that Christoph Lafer from the VorResoSchalter team kept putting the first 2 under pressure and even crossed the finish line third in race XNUMX.
The most exciting scenes of the day were delivered by Schossmann and Prasch, who matched each other for a few laps for first place in run 1. Schossmann lost his pole position right at the start - the reason was a badly adjusted clutch - but was still able to win the race, ahead of Prasch and Kirchhofer. Also in run 1 Schossmann got the full 2 points with the bgm shock absorbers, again ahead of Prasch and this time Christoph Lafer in 25rd place.
ASCC Pictures / Photos
Find lots of great racing pictures You here:
ASCC results / score
The actual Overall rating:
https://blog.scooter-center.com/wp-content/uploads/2015/05/bgm-Pro-Vespa-spossdampfer-vespa-rennen-motorsport.jpg
451
900
Heiko Lepke
https://blog.scooter-center.com/wp-content/uploads/2016/04/Scooter-Cejnter-SC-Logo-2016.png
Heiko Lepke
2015-05-07 08:26:09
2015-05-07 16:16:31
Vespa bgm PRO shock absorbers prove themselves again in racing