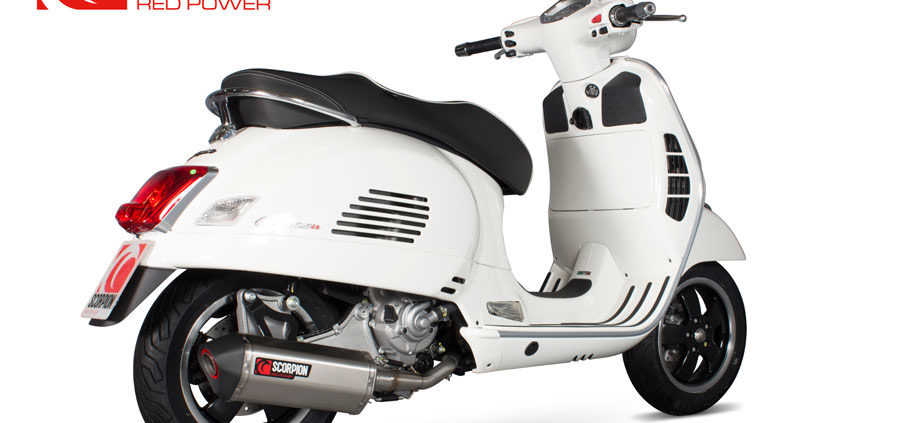 Scorpion Vespa exhaust
In our shop you can now get the quality, handmade in EnglandScorpion exhaust systems.
New also the Exhaust for Vespa GTS125/GTS250/GTV250/GTS300 SUPER/GTV300 SUPER
Benefits
Great look
Super sound
Best quality
Easy construction
Lifetime warranty
Including complete manifold
Cheaper than comparable exhaust systems
Service
Scorpion Lifetime Warranty & Crash Replacement
The manufacturer Scorpion gives one lifetime warranty on its exhaust systems.
In addition, damaged exhaust systems in the event of an accident can be replaced at a preferential price.
These manufacturer's services are only valid for the first owner.
Please keep the invoice / proof of purchase in a safe place.
Address of the manufacturer / guarantor
Scorpion Exhausts Ltd, Unit 3 High Holborn Road, Codnorgate Business Park, Ripley, Derbyshire, DE5 3NW.
Video and sound Vespa exhaust Scorpion
Available models
| | | | | |
| --- | --- | --- | --- | --- |
| Vespa | GTS125/GTS250/GTV250/GTS300 SUPER/GTV300 SUPER | Serket full system | Black ceramic sleeve | RVE211BCER |
| Vespa | GTS125/GTS250/GTV250/GTS300 SUPER/GTV300 SUPER | Serket full system | Stainless steel sleeve | RVE211SEO |
| Vespa | GTS125/GTS250/GTV250/GTS300 SUPER/GTV300 SUPER | Serket full system | Titanium sleeve | RVE211TEO |
Pictures Vespa exhaust
Vespa GTS125 / GTS250 / GTV250 / GTS300 SUPER / GTV300 SUPER Serket Full System Black Ceramic Sleeve RVE211BCER Vespa GTS125 / GTS250 / GTV250 / GTS300 SUPER / GTV300 SUPER Serket Full System Stainless Steel Sleeve RVE211SEO Vespa GTS125 / GTS250 / GTV250 SUPER Serket Full System Titanium Sleeve RVE300TEO
Vespa GTS125 / GTS250 / GTV250 / GTS300 SUPER / GTV300 SUPER Serket Full System Black Ceramic Sleeve RVE211BCER Vespa GTS125 / GTS250 / GTV250 / GTS300 SUPER / GTV300 SUPER Serket Full System Stainless Steel Sleeve RVE211SEO Vespa GTS125 / GTS250 / GTV250 SUPER Serket Full System Titanium Sleeve RVE300TEO
Vespa GTS125 / GTS250 / GTV250 / GTS300 SUPER / GTV300 SUPER Serket Full System Black Ceramic Sleeve RVE211BCER Vespa GTS125 / GTS250 / GTV250 / GTS300 SUPER / GTV300 SUPER Serket Full System Stainless Steel Sleeve RVE211SEO Vespa GTS125 / GTS250 / GTV250 SUPER Serket Full System Titanium Sleeve RVE300TEO
https://blog.scooter-center.com/wp-content/uploads/2016/12/scorpion-vespa-gts-auspuff.jpg
600
900
Heiko Lepke
https://blog.scooter-center.com/wp-content/uploads/2016/04/Scooter-Cejnter-SC-Logo-2016.png
Heiko Lepke
2016-12-22 17:59:03
2019-06-07 11:26:33
Vespa exhaust Scorpion