Vespa rims stainless steel Superdeal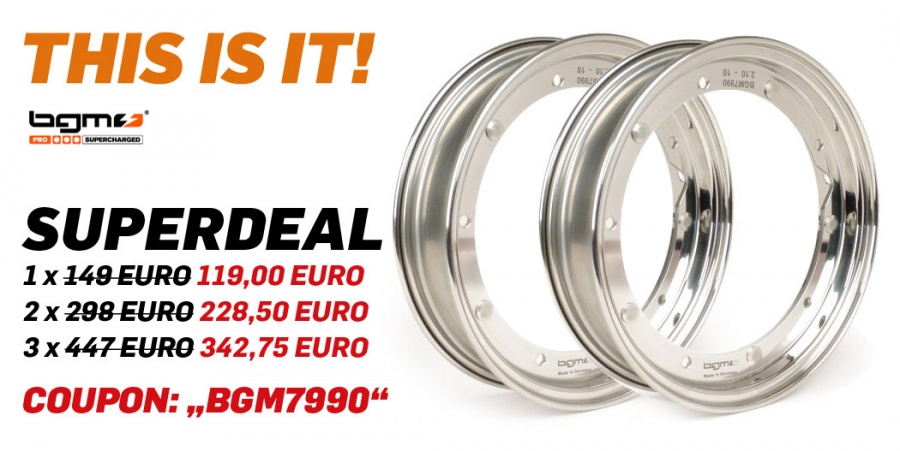 Stainless steel rims for Vespa on offer
Our top seller among the Vespa stainless steel rims we are now offering at special conditions. If you buy more than one rim, you can save on 3 rims, for example, with our voucher over 100 euros: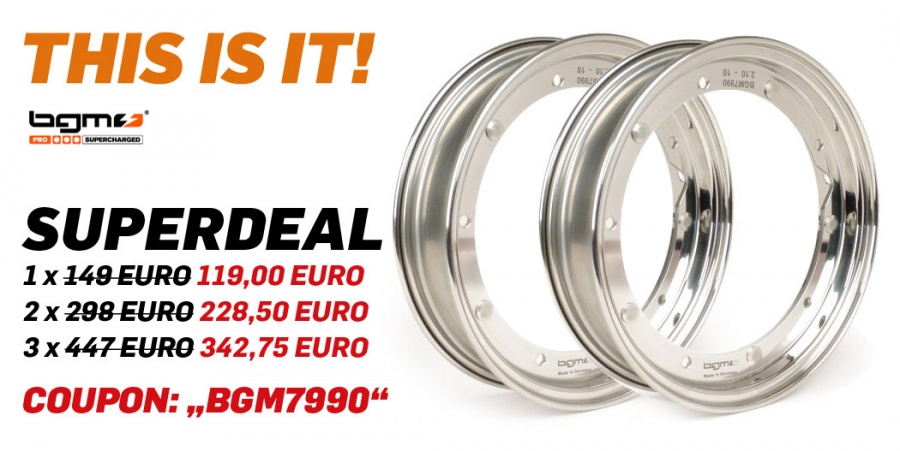 Vespa stainless steel rim in a super deal
Made in Germany
Polished or natural stainless steel
Perfect concentricity
Reinforced rim flange through folded edge
Made in Germany and tested under extreme conditions
During a race through the desert, Sticky - the scootering legend - was able to benefit from the outstanding quality and reliability of the bgm PRO Vespa rims convince.
Details about the rims
The BGM stainless steel rim is manufactured in Germany with high precision by a renowned and, of course, certified company. The result is a rim that even Enrico Piaggio couldn't have made better. The high-strength rim is characterized by perfect concentricity, absolute freedom from rust and a reinforced rim flange. The rim is screwed into stainless steel with the special nuts provided. Its square profile locks into the rim and ensures perfect anti-twist protection. The screws are of course also available individually as spare parts.
Pictures Vespa rim
360 ° view
Properties of the Vespafelge
Made in Germany
Polished or natural stainless steel
Perfect concentricity
Reinforced rim flange through folded edge
Vespa stainless steel rim in a super deal
SUPER DEAL
1 x instead 149 EURO now only 119,00 EURO
2 x instead 298 EURO now only 228,50 EURO
3 x instead 447 EURO now only 342,75 EURO
The strike price is the current RRP
Matching Vespa models
The Vespa rim is suitable for the following vehicles:
Vespa
50 Special Elestart (V5A3T)
50 Special (V5B1T)
50 Special Elestart (V5B2T)
50 Special (V5B3T)
50 Special Elestart (V5B4T)
50PK XL2 (V5N1T)
50 PK XL2 HP (V5N2T)
50 PK XL2 automatic (V5P2T)
50 PK SS (V5S1T)
50PK XLS (V5S2T)
50 Sprinter (V5SS2T - 1975)
50 SR (V5SS2T - 1975-)
50 PK (V5X1T)
50 PK S (V5X2T)
50 PK S Luxury (V5X2T)
50 PK XL (V5X3T)
50 PK XL Rush (V5X4T)
50 PK N (V5X5T)
50PK XL2 (V5X3T)
80 PX (V8X1T - 1983)
80 PX E Lusso (V8X1T - 1983-)
80 PX E Lusso Elestart (V8X1T - 1984-1990)
80 PK S (V8X5T)
90 Super Sprint (V9SS1T)
50 PK S automatic (VA51T)
80 PK S automatic (VA81T)
150GL (VLA1T)
150 sprint (VLB1T)
150 Fast Sprint (VLB1T)
125 GTR (VLB2T)
150 PX (VLX1T - 1980)
150 PX E Lusso (VLX1T - 1984-97)
150 PX E (VLX1T - 1981-83)
125 Nuova (VMA1T)
125 Primavera (VMA2T)
125 ET3 (VMB1T)
125 PK ETS (VMS1T)
125 PKs (VMX1T)
125 PKS S (VMX5T)
125GT (VNL2T)
125TS (VNL3T)
125 PX (VNX1T - 1983)
125 PX E Lusso (VNX2T - 1984-97)
125 T5 (VNX5T)
150GS (VS51T) GS3
180 Rally (VSD1T)
200 Rally (VSE1T - Femsa)
200 Rally (VSE1T - Ducati)
200 PE (VSX1T - 1980)
200 PX E Lusso (VSX1T - 1984-97)
200 PX E (VSX1T - 1981-83)
125 PX E Lusso (ZAPM09300 - Bj.'98-'00)
125 PX E Lusso (ZAPM09302 - Bj.'01-'10)
150 PX E Lusso (ZAPM09400 - Bj.'98-'00)
150 PX E Lusso (ZAPM09401 - Bj.'01-'10)
200 PX E Lusso (ZAPM18 - 1998-)
https://blog.scooter-center.com/wp-content/uploads/2015/08/edelstahl-vespa-felgen-rabatt.jpg
451
900
Heiko Lepke
https://blog.scooter-center.com/wp-content/uploads/2016/04/Scooter-Cejnter-SC-Logo-2016.png
Heiko Lepke
2015-08-27 06:30:24
2015-09-01 10:02:45
Vespa rims stainless steel Superdeal