Vespa Gentleman Giro started!
Vespa Reise for donations to children's cancer foundations
Markus André Mayer originally wanted to go to one this year with a 1971 and 2,5 hp Vespa 50 25.000 km journey through 40 countries in Europe Visit over 200 local Vespa clubs. Together with the clubs he wants money for 40 national institutions in Fight cancer with children collect.
Due to Corona, this project has now been postponed a bit and Markus started a Germany edition at the weekend, or he is traveling to 2 months through 5 countries, among other things, it will also become ours Scooter Center OpenDay on August 28th be in Bergheim!
The Scooter Center is one of the main sponsors here and of course we built the engine for him for this tour and equipped the Vespa with a bgm PRO Vespa chassis.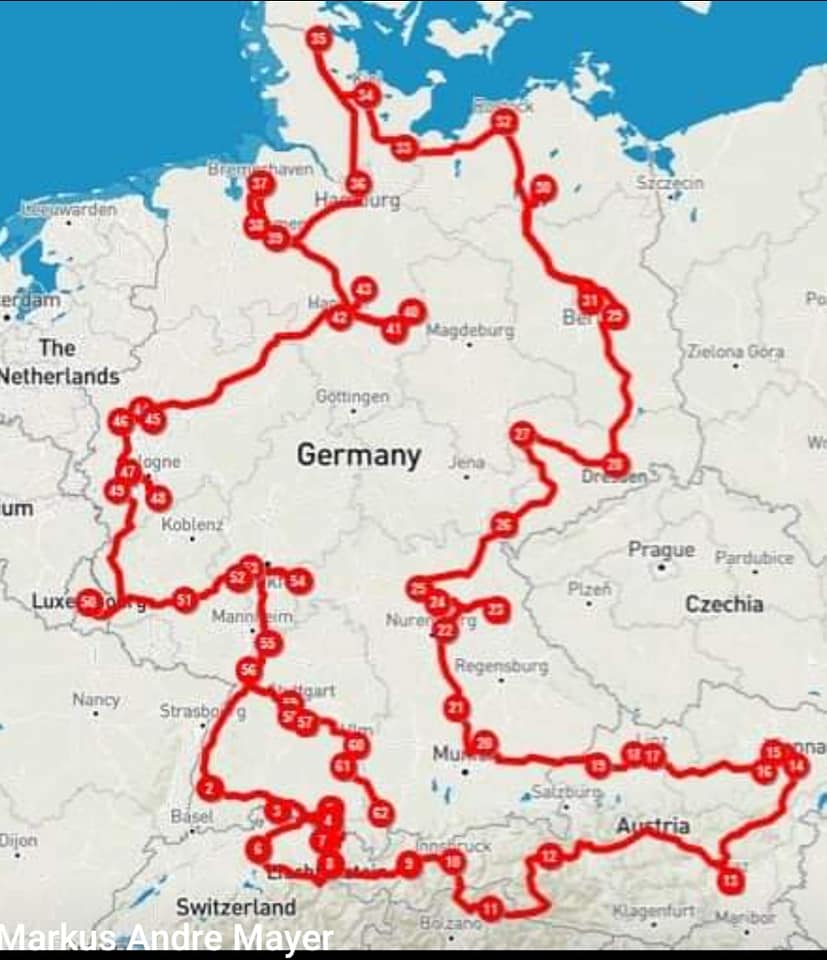 Successful start of the tour
Markus reports that the tour got off to a successful start on Saturday. He experienced the first two days like this:
Day 1 Vespa Gentleman Giro
After a nice evening with Vespisti Böblingen, the team from Alvivo and my dear Martina Gödert with good food in the boathouse Böblingen and a night in the hotel, a wonderful event was organized at the Alvivo company headquarters in bright sunshine, we enjoyed the Cafe von der Ape, grilled food Served by volleyball players and good vibes as well as great offers. 420 € were collected on site via patches and stickers and other donations and then a pack of great people on the Vespas accompanied me a long way towards Freiburg im Breisgau, where the VC Freiburg and the scooter friends Südbaden Brewing collective waiting for me. The weather had changed and shortly beforehand I had to go to the terrace of the Hex restaurant in Waldkirch in the rain suit where the landlord insisted on giving me 20 € of fuel. In Freiburg, through patch and sticker sales as well as sausages and generous rounding up, another 600 € came in the donation pot and at 2:30 at night I was able to fall into bed with a great result of more than 1000 € on the first day.
Day 2 Vespa Gentleman Giro
After a good breakfast, Wolle Wide Frame and Olaf Just accompanied me until shortly before Singen! A great ride in mixed weather through the wonderful Black Forest! The engine of SCOOTER CENTER performed exactly like the last 1.200 km without any problems and I was received in proper style by the Vespaclub Singen Hegau and escorted the last few meters to Singen, which attracted the attention of the gentlemanly outfit. A hot grill, cold beer and long and good conversations were waiting for us.
I would like to expressly thank EVERYONE who was there, organized, helped and sent along these 2 days. Of course, all proceeds and donations remain with the clubs, which will transfer them DIRECTLY and without deductions to the German Childhood Cancer Foundation in the coming days.
How does the donation actually work?
> Markus is often asked this question, his answer:
"How does it work with the donations and the trip and so at the Vespa Gentleman Giro and do you pay for my vacation ?!
An important and good question!
Of course, with your donations you will not pay for my trip, my overnight stays or anything else. Thanks to great sponsors, support from my family and also by sleeping on the couch, barbecuing at the clubs, etc., the donations flow 100% directly to the respective children's cancer foundation! "
Where do the donations come from?
Markus explains here in his words:
So, on the one hand, people simply donate directly to the campaign of the children's cancer foundation in your country (for example if the relay of the Vespa Gentleman Giro is handed over to them by another club)
In addition, in order to generate further donations, I have had stickers and patches produced on my own in advance, which I sell together with the club presidents at the events at the clubs. The production costs of 10 € stay with me and 2 € directly with the president of the respective club, who usually sends them to the children's cancer foundation the next day with the total donations of the club.
Clubs and private individuals also donated plaques, pins or other items for sale or auction. These are publicly auctioned during the year and only sent against postage, whereby the payment does not have to be sent to me but directly to the foundation.
It is not possible to give me cash donations and I will not accept any.
Exception: someone specifically and explicitly wants to give me fuel, oil or a meal. But there is a separate Gofundme account or my PayPal.
I hope this post clears up any questions or ambiguities regarding the Gentleman Giro - should anyone still want to know something, please send me a message.
My campaign is 100% transparent and I publish all donations known to me on a daily basis.
So again to take note: Donate 100% Children's Cancer Foundation
Travel costs: 40% sponsors, 30% support for my great family and 30% myself.
This means: 7 months to start, 2 months of travel and another 6 months for the coming year. So everyone can work out what it can cost (cost of living, loss of earnings, insurance, approval, equipment, pre-production of merchandise, postage, website, print material ......)
Vacation is somehow different "
You can also support Markus directly:
https://blog.scooter-center.com/wp-content/uploads/2021/07/vespa-gentleman-giro-start.jpg
327
400
Heiko Lepke
https://blog.scooter-center.com/wp-content/uploads/2016/04/Scooter-Cejnter-SC-Logo-2016.png
Heiko Lepke
2021-07-05 12:52:03
2021-07-08 14:11:16
Vespa Gentleman Giro started!