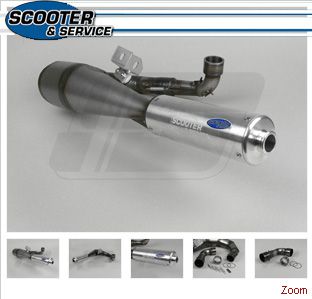 Vespa News - Scooter & Service Special:
Hello [first name], in a nutshell, as it should be for a newsletter: That's them SCOOTER CENTER News August 2010:
S&S Falc Racing exhaust

Exhaust -SCOOTER & SERVICE- Vespa V50, PV125, ET3 125, PK50-125 for FALC RACING.

The latest development from the company Scooter & Servicethe Smallframe Great for everyone FALC Racing cylinder.

Even with the small FALC cylinder (130ccm from 57mm bore and 51mm stroke) there is a smooth 26,7 HP on the rear wheel. The exhaust shifts the usable power band into roadworthy regions and optimally implements the potential of the kit.

The test engine achieved the performance without further processing of the cylinder or the supplied intake manifold. Only the transfer ports on the motor housing have been adjusted, and that without any welding work!
Exhaust S&S V2009 PX200

Exhaust -SCOOTER & SERVICE V.2009- Vespa PX200

Basically identical to the legendary S & S PX 200 Lefthand - a somewhat simplified design with fewer segments, making it cheaper.

Flange connections as with the other models with Viton O-rings, equipped with the new S & S silencer type!

"
handmade in hamburg"
S&S silencer

Rear silencer -SCOOTER & SERVICE- silver

High end silencer from the tuning guru behind Scooter & Service - new, improved version.

Recently standard equipment on all Scooter & Service Largeframe Exhaust systems.

Caps turned from solid, screwable!
S&S Cosa CNC clutch basket

Clutch basket -SCOOTER & SERVICE Cosa- Vespa Cosa, PX (from 1995)

Clutch basket completely CNC milled.

Great part - if it wasn't so incredibly functional and belongs in every tuned engine - you could also put the chic basket on the shelf or for parts petting on the bedside table!

At the end... That lasts!
Clutch cover S&S Cosa

Clutch cover -SCOOTER & SERVICE- all Vespa Largeframe with CNC clutch basket

Clutch cover Vespa PX 200, suitably turned for operation with the Scooter & Service CNC Cosa clutch.

Only new original 200 lids are used for production!
More scooter and service parts in the shop
Light PK pole wheel for PX

- Lightweight fan wheel for Vespa PX -

Pole wheel -VESPA- Vespa PK XL modified for Vespa PX (1.650g)
The fan wheel is supplied ready for installation on PX motors with electronic ignition. During assembly, make sure that the correct of the two existing grooves is used. The best way to do this is to compare the position of the keyway to the customer for the pickup on your old fan wheel with the new one. We recommend flashing the ignition to be on the safe side.
The advantages of lighter fan wheels are:

- better acceleration
- higher performance
- more toxic throttle response
- less stress on the crankshaft

Warning not suitable for Polini 207 - read more
Parmakit news
We have new tuning cylinders for Vespa scooters in our program: Parmakit 177cc for Vespa 125cc Largeframe Motors and the new ones W-Force - racing cylinder for Vespa Smallframe.
Parmakit, the legendary tuning company from Italy, is at the start with the following new racing cylinders.
Vespa Largeframe
Cylinder -PARMAKIT 177ccm 3-port- Vespa PX125-150, Sprint 125-150
Vespa Smallframe
7671759 | Cylinder -PARMAKIT 144ccm V-Force, 105mm conrod, central- Vespa PV125, ET3 125, PK125
7671758 | Cylinder -PARMAKIT 144ccm V-Force, 105mm connecting rod - Vespa PV125, ET3 125, PK125
7671757 | Cylinder -PARMAKIT 135ccm V-Force, 105mm connecting rod - Vespa PV125, ET3 125, PK125
7671756 | Cylinder -PARMAKIT 135ccm V-Force- Vespa PV125, ET3 125, PK125
In the product details you can also find some of the portmaps.

Convert to electronic ignition

Conversion kit - complete

Ignition -VESPA electronic- Vespa Sprint
Conversion kit to electronic ignition with 12 V for all Vespas with the Sprint crankshaft cone. These are:

Vespa 150 - VNB1-6T
Vespa 150 - VBB1-2T
Vespa GL 150 - VLA1T
Vespa Super 125 - VNC1T
Vespa Super 150 - VBC1T
Vespa Sprint 150 - VLB1T
Vespa GT 125 - VNL2T
Vespa Sprint Veloce 150 - VLB1T
Vespa GTR 125 - VNL2T
Vespa TS 125 - VNL3T

Complete kit to convert to maintenance-free, electronic ignition with powerful 12 V light.

Matching wiring harness:

Wiring harness set -VESPA AC conversion to e-ignition- Vespa Smallframe, Vespa Largeframe
Wiring harness -VESPA AC for conversion to e-ignition or complete engine with e-ignition on all Vespa Smallframe and Largeframescooters.

When using the conversion wiring harness, you finally no longer need a battery. Incidentally, the 6V buzzer can stay in it, it can withstand the occasional 12V. You can find technical information in our circuit diagram.
Schwalbe Weatherman 3.50-10

Scooters do not only drive on Fehmarn and on Lake Constance. Germany's places with the most hours of sunshine. That is why Schwalbe developed the Weatherman. A tire specially designed for changeable and also cool weather. Its profile is optimized in the following points:

Block profile in the middle of the tread for the most stable straight-line stability, low rolling resistance, high rolling comfort and maximum service life.
Slats on the tire shoulder provide additional cornering grip - even in bad weather. You literally bite your way into the asphalt.

Benefiting from the first-time use of silica, which gives the tire rubber in this mixture, in addition to wet adhesion, very special mileage.
With these properties, the Schwalbe Weatherman is ideal for extended scooter tours through different climate zones in all wind and weather.
PRO GRIP 732 Gel Touch for Vespa
The SCOOTER CENTER has together with ProGrip super sport grips developed for the Vespa.
The ProGrip Soft Touch are Made in Italy and impress with a great look in many colors from subtle to bright.
The patented handles lie securely in the hand even in the rain and thanks to the soft touch, longer journeys are no problem.
The new Vespa handles are available in many color combinations:

SCOOTER CENTER Catalog mislaid?
Here you find all SCOOTER CENTER Catalogs for online browsing and download.
We are already one step further with the new one Automatic catalog. The current price and availability are displayed here and with one click you are immediately at the product in the online shop.
We are working on it and will probably gradually implement all catalogs like this:
How do you like the catalogs?
Tell us what you think Facebook.
http://katalog.scooter-center.com
2nd international scooter cup Nürburgring
https://blog.scooter-center.com/wp-content/uploads/scooterandservice-px200.jpg
299
312
Heiko Lepke
https://blog.scooter-center.com/wp-content/uploads/2016/04/Scooter-Cejnter-SC-Logo-2016.png
Heiko Lepke
2010-08-17 12:15:40
2014-05-22 08:11:36
Vespa News August 2010