Vespa shock absorbers BGM PRO SC / F16 and SC / R12 in a new look
NEW: Black Vespa shock absorbers
We have put the proven technology of our BGMPRO SC shock absorbers in new clothes.
I think the little black dress, with white lettering, the best Vespa shock absorber - also with TÜV - looks very good!
Alex
Vespa shock absorbers available at the front and rear
We can currently offer you the BGM PRO SC shock absorbers for the Vespa PX models suitable for the front and rear, as well as for the Vespa V50 and Primavera (VMA1T, VMA2T) models at the rear.
The technology remains unchanged. As usual, the dampers are equipped with a 16-fold adjustment of the compression and rebound stage at the front and a 12-fold adjustment for the rear.
A valid one TÜV certificate is just as much part of the scope of delivery as the suitable, small tool to adjust the spring preload.
Front shock absorber bgm PRO Vespa black
Front shock absorber -BGM PRO SC / F16, 255mm- Vespa PX80, PX125, PX150, PX200, T5 125cc - black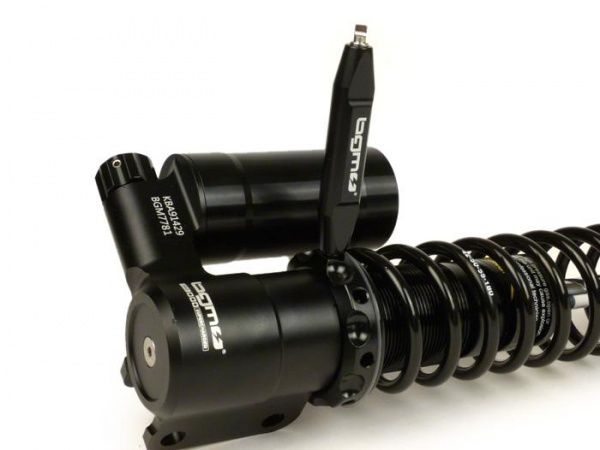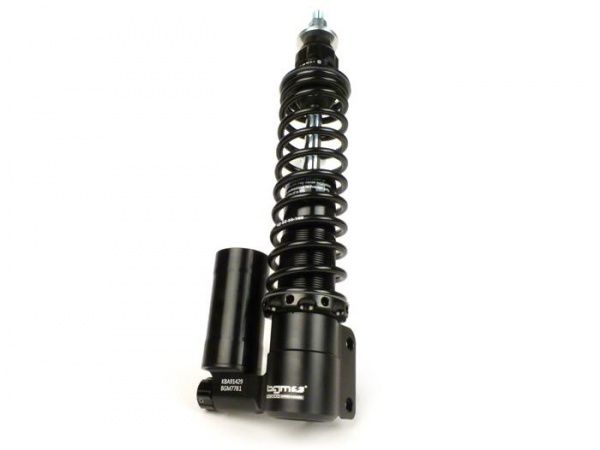 Buy Vespa front shock absorber black
Rear shock absorber bgm PRO Vespa black
Rear shock absorber -BGM PRO SC / R12, 330mm- Vespa PX80, PX125, PX150, PX200, T5 125cc, Vespa Rally180 (VSD1T), Vespa Rally200 (VSE1T), Sprint150 (VLB1T), TS125 (VNL3T), GT125 (VNL2T), GTR125 (VNL2T), V50, PV, ET3 - black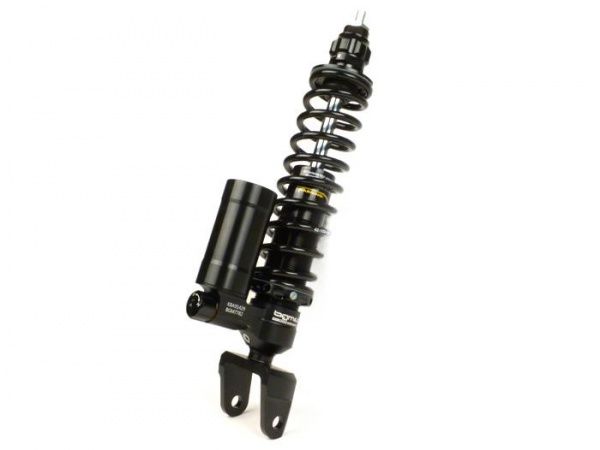 Buy Vespa rear shock absorbers black
Shock absorbers from the BGM PRO SC series are THE coilover kit for the Vespa with TÜV!
The chassis developed by BGM in Germany is equipped with a ABE available for almost all Vespa scooters.
The shock absorbers are fully adjustable and offer an incomparable driving experience that was previously unknown from a scooter.
with ABE
Available individually or as a set
athletic
comfortable
fully adjustable
very durable
massive CNC body, anodized
high-strength aluminum for low weight
large expansion tank directly on the housing
Rebound damping 12/16-fold adjustable
massive 13,5 mm piston rod
stepless adjustment of the spring preload
bgm quality assured
From very comfortable to sporty and firm, the BGM PRO SC dampers can! Well-known racing drivers confirm the excellent functionality and superb quality of these struts in numerous races.
Including enclosed ABE and setting instructions.
Front shock absorber fits Vespa 80 PX (V8X1T - -1983) 80 PX E Lusso (V8X1T - 1983-) 80 PX E Lusso Elestart (V8X1T - 1984-1990) 150 PX (VLX1T - -1980) 150 PX E Lusso (VLX1T - 1984 -97) 150 PX E (VLX1T - 1981-83) 125 PX (VNX1T - -1983) 125 PX E Lusso (VNX2T - 1984-97) 125 T5 (VNX5T) 200 PE (VSX1T - -1980) 200 PX E Lusso ( VSX1T - 1984-97) 200 PX E (VSX1T - 1981-83) 125 PX E Lusso (ZAPM09300 - Bj.'98-'00) 125 PX E Lusso (ZAPM09302 - Bj.'01-'10) 150 PX E Lusso (ZAPM09400 - Bj.'98-'00) 150 PX E Lusso (ZAPM09401 - Bj.'01-'10) 200 PX E Lusso (ZAPM18 - 1998-)
Rear shock absorber fits Vespa 160 GS (VSB1T - 1962) GS4 160 GS (VSB1T - 1963) GS4 180 Super Sport (VSC1T) 80 PX (V8X1T - -1983) 80 PX E Lusso (V8X1T - 1983-) 80 PX E Lusso Elestart ( V8X1T - 1984-1990) 150 PX (VLX1T - -1980) 150 PX E Lusso (VLX1T - 1984-97) 150 PX E (VLX1T - 1981-83) 125 PX (VNX1T - -1983) 125 PX E Lusso (VNX2T - 1984-97) 125 T5 (VNX5T) 200 PE (VSX1T - -1980) 200 PX E Lusso (VSX1T - 1984-97) 200 PX E (VSX1T - 1981-83) 125 PX E Lusso (ZAPM09300 - YOC '98- '00) 125 PX E Lusso (ZAPM09302 - Bj.01-'10) 150 PX E Lusso (ZAPM09400 - Bj.'98-'00) 150 PX E Lusso (ZAPM09401 - Bj.'01-'10) 200 PX E Lusso (ZAPM18 - 1998-) 150 Super (VBC1T) 150 Sprint (VLB1T) 150 Sprint Veloce (VLB1T) 125 GTR (VLB2T) 125 Super (VNC1T) 125 GT (VNL2T) 125 TS (VNL3T) 180 Rally (VSD1T) 200 Rally (VSE1T - Femsa) 200 Rally (VSE1T - Ducati) 50 L (V5A1T) 50 N (V5A1T) 50 (V5A1T - 1963) 50 S (V5A1T - 1964) 50 Special (V5A2T) 50 Special Elestart (V5A3T) 50 Special ( V5B1T) 50 Special Elestart (V5B2T) 50 Special (V 5B3T) 50 Special Elestart (V5B4T) 50 Sprinter (V5SS2T - -1975) 50 SR (V5SS2T - 1975-) 90 (V9A1T) 90 Super Sprint (V9SS1T) 125 Nuova (VMA1T) 125 Primavera (VMA2T) 125 ET3 (VMB1T)
AS
https://blog.scooter-center.com/wp-content/uploads/2014/07/BGM77-black-2.jpg
450
600
alex
https://blog.scooter-center.com/wp-content/uploads/2016/04/Scooter-Cejnter-SC-Logo-2016.png
alex
2014-07-25 07:29:41
2014-07-25 07:29:41
Vespa shock absorbers BGM PRO SC / F16 and SC / R12 in a new look