VespaBabbo 2016 in Cologne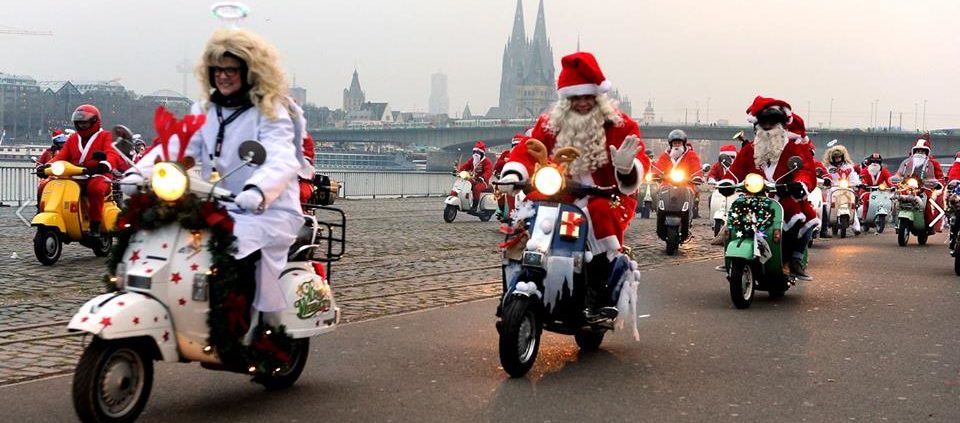 Santa Claus drives Vespa
Nicholas in Cologne. the Saturday before Nicholas is celebrated in Cologne as it has already become a cherished tradition: with the "VespaBabbo"
The Vespa Club Rhine counter from Cologne organizes the popular Christmas trip in a matching Christmas outfit. The motor scooter takes you along the most beautiful Christmas markets in Cologne with a final glow of mulled wine / punch at Piazza Rudolfo. Participation only in Christmas outfit, you can find all information here: Vespa Babbo Cologne
The motto is spreading pre-Christmas fun
Motto like last time: have fun and spread the joy of Christmas in the city! :-)
And that works very well, the spectators are delighted to see over 200 Santa Clauses on beautiful Vespas.
Organization & meeting point
Installation again on the Deutz fairground (Rhine bank, in the middle between Deutzer and Severinsbrücke, Deutzer Werft) - Participation ONLY and EXCLUSIVELY in the appropriate Santa Claus, Nicholas or angel outfit! The Vespa (sheet metal / modern) can be creatively "adapted" to the theme! The route is of course suitable for fufi, mainly in the Cologne city area and is approx. 1 1/ Take 2 - 2 hours.
Donate and win and do good
In keeping with the festival of giving and giving, all participants voluntarily (!) Collect any donation at the starting point and then benefit from a charity campaign:
A big sack full of presents is waiting for the participants! This year there are a lot of sponsors (including Motor love, SCOOTER CENTERR, the Vespa dealers Lodomez, Richter, Roock, Vespa, Globetrotter equipmentua) for great surprises on board, which will take place on 4. VespaBabbo - XmasRideOut Cologne waiting for you!
As in the last few years, donations are collected from the participants for a good cause. who at least EUR 20 donates, receives a Gift (while stocks last)! Of course, smaller donations are also very welcome!
This time half of the donations go to the Aktion Lichtblicke eV and Vespisti against Cancer Vespa drivers help children with cancer and thus to many people who urgently need a little help and are happy about your commitment! At the same time there will be a 1st and a 2nd price for the coolest, greatest and most extraordinary VespaBabbo fairing or Vespa embellishment!
So it pays to work hard and pack a few extra bills in your wallet!


Mandatory notes:
Participation is at your own risk.
The road traffic regulations are to be observed.
Avoid consuming mulled wine before or during the trip.
The exit only takes place when the weather is appropriate and the roads are clear (no black ice, solid snow cover or thick drifting snow).


The babbo
Babbo is the Italian Santa Claus. The tradition in Santa Claus /It is many years old in Italy to rattle through the city in the run-up to Christmas in a Santa Claus costume. There are now such trips everywhere: Strasbourg does it ... Paris has experienced it, Cardiff was enthusiastic, Manfredonia, Sassari, Roma and Foggia in Italy were there with passion, in Bangkok and in the Portuguese Gaia they were cheered - even in wintry Kempten / Allgäu or they were already out and about in wet Nordic Hamburg ... and now it's tradition in Cologne, sponsored by Scooter Center!

https://blog.scooter-center.com/wp-content/uploads/2016/12/vespa-baboo.jpg
468
960
Heiko Lepke
https://blog.scooter-center.com/wp-content/uploads/2016/04/Scooter-Cejnter-SC-Logo-2016.png
Heiko Lepke
2016-12-02 10:03:35
2016-12-02 11:06:08
VespaBabbo 2016 in Cologne