An old friend of Scooter Center was here. Sebastian Alvarez from Argentina, he came especially for EuroLambretta 2022 in Belgium and Euro Vespa Days in Portugal and now that he was around he decided to stock up on spare parts for his shops, learn more about the facilities at the Scooter Centers to find out and to visit us.
And of course I had to be there to tell him all about it in his native language Scooter Center and Cologne to explain!!!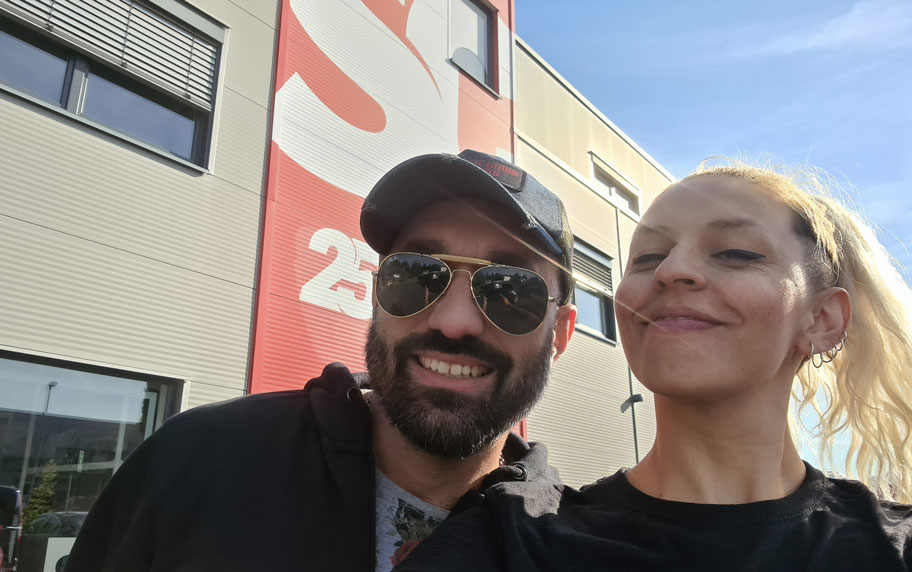 History of Vespa and Lambretta in Argentina
but we also took the opportunity to learn a little more about the incredible history of Vespa, Lambretta and the very special one: Siambretta in Argentina, because it is one of the South American countries with the longest Vespa and Vespa Club history, and how could different when the Vespa is represented by a legend: Juan Manuel FANGIO, the Argentine racing driver considered by experts as one of the most outstanding professional drivers in world motorsport of all time, having won five world titles in Formula 1.
With so much luck, Sebastian had access to beautiful treasures from his customers, like this piece with original papers signed by Fangio:
The origin of the Siambretta in Argentina begins in the 1950s, with the SIAM company, which imported all the parts, but then started building under the name: SIAM-Lambretta, the desire then took the name: siambretta, the success was such that it started production quite nationally.
The curious thing about the Siambretta is that the most famous models in Argentina were exactly the oldest Lambretta models, while in Italy the 200, 175, 150, etc. are the most "common" Lambrettas, while in Argentina the 125 was very successful. In Argentina there are circles of "siambreteros" who own motorcycles admirable for their level of originality.
Restauraciones Extremas - Official Dealer Scooter Center in Argentina
and Restauraciones Extremas are part of this important history in Argentina, reviving ancient beauties. Here are some examples of the "extreme restorations" he's done and some of them are possible thanks to the new parts he's from Scooter Center got.
Siambretta 125 LD and Siambretta TV175
Congratulations for such dedicated work, nice to see how everyone in the Lambretta world knows each other and forms a nice community, have fun in the EuroLambretta and thank you Sebastian for visiting us, you are always welcome You can do more of his work see here: instagram.com/restauracionesextremas/
https://blog.scooter-center.com/wp-content/uploads/2022/06/20220603_082712.jpg
585
964
Maryza
https://blog.scooter-center.com/wp-content/uploads/2016/04/Scooter-Cejnter-SC-Logo-2016.png
Maryza
2022-06-08 14:23:24
2022-06-08 14:23:24
Visit from Argentina